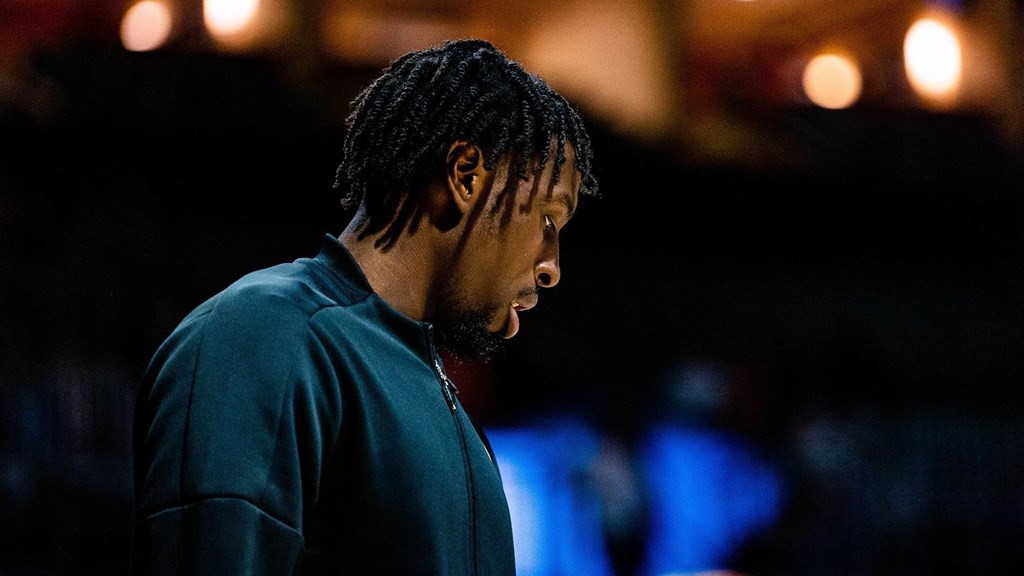 By Alex Schwartz
HurricaneSports.com
CORAL GABLES, Fla. – Jim Larrañaga has been a college basketball coach for nearly five decades, leading his own program for three dozen of those years.
And yet, despite his lengthy, stellar tenure on the sidelines, in 2020-21, Larrañaga will have a player at the University of Miami who does something better than anyone he has ever coached.
"I think one of the greatest assets that Nas brings to our team is that he loves to communicate," Coach L said. "One of the expressions we use is, 'On defense, you have to talk early, loudly and continuously.' And there is no better example than Nysier Brooks in that category. I've never had a single player be able to do it at his level in 48 years of coaching."
A 6-foot-11, 245-pound center, Brooks sat out the 2019-20 season in accordance with NCAA rules after transferring to Miami from the University of Cincinnati.
Although he was ineligible to play and a new face in the locker room, Brooks' voice was a consistent one for the Hurricanes throughout the year.
"Vocal leadership, it's always been a part of me naturally," Brooks explained. "I just try to really step out and give more energy because as a player, I feel like the whole team should resemble the highest-energy guy."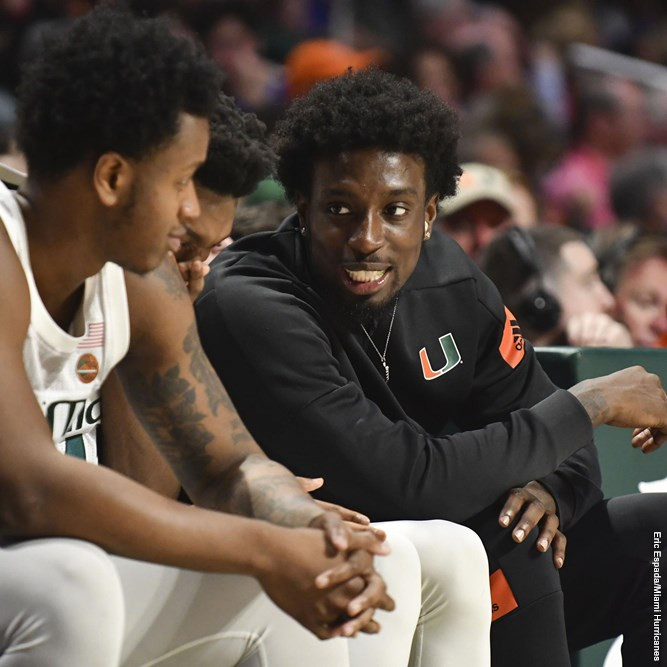 For Brooks, it is imperative to communicate when on the court. He works hard to share with his teammates all that he sees to keep everyone "on the same page" and have all five players "move as a team."
Larrañaga attributes' Brooks' communication skills to his character and disposition in life as a whole, far beyond basketball.
"I think [it comes from] his unique personality. He's a very outgoing young man," Larrañaga said. "If you ask a question, he invariably wants to be the one to answer. When he's in a group setting, he wants to be a part of the conversation. He's not a wallflower. He's not just someone who sits there, he wants to be included."
While the Hurricanes will get a big boost from Brooks vocally next season, he will bring much more than that.
Brooks is a defensive force who placed third in the American Athletic Conference in 2018-19 with 1.5 blocks per game. He also averaged 6.3 rebounds, good for No. 11 in the league, in 22.9 minutes per contest across his 35 starts.

When asked what he will do for the Hurricanes next year, Brooks has a quick and direct answer: "I will protect the rim." In fact, he says it twice, emphasizing both his point and his role.
Although that may be his strongest area as a player, Larrañaga sees numerous other ways Brooks will aid Miami next season.
"I think everyone will love his level of enthusiasm, both on the court and off the court. I think they'll really enjoy his personality," Larrañaga said. "And then, of course, they'll love his production, his ability to defend, his ability to rebound, his ability to block shots, his ability to dunk the ball at the offensive end, to offensive rebound, to set screens and get his teammates open. Those are all major strengths of his."
Despite initial limitations due to some offseason injuries, the Philadelphia native still managed to use his sit-out year to improve his game.
Brooks cites both his ability to hit 15-foot jump-shots and to move the basketball as two prime ways he improved on the hardwood, but feels some of his mental strides may have been most valuable.
"The biggest thing I learned from it is just how the game looks so much different when you're older and you're more experienced . . . I see it as more of just like, 'Oh, that's not a play. If this doesn't happen, this might happen.' It's more of a read now. So, that's good," Brooks said. "I've gotten a chance to get closer with the coaches, to really understand what they want from each and every player on the team. [I learned about] just how I can help to really make each individual player better in any way possible. So, I believe learning how to really sit back and listen [was helpful]."
The latter part of that statement should be music to the ears of Miami coaches and fans alike, given Larrañaga's praise of the redshirt senior-to-be.
Larrañaga also saw Brooks develop in other ways during this past season, specifically on the offensive end, which is where he feels transfers can make major strides during their off year, and with his body.
"He worked on his free throws, he worked on his back-to-the-basket game and he worked on his shot," Larrañaga said. "He worked on his body so he's stronger, more mobile and quicker laterally. Just every part of his fundamental game improved during the sit-out year."
Larrañaga, who has had great success with transfers during his tenure at Miami, feels the year off can be quite beneficial to players in another way, too.
"The greatest advantage is someone who is older, who has sat out and has developed his game, physically, mentally and emotionally, has more experience than the guy he's going against," Larrañaga shared. "And if he's smart, he can take advantage of that."
While improving for next year, Brooks also helped the Hurricanes during the 2019-20 campaign, especially after joining the scout team when he was fully healthy.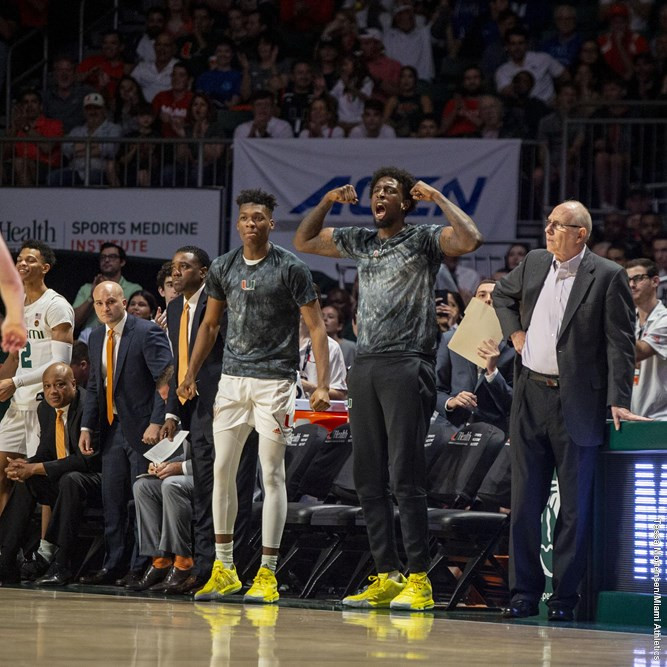 Larrañaga felt Brooks' upped the intensity level in practice, while his physicality helped the team's post players. In addition, Brooks used that time to show his on-court mentality to his teammates.
"I just try to be most dominant person on the court and show them that you shouldn't take a day off," Brooks shared. "If you're going to be dominant one day, you got to be dominant the next and the next and the next, no matter how much it takes out of you. That's what you're here for, you're here to be the best you.
"That's what makes the okay teams good, the good teams great and the great teams [win] the championship," Brooks added.
An added benefit for integrating sit-out transfers into the rotation once eligible, according to Larrañaga, is that, unlike freshmen and graduate transfers, they already have chemistry with their teammates.
Brooks, who hopes to show he can play at the "highest level of basketball" next season, is anxious to join that rotation and take the floor with the Hurricanes in the fall.
"I just can't wait to play with my team. I've been sitting out a long time, I've been waiting for what feels like a century," Brooks said. "I'm just ready to start [competing] with my team, let them know that I'm here for them just as much as they're here for me and just try to win some basketball [games]."