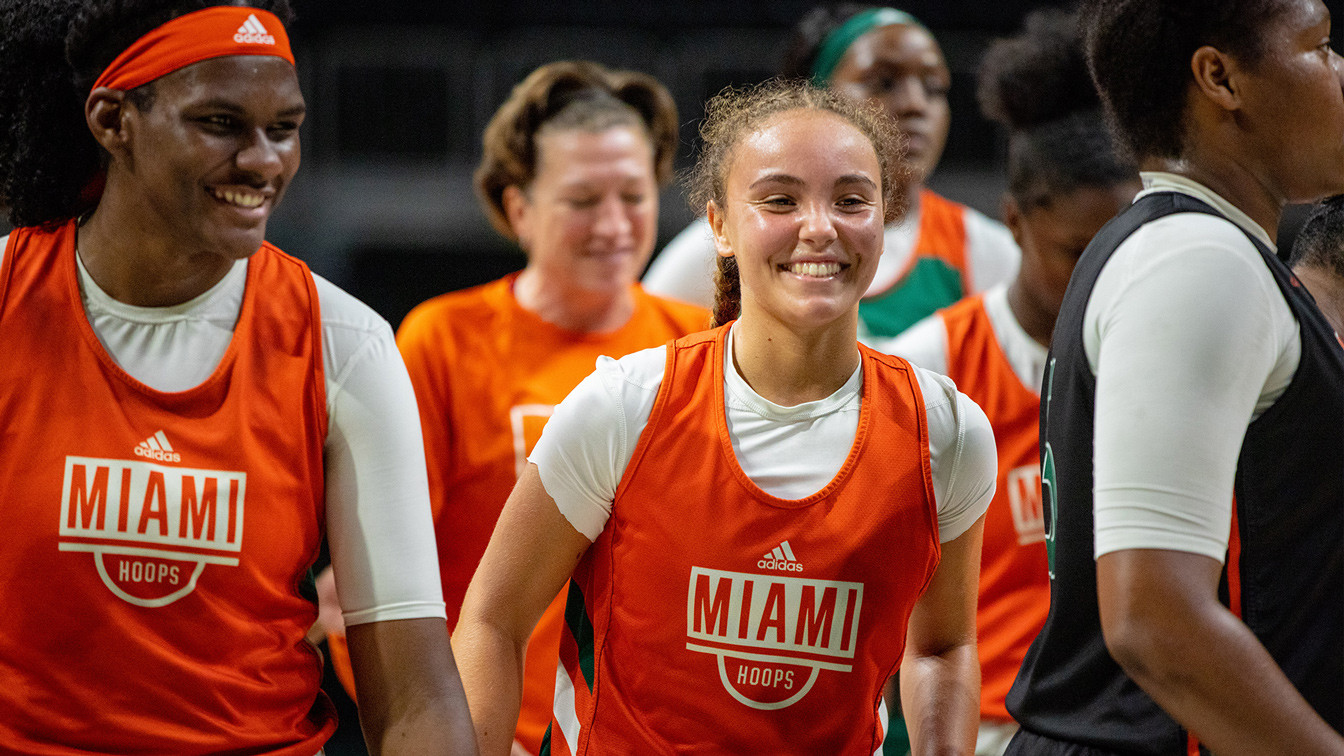 By Christy Cabrera Chirinos
HurricaneSports.com
 
CORAL GABLES, Fla. – Like most freshmen at Miami, Kenza Salgues and Moulayna Johnson Sidi Baba faced their share of challenges during their first few weeks on campus.
 
They had to learn their way around not just a new school, but a new city. Adjust to a more demanding academic curriculum. Make friends and find a support system.
 
And they had to do it all an ocean away from their respective homes – while also adapting to playing high-level basketball for a program that has made 10 straight postseason appearances and five straight NCAA Tournament appearances under coach Katie Meier.
 
It hasn't always been – and still always isn't – easy.
 
"It's been a lot of changes," chuckled Salgues, who hails from Montpellier, France. "First, the language and getting to know my teammates and classmates. Then in basketball, it's another way to play. It's more physical, so yeah, it's been a lot of changes."
 
Added Johnson Sidi Baba, "If I compare it to Sweden, where everything is so soft and chill, everything here is a little more intense. But I love it. I'm willing to put in my hours and work hard. And that's the thing with the University of Miami – they really want us to put the effort in on the court, but off the court, too. We're committed to the academic side of it, too."
Salgues and Johnson Sidi Baba are the two latest international student-athletes to find a home with the Hurricanes women's basketball team which has, under Meier, featured players from 10 different countries across Europe and beyond.
 
And like many of the international players who have suited up for the Hurricanes before them, both Salgues and Johnson Sidi Baba came to Miami confident that a successful career will not only make them better basketball players, but help them reach their goals on and off the court.
 
Salgues has dreams of playing in the WNBA, like former Hurricanes Tamara James, Shenise Johnson, Riquna Williams and current Hurricanes assistant coach Octavia Blue. And Johnson Sidi Baba wants to grow her game, especially as a swing player still working to find her niche.
 
Guiding them through that process will be Meier, a coach with plenty of international experience of her own.
Not only has Meier coached Team USA's U-19 team to a gold medal, she has both coached and played abroad, spending three seasons with BBC Mini-Flat Waregem in Belgium after wrapping up her college career at Duke.
 
In many ways, she understands what her international players are experiencing when they come to the U.S. to play and that, the coach says, has helped her connect with them.
 
"I've been in their shoes, landed in Brussels, just laughing to myself and going, 'Uh, I don't know anyone here.' I didn't have an official visit before I went. I just landed there and that was going to be my life," Meier said. "I had to make it work. So, I had that notion of what it's like to be there on a Sunday afternoon in your apartment. … They're sitting there and they don't have a home to go to. No one's doing their laundry for them. They don't get a homecooked meal. Those are the moments I try to be a little bit more sensitive to their plight."
 
While Salgues and Johnson Sidi Baba may be going through an adjustment period, Meier expects that both will be able to contribute this season, along with their three fellow freshmen.
 
Salgues, a 5-foot-9 guard, was a four-star prospect coming out of the National Institute of Sport, Expertise and Performance in Paris, the same institution that trained Tony Parker, Boris Diaw, Clint Capela and Ronny Turiaf, among others.
 
Johnson Sidi Baba, who can play both guard and forward, is also rated a four-star prospect. And both freshmen have experience playing for their respective national teams, something Meier says will quickly help them adjust not only to playing for the Hurricanes, but holding their own in the ultra-competitive ACC.
Helping both ease into their new roles, too, was the fact that their first games as Hurricanes came in Europe, during Miami's summer tour of Italy. There, they began learning not only Miami's system, but building chemistry with their new teammates.
 
But now, with Miami's Nov. 10 season opener against Jackson State looming, it's time for Salgues and Johnson to embrace their next challenge.
 
They say they're ready. Their coach agrees.
 
"They're capable of playing with great players because they've constantly played up. They've played older than their age all the time, so they're capable of understanding what it is to play with someone that has talent like [preseason ACC Player of the Year] Beatrice [Mompremier]," Meier said. "Those two have played against pros, they've played against USA before. That intimidation of a jumping up a level isn't there. That's an adjustment where they sort of have a head start, I think."