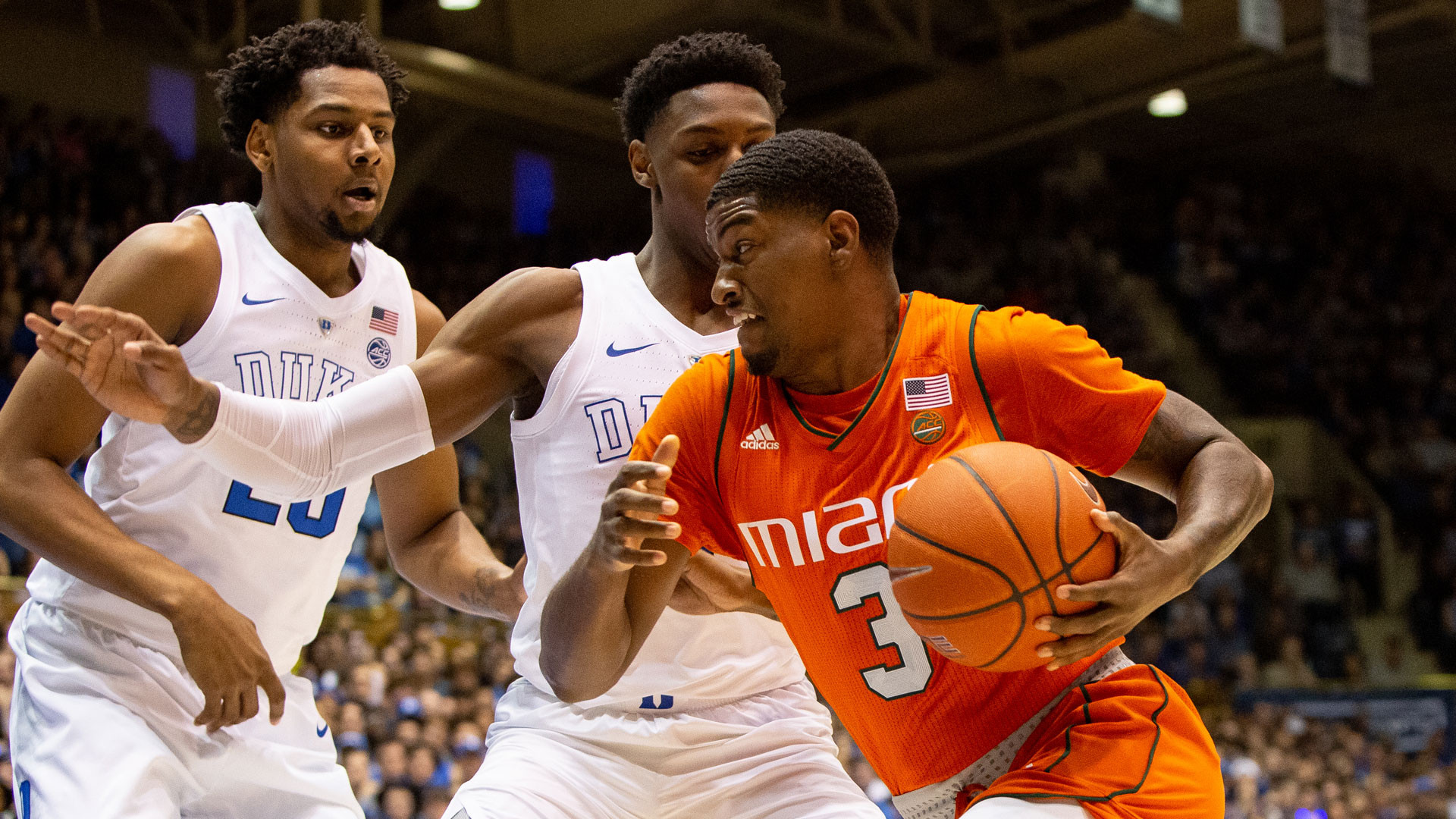 DURHAM, N.C. – The University of Miami men's basketball team lost at third-ranked Duke, 87-57, Saturday afternoon at Cameron Indoor Stadium.
 
Miami (12-16, 4-12 ACC) was led offensively by a pair of seniors, as Anthony Lawrence II and Ebuka Izundu each notched 15 points. Izundu shot 6-of-7 from the field while pulling down all nine of his rebounds off of the offensive glass. 
 
Duke (25-4, 13-3 ACC) was paced by Cam Reddish (19 points) and RJ Barrett (19 points), as the latter recorded a double-double with 10 rebounds. Marques Bolden joined the duo in double figures with 15 points and 10 rebounds.
 
The Hurricanes shot just 22-of-63 (34.9 percent) from the field and 6-of-24 (25.0 percent) from long range, while the Blue Devils finished 36-of-63 (57.1 percent) from the field and 6-of-17 (28.6 percent) from deep.
 
Struggling as a team to get anything going offensively through the opening frame, Miami entered the locker room trailing, 47-19, following an 18-3 Duke run to close out the final five minutes of action. In the frame, the Hurricanes shot just 7-of-26 (26.9 percent) from the field, while Duke hit on 18-of-32 (56.3 percent).
 
Exiting the break, the Hurricanes were able to get the offense rolling, converting on eight of their opening 11 shots. However, Duke hit on eight of its first 12 shots of the period to maintain its stronghold on the lead.
 
Up next, the Hurricanes return to the Watsco Center at 8 p.m. Tuesday to close out the home regular season against Pittsburgh. The game will be broadcast live by Raycom affiliates. Prior to the game, Miami will hold Senior Night ceremonies for Izundu, Lawrence and Zach Johnson as well as student manager Eric Rubenstein.
 
Game Notes
• Miami matched a season high with 11 steals (Virginia Tech, 1/30/19).
• Miami's 19-point first half was its fewest points in a half since a 16-point first half against Virginia last season (2/17/18).
• Miami's 27-point halftime deficit was its largest in Jim Larrañaga's eight seasons at UM.
• Duke recorded 58 points in the paint – most by a Miami opponent this season (Seton Hall, 56).
• Anthony Lawrence II played in his 126th career game, tied for seventh most in program history.
• Lawrence scored 15 points and now has 981 career points.
• Lawrence recorded a pair of steals and now has 141 in his career, which is tied with Mike Simmons (1998-2003) for ninth most in program history.
• Ebuka Izundu fell a rebound shy of a double-double with 15 points and nine rebounds. He added a career-high four steals.
• Izundu played in his 107th career game.