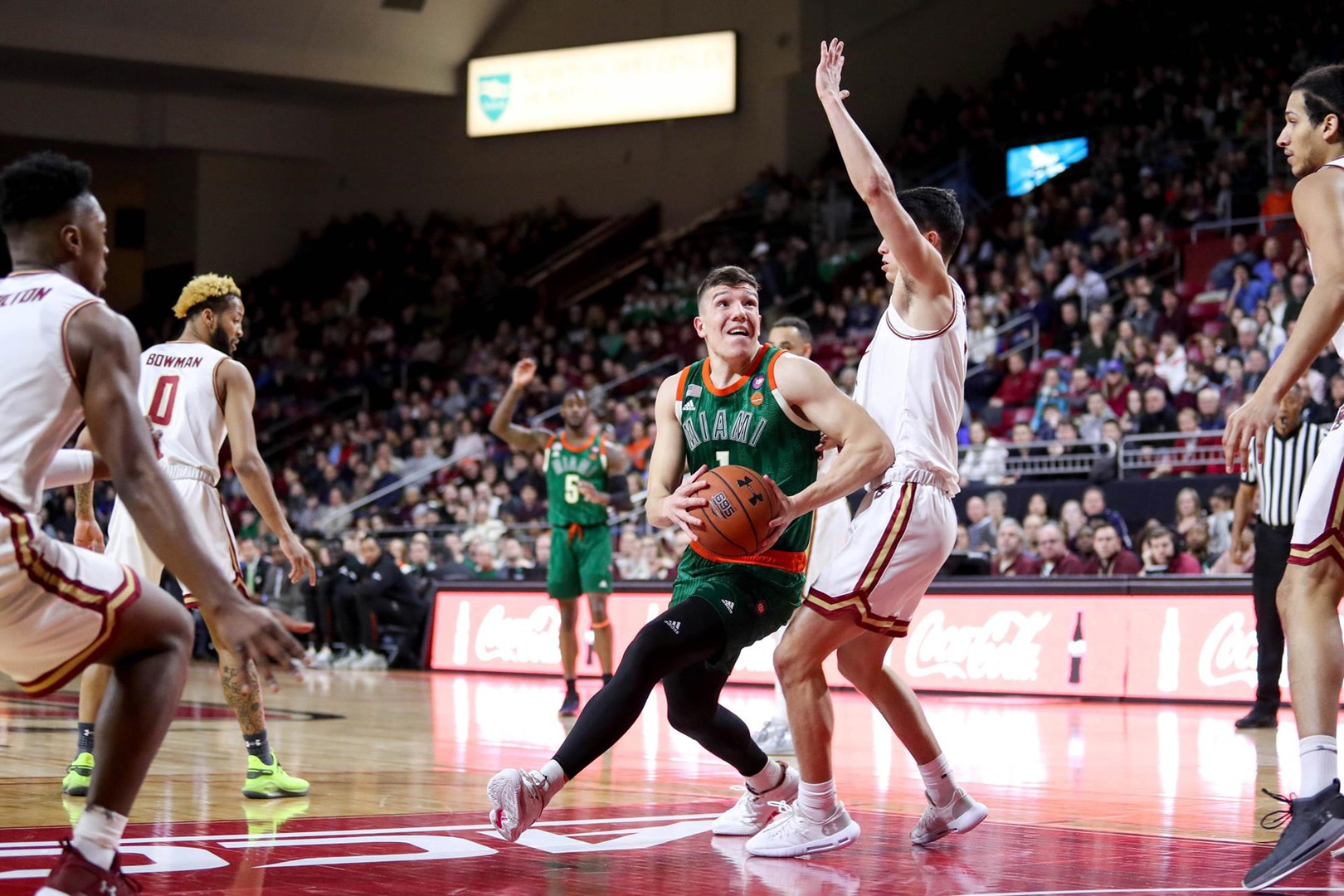 CHESTNUT HILL, Mass. – The University of Miami men's basketball team suffered a 64-57 road loss to Boston College Sunday night at Conte Forum. Miami (11-14, 3-10 ACC) shot a season-low 15.4 percent (4-of-26) from beyond the arc and just 22-of-60 (36.7 percent) from the field.
 
Senior center Ebuka Izundu led Miami with 14 points and nine rebounds, while senior guard Anthony Lawrence II, sophomore guard Chris Lykes and sophomore forward Sam Waardenburg each scored 10 points.
 
The Eagles shot 24-of-54 (44.4 percent) from the field, including 6-of-15 (40 percent) from 3-point range. Out-rebounding the Hurricanes 40-31, Boston College (13-11, 4-8 ACC) took advantage of second-chance opportunities, notching 19 points compared to the Hurricanes' 10 points.
 
Despite being held to just 21 first-half points, Miami entered the locker room down by only four with Waardenburg notching eight points in the half to lead the Canes. He was 3-of-3 from the field in the half, while knocking down a pair of 3-pointers.
 
Trailing by 10 with 8:36 remaining in the second half, Miami looked to mount a comeback following a 6-0 run to cut the deficit back to four, 45-41. However, the Eagles answered with a 13-3 run to take their largest lead of the game, 58-44, with three minutes remaining in the contest.
 
The Hurricanes return to the court Saturday when they play host to Georgia Tech at 2 p.m. at the Watsco Center. The ACC's Regional Sports Networks have the broadcast.
 
To keep up with the University of Miami men's basketball team on social media, follow @CanesHoops onTwitter, Instagram and Facebook.
 
Game Notes
• Miami hit just 4-of-26 from 3-point range. It matched a season low in 3-pointers.
• Miami matched a season low for points in a half with 21 in the first half.
• The Canes held BC leading scorer Ky Bowman to a season-low six points. He did not reach double figures for the first time this season.
• Chris Lykes scored 10 points and has reached double figures in 22 of 25 games this season.
• Zach Johnson scored eight points and has record 1,660 career points (1,344 at Florida Gulf Coast, 316 at Miami).
• Anthony Lawrence II scored 10 points and now has 932 career points.
• Ebuka Izundu scored 14 points, reaching double figures for the 15th time this season.
• Sam Waardenburg scored 10 points, hitting double figures for the sixth time this season and the third time in the last seven games.
• Willie Herenton played a career-high four minutes in the second half, making his sixth appearance in ACC play. He also hit his third 3-pointer of the season.