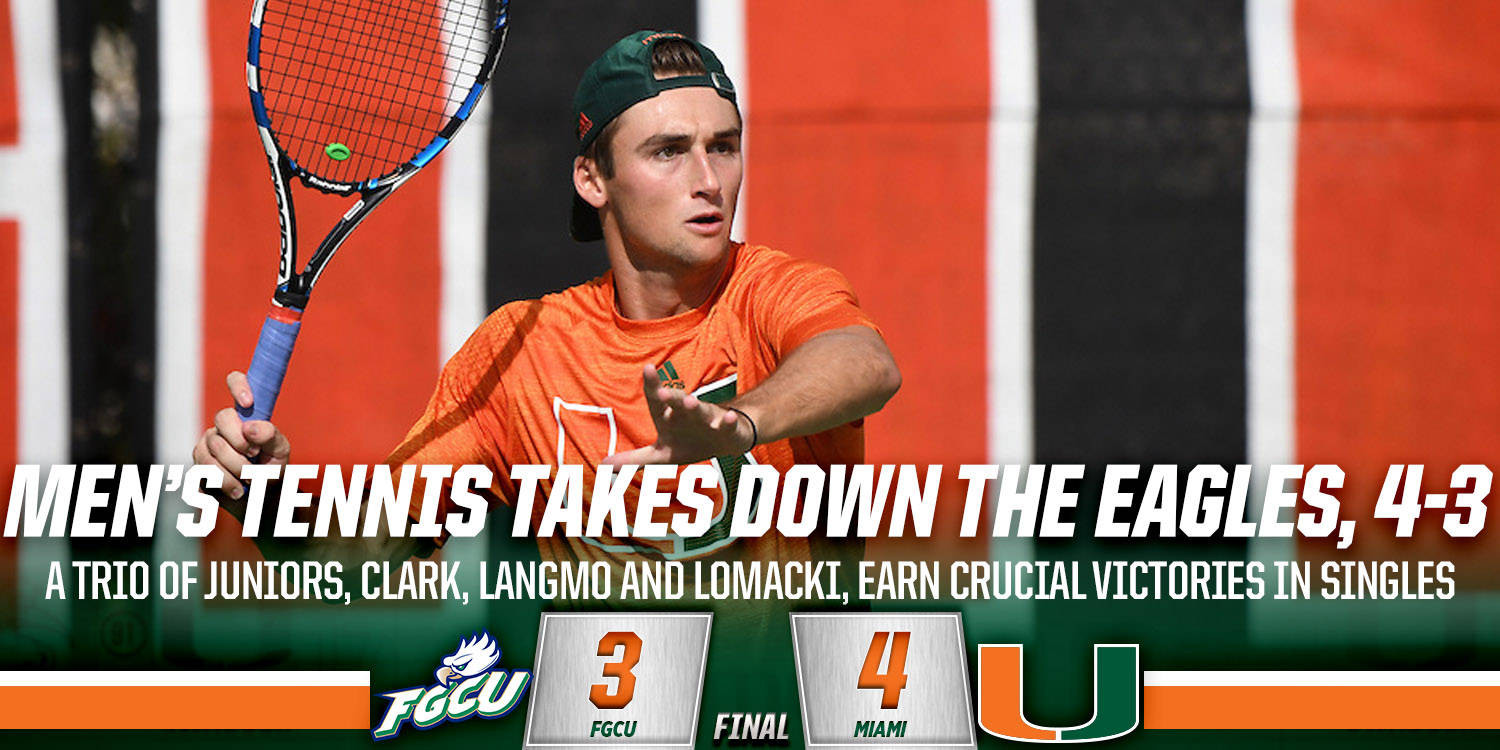 CORAL GABLES, Fla. – The University of Miami men's tennis team earned its fourth victory of the season, 4-3, against Florida Gulf Coast University Saturday at the Neil Schiff Tennis Center.
"Happy to get a win today," head coach Aljosa Piric said. "This match could have easily turned on us. FGCU showed some perseverance, as they kept coming back at us throughout the match."
The Hurricanes (4-3, 0-1 ACC) opened the match strong with a pair of doubles victories to take the one point advantage, as well as momentum into singles play.
At No. 3, junior Christian Langmo and sophomore Dane Dunlap got the day started, taking down Pedro Carle and Ezequiel Cerrini, 6-2.
At No. 2, juniors Piotr Lomacki and Nile Clark got the Canes on the board first, after defeating Javier Fernandez and Mateo Ruiz, 7-6 (7-3).
Court one ended with Max Andrews and Kevin Bondar leading Oliver Landert and Felipe Ramirez, 6-5.
The Hurricanes continued to hold the advantage over the Eagles with Langmo and Lomacki taking care of business on their respective courts.
At No. 2, Langmo gave Miami a two-point advantage after earning a straight-set victory over Cerrini, 6-2, 6-4.
On court one, No. 70 Lomacki dropped the opening set to Landert, 3-6. The native of Poland got back on track taking the second set, 6-1. In the deciding third set, the junior held the 3-0 advantage, before Landert retired from the match.
FGCU (3-4) earned its first point of the match at No. 4, when Ruiz took down Bondar, 6-3, 6-2.
After taking the opening set, 6-3, junior Niclas Genovese dropped 10 consecutive games, ultimately falling in the match, 6-3, 0-6, 2-6.
The Eagles evened the match at three apiece, when Andrews fell to Ramirez, 3-6, 6-3, 3-6.
At No. 6 in the deciding match, Clark and Chaffin battled in an opening set tiebreaker. The junior took the set, 7-6 (7-5). Following the loss by Andrews, Clark and Chaffin were tied at five apiece in the second set. The junior earned the next two games to clinch the match for the Canes.
"A lot of credit to Nile who was able to clinch the match for us, in his first singles match of the year," Piric said. "Our collective fight was better today, but we need to continue to work and improve. We have an important stretch coming up. We will get back to work and get ready to compete next week against a good ETSU team."
Miami will return to the Neil Schiff Center Monday, March 6 at 4 p.m., as the Canes welcome East Tennessee State.
To keep up to date with the men's tennis team, follow the squad on Twitter, Facebook and Instagram @CanesMensTennis.
Miami 4, Florida Gulf Coast 3
Singles Competition
1. #70 Piotr Lomacki (UM) def. Oliver Landert (FGCU) 3-6, 6-1, 3-0, retired
2. Christian Langmo (UM) def. Ezequiel Cerrini (FGCU) 6-2, 6-4
3. Felipe Ramirez (FGCU) def. Max Andrews (UM) 6-3, 3-6, 6-3
4. Mateo Ruiz (FGCU) def. Kevin Bondar (UM) 6-3, 6-2
5. Javier Fernandez (FGCU) def. Niclas Genovese (UM) 3-6, 6-0, 6-2
6. Nile Clark (UM) def. Sam Chaffin (FGCU) 7-6 (7-3), 7-5
Doubles Competition
1. Max Andrews/Kevin Bondar (UM) def. Oliver Landert/Felipe Ramirez (FGCU) 6-5
2. Nile Clark/Piotr Lomacki (UM) def. Javier Fernandez/Mateo Ruiz (FGCU) 7-6 (7-3)
3. Dane Dunlap/Christian Langmo (UM) def. Pedro Carle/Ezequiel Cerrini (FGCU) 6-2
Match Notes:
Florida Gulf Coast 3-4
Miami 4-3, 0-1 ACC
Order of finish: Doubles (3,2); Singles (2,1,4,5,3,6)