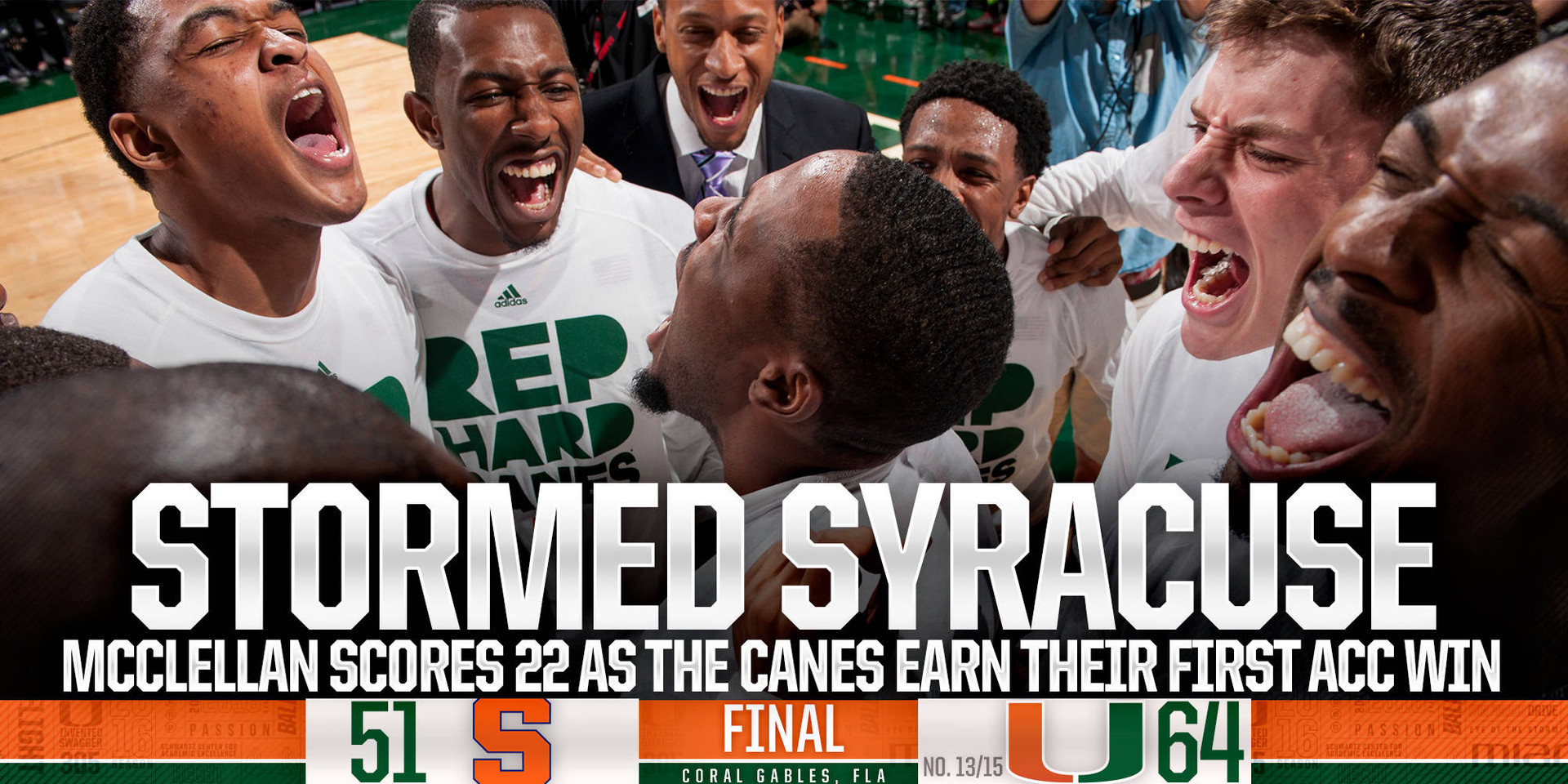 Syracuse5164No. 13/15 Miami
SCORE BY HALF
Team
1
2
F
SYRACUSE
25
26
51
MIAMI
17
47
64
TEAM STATS
 
FGs
18-56
18-52
3FGs
7-22
3-25
Free Throws
8-14
25-34
Rebounds
41
41
Blocks
1
7
Steals

7

12
Assists
7
9
Turnovers
18
12
INDIVIDUAL LEADERS
 
POINTS
 
 
REBOUNDS 
 
Richardson
20
 
Roberson
11
McClellan
22
 
Murphy
8
 
ASSISTS
 
 
BLOCKS 
 
Gbinije
4
 
Lydon
1
Rodriguez
4
 
Three Players
2
 
3FG
 
 
STEALS
 
Richardson
5-6
 
Gbinije
3
Newton
2-2
 
Rodriguez
6
CORAL GABLES, Fla. (AP) — Sheldon McClellan scored 22 points, Ja'Quan Newton made two big 3-pointers in the second half and No. 13 Miami relied on defense to get past Syracuse 64-51 on Saturday.
Newton finished with 14 points for Miami (12-1, 1-0 Atlantic Coast Conference), which blew it open with a 12-0 run in the final minutes to win its seventh straight.
Miami shot only 35 percent, but held Syracuse to 32 percent. The Hurricanes missed their first 16 3-point attempts and finished 3 for 25 from beyond the arc.
Malachi Richardson scored 20 points for Syracuse (10-5, 0-2), which has dropped its first two games of league play for the first time since it started the 1998-99 Big East season 0-2.
Michael Gbinije added 10 points for the Orange, who were outscored 47-26 in the second half.
Newton had seven career 3-pointers entering Saturday, in 46 games with the Hurricanes. Newton was 2 for 2 from 3-point range Saturday, while his teammates went a combined 1 for 23.
Ivan Cruz Uceda's 3-pointer — Miami's first of the game in 17 tries — midway through the second half put the Hurricanes on top 33-32. That started a spurt of eight Miami points in 38 seconds, and the Hurricanes would eventually push the lead to seven.
Syracuse answered with a 10-3 run to tie the game at 44, but Newton's second 3-pointer of the game put Miami back on top — this time for good.
He then added two free throws, Angel Rodriguez got his first points of the game when he got a steal and turned it into a three-point play with 3:47 left, and the Hurricanes would survive.
Syracuse shot only 32 percent in the first half, and was still up comfortably at the break.
The Orange led 25-17 after the first 20 minutes, absolutely frustrating a Miami team that came in averaging 85 points on 51 percent shooting. The Hurricanes were shooting only 19 percent at the break — and missed all 11 of their tries from 3-point range. And if not for McClellan managing 11 points by halftime, it could have been much worse for Miami.
POST GAME NOTES
– Miami's 17 points in the first half were a season low, and tied the fourth-lowest first-half points, since the 2004-05 season.
– The Canes were held to 64 points the lowest output of the season. The previous season low was 66 points vs. Florida.
– Miami was outscored 25-17 in the first stanza, but took down Syracuse 47-26 in the second half.
– Miami's starters were Angel Rodriguez, Sheldon McClellan, Davon Reed, Kamari Murphy and Tonye Jekiri.
– Head coach Jim Larrañaga has a 573-384 overall record in his 32nd season as a head coach. He is 103-50 in his fifth season at the University of Miami, with a 42-29 mark in ACC play.
– Miami is 7-16 in the all-time series against Syracuse, which dates back to the 1963-64 season. The Canes are 4-9 at home against the Orange, 3-7 on the road and 0-0 at neutral sites. Miami is 2-2 against Syracuse under the direction of Coach Larrañaga. Miami has won the last two matchups with Syracuse.
– The Canes are 4-8 in ACC openers since joining the league for the 2004-05 season. UM is 1-5 on the road and 3-3 at home in ACC opening games. The Canes have started ACC play at home for three-straight seasons after being on the road four-straight from 2009-10 to 2012-13.              
– Miami is 11-0 this season in games decided by 11-or-more points, and Coach L is 61-17 all-time at Miami in games decided by more than 10 points.
– With 22 points against the Orange, Sheldon McClellan has scored 20+ points in three outings and 14+ points in 10 games. McClellan was 12-14 at the free throw line.
– Angel Rodriguez registered a season-high six steals and four assists for Miami.
– Ja'Quan Newton notched 14 points, and has scored double-digit points in 11 games after only scoring 10+ in four games as a rookie.
– McClellan swiped three steals, and now has at least one steal in every game but two (vs. Charlotte and Princeton).
– Kamari Murphy swatted two Syracuse shots. He has at least one block in seven-straight games.
– With eight rebounds against the Orange, Murphy has grabbed at least five rebounds in the past eight outings.
– Ivan Cruz Uceda drained one shot from long range against Syracuse, and has knocked down at least one 3-pointer in every game except two, at Nebraska and vs. Florida.
– James Palmer dished out one assist, and now has an assist in six-straight games.
– Davon Reed pulled down five boards and has grabbed at least three rebounds in every game but vs. Charleston.
– Every Miami player grabbed at least two rebounds.
Miami Head Coach Jim Larrañaga
Opening Statement…
"Yesterday we had an awful practice. We were so out of sync that I didn't recognize us. I told the team, 'Look, we weren't sharp, we need to come together and have a good shoot-around tomorrow morning. The game is at 2:30 [p.m.], we're going to shoot at 9:30 [a.m.] and go over some things again that we didn't do very in Friday's practice. We have to do it Saturday morning.' In the first half, we looked very anxious – missing free throws, missing open shots, taking some terrible shots – very similar to our first game when were opened the season against Rio Grande Valley. We were very excited about playing, but anxious to do well rather than calmly do well. At halftime, we told them that the first half was like Friday's practice, and now the second half needs to be like this morning's shoot-around, where we're very sharp. I thought it was."
"I thought we needed to make 10 three-pointers against the zone, but we only made three. We needed guys to step up, because if your starters aren't scoring a bunch of points like they normally do, someone needs to come in off the bench and give you a lift. I thought James Palmer did that in the first half, and then Ja'Quan Newton did that in the second half.
"Personality-wise, [Ja'Quan] is a lot like Sheldon. They love the game of basketball, they love to play, and they love to compete. After the Princeton game, I asked Sheldon who stole his uniform, because there was someone impersonating him wearing No. 10 against Princeton. I asked him who was going to show up against Syracuse, and obviously the real Sheldon McClellan played tonight. Despite the fact he didn't make threes, he did so many things to help us. I thought it was a terrific team effort defensively, because we weren't scoring the ball, and then in the second half we score 47 points. Very important win. Now we have to worry about Ja'Quan's injury, because he pulled a groin muscle late in the game."
On the team's game plan defensively against Syracuse point guard Mike Gbinije…
"Angel Rodriguez was not scoring the ball like he normally does, so I think he just emphasized his defense. How can I help the team if I'm not scoring a lot? We had told him beforehand, in actuality, one of the biggest discussions we had in preparation for the game was who should guard Gbinije. Should we put someone bigger like Davon [Reed]? I said no, I want Angel to be on him and really put a lot of pressure on him. I was a point guard in college myself, and I was bigger than most of the point guards that guarded me. The ones that I had the most problem with were these annoying little guys who try to steal the ball off you all the time. We asked Angel to do that and he did a fantastic job, especially late in the game."
On the shooting ability of sophomore Ja'Quan Newton, who hit two key three-pointers…
"I don't think it's reluctance. There's two things – number one, he's such a good penetrator and finisher around the basket. He really knows what his primary is. His primary is driving and finishing, or driving and dishing. But he's worked so hard on his three-point shot, he's very, very confident in it because he's making a lot in all of our drills. He doesn't even shoot a lot of them in practice, but from time to time, he will shoot them and he makes a good percentage. We were very comfortable and confident that he could make those shots, because were backing off of him and overemphasizing Sheldon McClellan and Angel Rodriguez."
On the late injury suffered by Ja'Quan Newton…
"He went to the sideline to our trainer, and the trainer was going to tape him or something. I said, 'Where's Ja'Quan?' and he said, 'to hell with the tape job' and he came back in. As soon as I saw him limping – when he stole the ball, he probably would have dunked that – I quickly put Davon Reed in for him."
Syracuse Head Coach Designate Mike Hopkins
Opening Statement…
"That's the second tough road game our kids have played in. They gave it a great effort. They really executed defensively. Our game plan, we tried to tighten up the zone and be really active in the first half. We did a really good job of keeping them out of the lane and forcing them to shoot contest jump-shots, and we were lucky they didn't hit any. We got a decent lead. Our rebounding – we've been working on our rebounding – it was even. Three-pointers, I thought we did a good job defending it for the most part. I thought the difference in the game was when Ja'Quan Newton stepped up and hit two three-pointers. Give him a lot of credit. And then we lost the free-throw line game…and turnovers. I give our kids a lot of credit – they fought, they played hard. At the end of the day, we didn't get it done again. But there are a lot of bonuses, like the rebounding. I thought our defense was good. Miami was a little bit better tonight."
On Miami sophomore Ja'Quan Newton, who had 14 points in the second half…
"We tried to keep him out of the lane. We've had a couple of guys who went to Neuman-Goretti [Newton's high school], and we recruited him a little bit out of high school. He's just got that city [game] – he knows how to get in the paint, if there are nine guys around him he still finds a way. He's such a dangerous player, and that opens up so much for their big guys and their shooters. We felt that he was a key guy that we had to keep out of the lane, and for the most part, we did. I also know he has a lot of pride. He's a talented boy…that was the game, in my opinion. Obviously free throws were big, but those two threes were huge. That was on us. I thought players, our players executed to a 't.' They stayed off of him, kept it out of the lane, and he stepped up and knocked down two back-to-back."
On Syracuse senior Michael Gbinije, who finished with 10 points on 3-of-14 shooting…
"It was hard. Mike has to play the whole game for us at the point guard position, and we felt like he had to be out there with the ball. In a perfect world I could put him off the ball and have him off. They were pressuring us pretty hard…it was wear and tear on him a little bit. I put K.J. [Kaleb Joseph] in and he was pretty good, but the pressure was bothering him a little bit too. I just felt like we had to go with Mike. Not being able to play Frank [Howard] is out, he would have been a big help for us tonight. For the most part, the kids really battled and they were fighting out there against a really good Miami basketball team. I hate to say it, but we got to the five minute mark again tied and we just couldn't close it out. There were a couple of plays that we just can't have happen."
On what his thoughts were at halftime, with his team leading 25-17…
"I'm telling them they're going to make shots in the second half, and our defense has to be better. Any good team, any championship type of team like Miami, they're going to come back. They've done a heck of a job building their program. They have a lot of fight. They have a lot of veteran players…[Angel] Rodriguez, [Sheldon] McClellan. They have some fighters out there. You knew it was going to be tough, that they were going to make some runs and the crowd was going to get into it.
"For the most part when they made that run, we answered it. I thought Malachi Richardson was a go-to guy tonight. He made some plays that were big for us – threes, driving to the basket. He was really aggressive, and it was great to see that from him, because he hadn't been that player in a while. We won't win a lot of games with Mike [Gbinije] and Trevor [Cooney] scoring 10 and 5, and four of the free throws at the end [for] Mike. That's my bad. We have to do a better job of getting him better looks and creating opportunities for him."