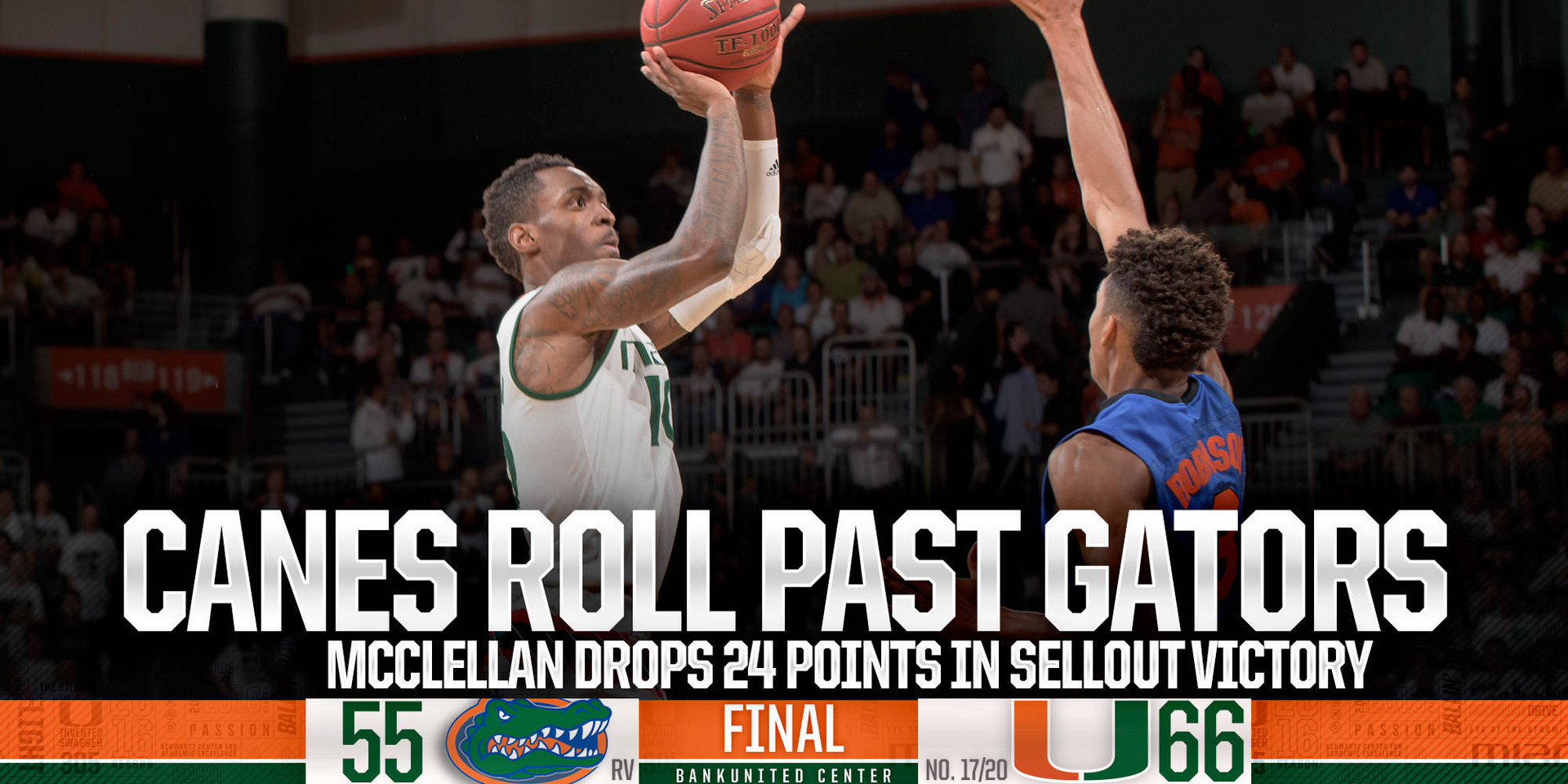 Florida
5566No. 21 Miami
SCORE BY HALF
Team
1
2
F
FLORIDA
24
31
55
MIAMI
33
33
66
TEAM STATS
 
FGs
22-57
20-51
3FGs
1-12
7-17
Free Throws
10-16
19-24
Rebounds
31
42
Blocks
1
6
Steals
5
7
Assists
7
9
Turnovers
10
14
INDIVIDUAL LEADERS
 
POINTS
 
 
REBOUNDS 
 
Egbunu
14
 
Finney-Smith / Robinson
6
McClellan
24
 
Jekiri
9
 
ASSISTS
 
 
BLOCKS 
 
Chiozza
3
 
Hayes
1
Newton
3
 
Jekiri
3
 
3FG
 
 
STEALS
 
Finney-Smith
1-2
 
Five Players
1
McClellan
3-4
 
Reed / Rodriguez
3
CORAL GABLES, Fla. (AP) —  Sheldon McClellan scored 24 points Tuesday, and No. 17 Miami overcame an off night offensively with scrappy defense in a 66-55 victory over rival Florida.
The Hurricanes held Florida to 39 percent shooting, including 1 for 12 from 3-point range. Miami shot a season-low 39 percent overall, but made 7 of 17 3-pointers and shot 79 percent from the free-throw line.
The Hurricanes (8-1) won their third straight game since losing at home to Northeastern. The Gators (6-2) lost to their instate rivals for the second consecutive year.
Tonye Jekiri, Miami's leading rebounder this season, went to the locker room after being shaken up when he fell under the basket. He missed eight minutes before returning early in the second half, and finished with nine points, nine rebounds and three blocks.
Miami had a 42-31 edge on the boards.
Angel Rodriguez scored 17 points for Miami and had three steals. Depth has been a strength for the Hurricanes, but their reserves were outscored 10-3.
John Egbunu scored 14 for the Gators, who had two players foul out and never found their shooting touch. KeVaughn Allen scored with 5:51 left to cut Miami's lead to 56-46, but Florida didn't make another basket until only 1:38 remained.
The Gators' point total was a season low.
Both teams tried to make up for their offensive deficiencies with hustle. One sequence included a blocked shot by Miami and a prolonged scramble for the ball before the Hurricanes finally wrestled it away to start a fast break that ended with a layup by Davon Reed.
The sellout crowd of 7,972 included a large contingent of Florida fans. The teams, which have played each other only six times since 1991, have no more games scheduled in the series.
Team Notes 
– Miami's win is the second-straight over the Gators, defeating the then-No. 8/7 Florida last season, 69-67 in Gainesville.
-This is Miami's fourth consecutive win over an SEC opponent, all in the last 13 months (Florida, Alabama, Mississippi State, Florida) (via AP).
-Miami improved to 10-0 all-time when senior Sheldon McClellan scores more than 18 points.
– Miami has trailed for 13 seconds in its last two games (via AP).
– Miami's men's and women's basketball teams are a combine 18-1, which is the most wins in Division I (via AP).
– The BankUnited Center was filled with 7,972 fans, marking the ninth time in school history for a sellout.
– Miami is 24-45 in the all-time series against Florida, which dates back to the 1927-28 season. The Canes are 17-15 at home against the Gators, 7-29 on the road and 0-1 at neutral sites.
– Head coach Jim Larrañaga has a 569-384 overall record in his 32nd season as a head coach. He is 99-50 in his fifth season at the University of Miami, with a 41-29 mark in ACC play.
– With the win over Florida, Miami is now 82-36 while ranked in the top 25 all-time. When ranked, the Canes are 64 -30 since the rebirth of the program in 1985-86, 34-16 since joining the ACC in 2004-05 and23-9 under Coach L.
Individual Notes
– With three blocks, senior Tonye Jekiri moved into tied for 10th on Miami's career blocks list, tying Jimmy Graham (104).  Tonye started the night in 11th place with 102. Reggie Johnson sits at ninth with 113 career blocks. 
– Angel Rodriguez knocked down three shots from long range continuing his streak of hitting a three in all games this season.
-Senior Angel Rodriguez's second 3-pointer of the night was the 150th of his college career (via AP).
– With 24 points, Sheldon McClellan has scored 20-or-more points in six career games at Miami. McClellan has scored 16+ points in five of eight games (via AP).
-With his 23rd point tonight, McClellan reached 700 for his Miami career (41 games) (via AP).
-A basket by Jekiri with 15:13 left in the first half was the 5,000th point Miami has scored at home under Jim Larranaga (via AP).
– McClellan swiped three steals, and has a steal in every game but one (vs. Charlotte). 
– Kamari Murphy blocked one shot and has at least one block in four-straight games.
– Davon Reed pulled down four rebounds, grabbing at least three rebounds in every game. 
– Miami's starters against Florida were Angel Rodriguez, Sheldon McClellan, Davon Reed, Kamari Murphy and Tonye Jekiri. 
– Freshman Anthony Lawrence sat out of the game with flu-like symptoms.