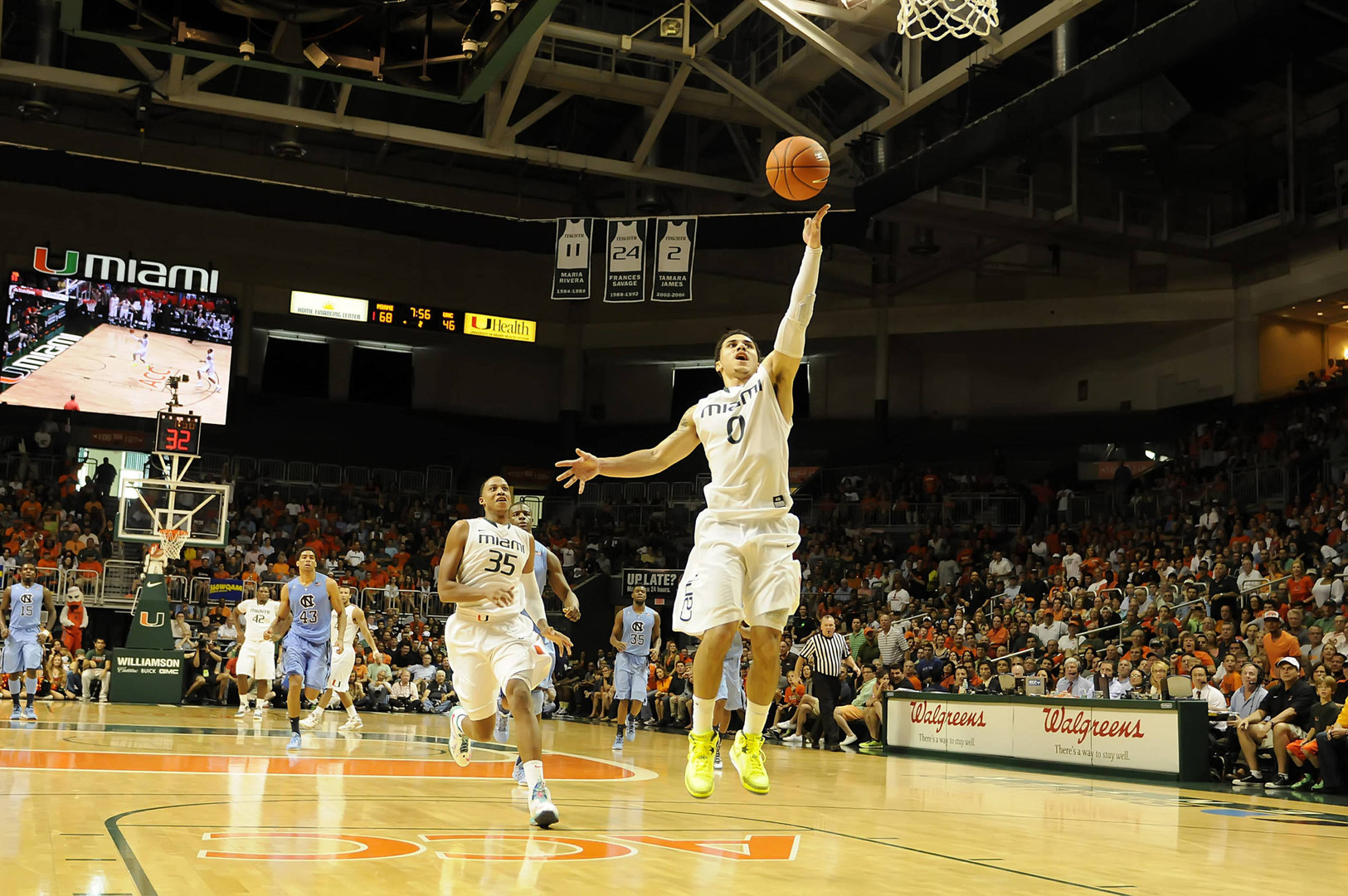 61NORTH CAROLINA

16-7 • 6-4 ACC

| | | | |
| --- | --- | --- | --- |
|   | 1st | 2nd | F |
| | 27 | 34 | 61 |
| | 44 | 43 | 87 |

                  Box Score  | Overall Stats | ACC                              Interviews | Infographic | Photo Gallery Highlights  | Full Game  | Condensed Game  

Coral Gables, Fla. • Attendance: 7,972

 
87
No. 8 MIAMI

19-3 • 10-0 ACC
February 9, 2013
 
Individual Leaders
 
 
 
 
Points
 
16
Reggie Bullock
 
18
Shane Larkin
 
Rebounds
 
8
Reggie Bullock
 
7
Julian Gamble
 
Assists
 
3
Jackson Simmons
 
8
Shane Larkin
CORAL GABLES, Fla. (AP) – The Miami Hurricanes played so well Saturday they earned a standing ovation from LeBron James and Dwyane Wade.
With the Heat stars watching from the front row, the eighth-ranked Hurricanes put on another show at home, making a school record-tying 15 3-pointers and extending their winning streak to 11 games by beating North Carolina 87-61.
Sophomore Shane Larkin had 18 points and a career-high nine assists for the Atlantic Coast Conference leaders, who built margins of 9-0 and 44-27 en route to another rout. They improved to 11-0 at home, where each of the past four wins have been by at least 22 points.
Such success is unprecedented for the Hurricanes (19-3, 10-0 Atlantic Coast Conference), who set a school record for ACC victories in a season with eight games still to go. They are the last unbeaten team in league play among the major conferences.
North Carolina (16-7, 6-4), which began the season 18-2 against the Hurricanes, lost to them for the second time in four weeks.
The Hurricanes made 13 of their first 19 3-point tries and finished 15 for 26 from beyond the arc. Larkin tied a career high with five 3-pointers in eight attempts.
Miami's smothering defense did the rest, flustering a team averaging an ACC-best 79.1 points per game. Julian Gamble led the way with four blocks, and the Tar Heels were so discombobulated that on one inbounds pass, two of their players collided away from the ball and went sprawling.
James and Wade, accompanied by Heat teammate James Jones, were on their feet several times to join the cheers, including when Kenny Kadji hit an NBA-style throwdown dunk for a 70-46 lead. The Heat stars were part of a sellout crowd, the third in the past four home games for an attendance-challenged program.
Another climb in the polls for the Hurricanes is likely next week, which would mean their best ranking ever. They have never been higher than No. 8, and achieved that spot this week for the first time in 53 years.
Kadji and Durand Scott each had 17 points and six rebounds for the Hurricanes, who shot 54 percent, the best against North Carolina this season.
Reggie Bullock led the Tar Heels with 14 points, while James McAdoo totaled only six, nine below his average.
North Carolina, playing in new throwback uniforms, looked out of sorts from the start. The Hurricanes made layups on three consecutive possessions to take a 9-0 lead after only 2 minutes.
The Hurricanes' defense was so good they committed turnovers on five consecutive possessions and still led 13-2. They hit six 3-pointers over the final 5:04 of the first half to go ahead 44-27.
Five minutes into the second half, the margin was 59-33. It was such a clean performance by the Hurricanes that they played 24 minutes before either team shot a free throw.
Game Notes
Tonight's starters for Miami: Shane Larkin, Durand Scott, Trey McKinney Jones, Kenny Kadji and Julian Gamble. 
Miami improved to 10-0 in conference play, and is the only team in the nation of the power six conferences (ACC, Big 12, Big Ten, Big East, Pac 12 and SEC) still undefeated in conference play. 
The Hurricanes set a school record for ACC victories in a season with 10. 
Miami is the first team to beat Duke and UNC by 20 plus points in the same season since Maryland in '74-75 season. 
Miami is the first team to beat Duke and UNC by 25 points since the start of ACC play in 1953. 
Miami improved to 11-0 at home, each of the Hurricanes past four wins have been by at least 22 points – Duke +27, FSU +24, BC +22, UNC +26. 
The Hurricanes had a sold out crowd of 7,972 in attendance at the Bank United Center for the third game this year. 
Miami held UNC, who shoots an average of 44.8 percent from the field, to 36.7 percent from the field at the half, and 38.5 percent shooting for the game. 
The Hurricanes made 15 three pointers and shot 57.7 percent from distance for the game. Miami tied a school record for 3-point field goals made in a game with 15.
The last time the Hurricanes recorded that many was 2010 vs. South Carolina State & 1993 vs. Georgetown.
The Hurricanes, who shot 54.4 percent from the field, improve to 5-0 when shooting 50 percent or better from the field. Shane Larkin recorded a season high nine assists. His previous high was six vs. Florida State on Jan. 27, 2013.
Shane Larkin (18), Durand Scott (17), Kenny Kadji (17) and Rion Brown (11) all scored in double digits. The Canes are now 12-0 when four Canes score in double digits.