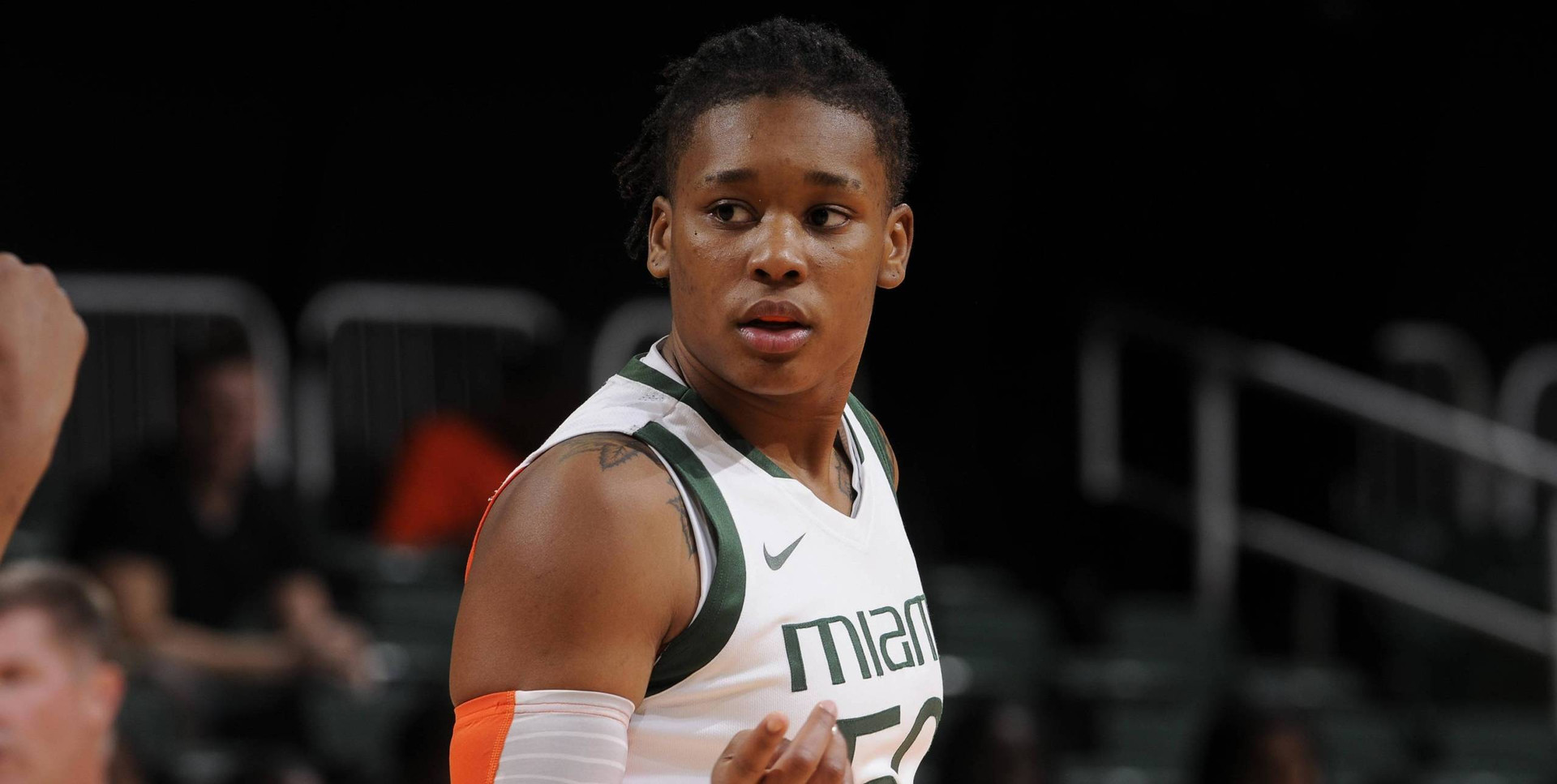 By David Villavicencio
CORAL GABLES, Fla. –Maria Brown is a consistent contributor on the court for Miami's women'sbasketball team.
The junior provides a lot energy and aggressiveness ondefense, mixed in with a talented mid-range game offensively. Despite being animportant player for Miami, Brown is proudest of her off-court work.
Brown is very active in the Miami community, helping with avariety of charities, but she recently spent time with Miami native DejaWebster and the experience made a big impact on Brown.
"My experience with her was amazing," Brown said. "She'ssuch a great kid.  Her smile isamazing.  How could she be goingthrough so much, doing chemo and just the thought of having cancer and stillkeep a smile on her face and being so positive about life?"
Webster, who is battling Stage III Hodgkin's lymphoma, spenttwo days as an honorary member of the women's basketball team. She is the firstperson to be recognized by the University of Miami in conjunction with theAusten Everett Foundation. Everett was a soccer player at Miami beforesuccumbing to non-Hodgkin's lymphoma in August 2012.
"She was with us for two days and she just hung around theteam and watched us practice. Before shoot around, she ate with us for ourpre-game meal," Brown said.  "Iasked the guy she was with if she wanted to stay with me before the game. Shesaid she wanted to stay, so we just went to the lounge and watched TV.  A few of the other players were inthere so we were talking and just having fun, just enjoying each other'scompany and sharing stories. "
Miami coach Katie Meier knows that Webster enjoyed her timewith the team, but Meier is confident that her players benefitted just as muchfrom spending time with Webster as she did by being with the team.
"The day was a blessing for us," Meier said. "We thanked herfor letting us spend time with her and I truly meant it. We did nothing forher. She did everything for us. That's usually the case when you choose to give instead ofcomplain.  You end up receivingwithout knowing it."
Like Meier, Brown feels the team benefitted immensely fromspending time with Webster.
"She was really an inspiration to me and I let her knowthat," Brown said. "I told her that she inspired me to be great and to be thebest person I can possible be everyday. My experience with her was very touching because I have personalconnection with that. My grandmother had ovarian cancer, so I really enjoyedconnecting with her, and I made sure we spent qualitytime together and she enjoyed herself."
A Louisiana native, Brown has always been involved incommunity service. The daughter and granddaughter of nurses, she was taught ata young age about the importance of helping others.
"It's just my character," Brown said. "My family has alwaysbeen a very helping family.  My grandmotheralways took people in and helped them get on their feet when they had nowhereto stay or no job.  She would letthem come in and she would cook for them. It's always been helping, helping,helping. That's just how my family is. My mother and grandmother are nurses so I guess it's kind of instilledin me.  I am a giving person.  I love positive energy and seeingpeople smile."
Brown spends a lot of her free time making people smile atthe Yes Institute. The 20-year-old has spent several months volunteering hertime to make sure that others who need help are receiving it.
"Their mission is to keep children safe," Brown said of theYes Institute. "They basically focus on gender and (sexual) orientation. Wetalk to teachers, parents and administrators on how to approach people in thatpopulation because there are a lot of students that are not educated abouthomosexuality.  It's a topic that'snot talked about a lot because people don't feel more comfortable. We also talkto troubled teens and anybody who needs help getting through things. Peoplebeing bullied, that may be suicidal or maybe something else is affecting them.I just go talk to people and give them my story and the experience I've had."
While Brown helps others off the court, she helps her teamand coaches on the court.
"She calms me down," Meier said. "Maria and I have a goodrelationship.  It's deep.  I can usually get the pulse of themteam when I look at her, she has a really expressive face.  I know when things aren't right and I canknow when things are good.  Shealways says, 'We got you coach, it's going to be okay.' She's one of those kidsthat really thinks about the coaches and let's us know 'we're good and we'vegot it.' She's a very caring individual, and I really appreciate that abouther.  She honestly cares aboutpeople."
Brown uses her energy and magnetic personality to get themost out of herself and her teammates.
"I'm a very energetic person," Brown said. "I like seeingsmiles on peoples faces and just making people happy. That's just my character.For me to be able to give that to my team and get it back from my team, it'simportant to me."
While stars like Morgan Stroman and Stefanie Yderstrom getmost of the accolades, Meier feels players like Brown are instrumental inMiami's success.
"We can't win big time basketball games without her. We justcan't," Meier said. "She brings physicality off the bench, keeping our spiritsup, making sure everybody settles and she has a tremendous amount of poise.Most nights, if we're having a special game and we're clicking or playing withpassion or intensity it usually goes back to something Maria did."