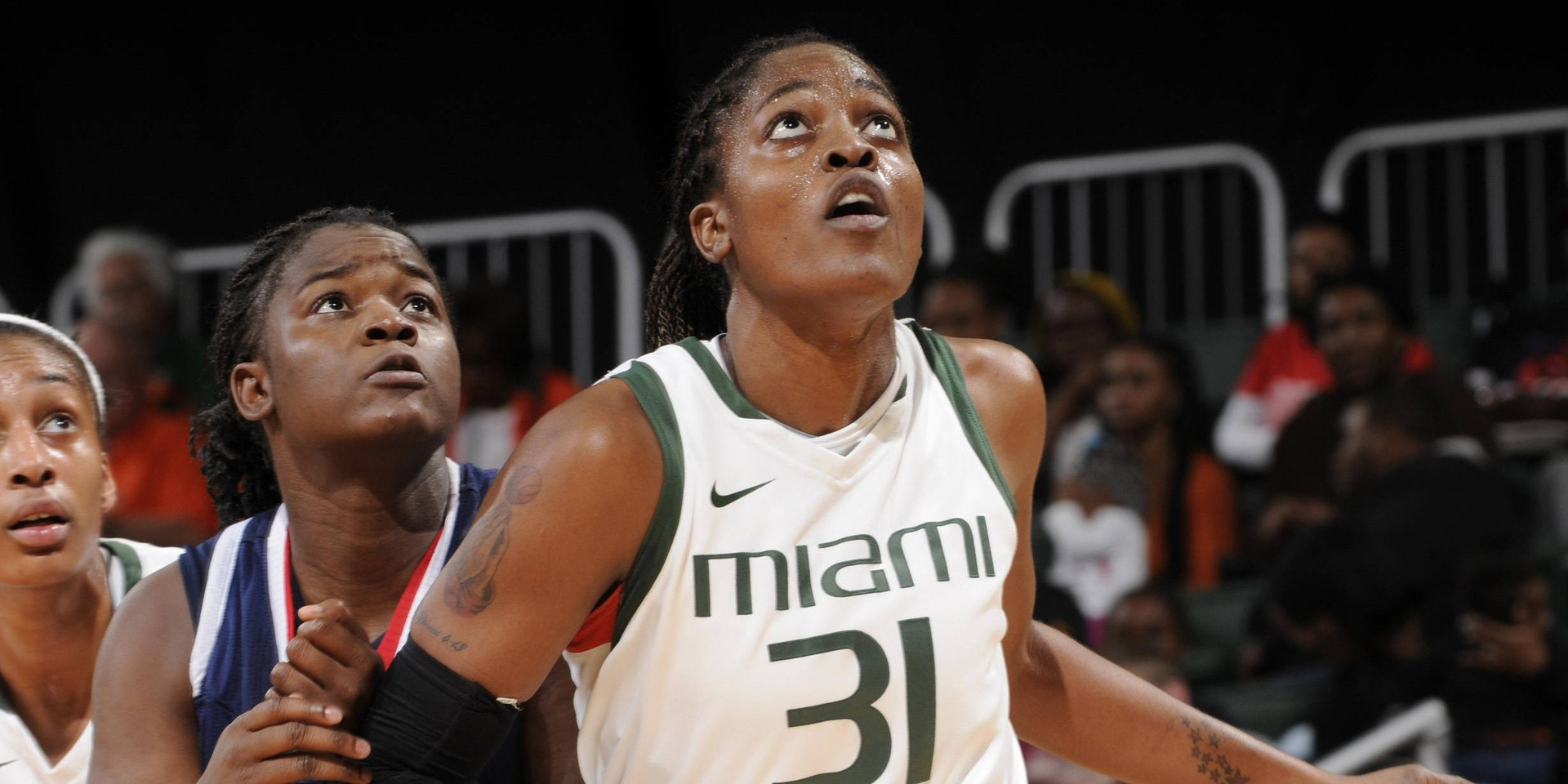 By David Villavicencio
CORAL GABLES, Fla. – Talent made Macy Keen a high school star, but hard work is whatshe needs to make a successful transition to college basketball.
A two-time statechampion at Dillard High School in Fort Lauderdale, Fla., Keen was rated ashigh as the 37th-best player in the country as a senior. She was recruited byFlorida State, South Florida and Tulsa before deciding to stay close to homeand play for the Hurricanes, but her brief time at Miami has not gone the waymost top recruits would expect.
Keen has played in justfive of Miami's first nine games this season, averaging only 7.2 minutes per game.
"It's been tough on me,"Keen said. "But I've just got to keep my head up and keep fighting to reach mygoal."
That goal is to be acontributor, and eventually a star, for the Hurricanes. But Keen has a lot ofwork to do before she can fulfill her goal.
"I think it's a matterof getting to know so many plays," Keen said. "In high school, you get like sixplays and here we have like 100 plays."
Assistant coach OctaviaBlue can see the frustration in Keen at times, but she knows the 6-foot-6center will fight through the tough transition and be better for it.
"I think every freshmanis having that tough transition from high school to college," Blue said. "It'sjust a matter of Macy working on her skills, getting stronger and being able toprocess a lot. Sometimes it's hard for a student-athlete to come in andremember so many plays and defensive schemes. "
Keen acknowledges thatshe is behind when it comes to learning Miami's large playbook. But she isputting in extra time with Blue to make sure she is ready when head coach KatieMeier calls her name.
"I do a lot of filmstudy with her and stuff on the court," Blue said. "When she's not in, I haveher stand next to me and talk her through different schemes. It's a learningprocess, but she's handling it."
Beyond working with aMiami legend like Blue, Keen is very close to team captain Shawnice "Pepper"Wilson.
"Pepper helps me out alot," Keen said. "She helps me learn the plays and in practice. I look up toher for everything."
The two forged a strongbond when Keen committed to the Hurricanes and now they consider themselvessisters.
"I didn't know her priorto her committing here, but once she got here, she and I became close," Wilsonsaid. "She calls me her 'big sister.' We just developed a really goodrelationship off the court. I look at her like a sister, too."
Wilson is the perfectrole model for Keen because she was in a similar situation as a freshman at theUniversity of Pittsburgh. She was a highly-rated recruit who struggled toadjust to the college game just like Keen is experiencing now.
"I told her that it'snot going to be an easy transition to come from high school into college,"Wilson said. "I tell her to relax and not stress too much. She looks at me nowand thinks I was always a big player, but I wasn't. I let her know that when Ifirst came into college, my freshman and sophomore years weren't like the lasttwo. She is not the only person who is going through this and I tell her thatit will get better. I like to show her that we've all gone through it, but itgets better with time."
Blue, who was a two-timeAll-American and Miami's first WNBA draft pick, believes Wilson is the perfectplayer for Keen to follow.
"Pepper's work ethic isright where it needs to be," Blue said. "You take her in an individual workoutand she is excellent. She has really good fundamental skills in terms offootwork and things like that. When I run post drills, I'll have Macy come inwith Pepper so Macy can follow her lead. It's one thing for me to saysomething, but it's easier sometimes when you can see it run properly, you canunderstand it easier."
Beyond learning what todo on the court, Blue believes Wilson can be beneficial to Keen's developmentoff the court, as well.
"I talk to Pepper quitea bit about being a mentor to Macy," Blue said. "I'm a coach and you don'talways want to hear things from a coach. With Pepper being mature and a senior,I think she is a great mentor for her."
Keen is always aroundWilson. Like any big sister, Wilson is aware that Keen looks up to her and sheis always careful to set a good example for the freshman.
"Macy hangs on to almostevery word I say," Wilson said. "I make sure that I am particular about what Itell her and make sure that I give her the right information to take in.Gradually, she is understanding it. She's a student of the game that wants tolearn. She takes any type of coaching, whether it's from one of the coaches orfrom the players. She is very motivated and works hard. She gives us a lot ofenergy on and off the court."
Keen hopes to follow inWilson's footsteps and become the Canes' starting center next season. As muchas she is excited for the opportunity, she admits that she will miss one of herclosest friends after Wilson graduates.
"I like playing withPepper because I'm going to run into taller girls as my career goes on," Keensaid. "Playing with Pepper in practice is making me better. I'm really lookingforward to playing next year but I'm going to miss her."
Wilson is confident thatKeen has the potential to be a great player. She just needs to continue to workon improving her game.
"I tell Macy all thetime that she can have a great career here," Wilson said. "She can be way moresuccessful than I have the past couple of years just because of her athleticability and her quickness for her size. I can see her being very successful aslong as she continues to work hard and put in the extra work with our coacheslike she is doing now. She's just got to stay committed."
Commitment to excellenceis something Keen is adamant about. She is putting in extra work outside ofpractice with Blue and Wilson to make sure she continues to develop as aplayer.
"I feel like I just needto keep working," Keen said. "I'm getting some minutes now and I've beenworking hard. I've just got to get better."
Blue has seen Keenprogress in their individual workouts. She hopes that will translate to thepractice court and eventually to games.
"It's just a matter ofconfidence," Blue said. "I've seen Macy do things in the individual workoutsthat she doesn't bring every day in practice. I tell her all the time that shewill get her confidence from coming in and doing extra work because if you knowwhat you're doing behind the scenes then you'll feel comfortable on the floorknowing that you put the work in. I see glimpses all the time of what she canbe. I know her schedule is full, but I tell her to get in the gym whenever shecan because it is only going to help her."
While most recognizethat Keen is going through a trying time in her basketball career, Bluebelieves Keen's personal struggles have not affected her willingness to helpthe team. In fact, Blue feels Keen's positive attitude during a difficult timeis what will ultimately help her succeed and become a great player.
"Macy's intensity andenergy are special," Blue said. "One thing about that kid is she's a greatteammate. She cheers everyone on. She has a motor. She has the tools. She canrun and she plays with a lot of energy. She has a chance to be a player forus."