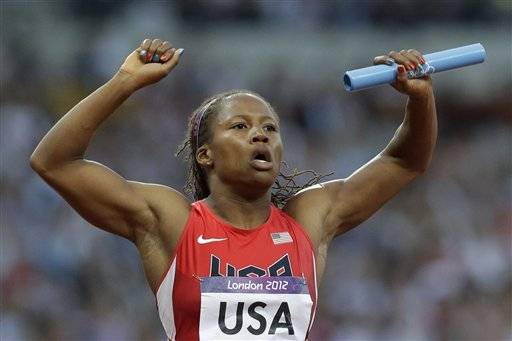 Eleven members of the Hurricanes family are set to particpate either as athletes or coaches during the 2012 Summer Olympic Games in London. The Opening Ceremonies will be held on July 27, with the Closing Ceremonies scheduled for Aug. 12. In between, use this page for links and schedule information for all things UM in London. In addition, follow the official #OlympicCanes Blog for pictures, video and more. See below for media coverage.
August 8
August 9
August 10

DIVE: Viola (Prelims)
14th, qualified for semis
Results

TRACK: Brown (400m Hurdles Finals)
Sixth Place
Results

TRACK: Ahouré (200m Finals)
Sixth Place
Results

DIVE: Viola (Semis)
15th
Results

TRACK: Williams (4x100m Relay)*
3:20 p.m. EST
Results

* – anchor leg

TRACK: Williams (4x100m Relay)
Gold Medal
Results
London2012 | NBC Olympics | Full Olympics Schedule | #OlympicCanes | ACC in London
Friday, August 10


Lauryn Williams added a gold medal to her resume as Team USA smashed a world record to win the 4x100m relay. Williams ran the anchor leg in the preliminaries on Thursday as part of the relay pool. The sprinter also won a silver medal in the 100m dash in Athens in 2004.
Associated Press: Friday's Olympic Medalists
Associated Press: U.S. smashes women's 4×100 mark
Christian Broadcasting Network: Disappointment Led to New Focus
Detroit Free-Press: Ex-Detroiter Lauryn Williams wins gold despite not running in women's 4×100 relay
Times Online: Williams gets her gold: Relay team breaks world record
DEEM
Associated Press: US women set to earn more medals than '08
Thursday, August 9


Competing in the 10m platform, diver Brittany Viola wrapped up her first appearance at the Olympics with a 15th-place finish in the semifinals. In track and field, Lauryn Williams ran the anchor leg for Team USA to help the squad win its heat and advance to the finals in near-record time. Watch the race here. It marked her third Olympic Games.
DEEM
USA Today: Relays ahead, and U.S. teams better get on the stick
VIOLA
Associated Press: Brittany Viola falls short in diving semifinals
Associated Press: China's Chen dominates 10-meter platform semis
MLB.com: Viola watches daughter in Olympic platform diving
NBC Miami: Viola Fails to Qualify in Diving Finals
Star Tribune: Viola, dad share bond of big-stage pressure
Washington Post: No sweet music: Brittany Viola misses out on 10-meter Olympic diving final
WILLIAMS
Chicago Tribune: U.S. set pace in women's 4×100 heats
CTV: Rest of Day 13 – Athletics
Miami Herald: Olympic Roundup
Pittsburgh Post-Gazette: Relay redemption: Williams finishes blazing prelim run
Times Online: Williams, teammates finish 1st in 4×100 prelims
Wednesday, August 8


In a busy day for the #OlympicCanes, two track stars ran in finals and one diver made her London debut. Running in her second finals of the Games, Murielle Ahouré placed sixth in the highly-competitive 200m dash. She also appeared in the finals of the 100m dash. Right before her race at the Olympic Stadium, T'erea Brown earned sixth in the 400m hurdles. In her first Olympics, Brown set a personal best in the semifinals on Monday. Brittany Viola secured a spot in the semifinals of the 10m platform diving competition after a strong showing in her debut.
AHOURÉ
SB Nation: Brown Finishes 6th In Women's 400m Hurdles, Murielle Ahoure 6th In 200m
BROWN
Associated Press: 49ers CB Cory Nelms has his Olympic moment
Inland Valley Daily Bulletin: San Francisco 49er player beams with pride at girl friend's Olympic run
San Jose Mercury News: Nelms 'definitely proud' of girlfriend's sixth-place finish in Olympic hurdles
WCSC: Charleston native finishes in 6th place at London Olympics
Virginia-Pilot: Hampton High's Brown runs in 400m hurdles finals
VIOLA
Associated Press: Ex-pitcher Frank Viola's daughter goes for Olympic gold in platform diving
Associated Press: Minnesota's Brittany Viola advances to 10-meter platform diving semifinal
KLAS: Viola dives in Olympics with famous dad on hand
Sun-Sentinel: Former UM diver Viola reaches semifinals
Telegraph: Platform diving starts
WILLIAMS
Pittsburgh Post-Gazette: Rochester native to anchor relay team
Tuesday, August 7


After posting a second-place finish of 22.49 in heat two of the 200m dash, sprinter Murielle Ahouré qualified for her second finals in London. She will run for a gold medal on Wednesday.
Athletics Africa: Makhloufi nicks Gold for Algeria; Ahoure, Rudisha and others claim final slots
Bleacher Report: Women's Olympic 200-Meter Dash 2012: Previewing Favorites and Dark-Horse Runners
Trinidad And Tobago Newsday: Sprinters race into 200m final
Washington Examiner: Ivory Coast sprinter with local ties advances to 200-meter final
BROWN
MLive: Seeing Isn't Believing
Sacramento Bee: 49ers' Nelms has a stake in London Olympics with girlfriend T'erea Brown
VIOLA
Bleacher Report: Bold Predictions for 10m Platform
Milwaukee Journal-Sentinel: Diver Viola finds a new route to the Olympics
Northern Voices: Olympic women's diving schedule: Can US win a gold
Monday, August 6


T'erea Brown and Murielle Ahouré each recorded strong times at the Olympic Stadium to move on to the next round. Brown set a personal best in the 400m hurdles (54.21) to advance to the finals of the event in her first appearance at the Olympics. Running in her second event this week, Ahouré won her heat in the first round of the 200m dash with a time of 22.55, the second fastest in the field overall.
AHOURÉ
ABC: Olympic Roundup
Sun Sentinel: South Florida Athletes in Position for Gold
BROWN
CSN Bay Area: 49ers DB excused to watch girlfriend qualify for Olympic final
Contra Costa Times: Nelms and Browns have a speedy relationship
Daily Press: Hampton's Brown advances to finals of 400-meter hurdles
NBC Wavy: Hampton's T'Erea Brown makes finals
San Jose Mercury News: Nelms watches long-time girlfriend advance in Olympic hurdles
RunnersWeb: Olympic Wrapup
Virginian-Pilot: Hampton High's Brown advances in 400m hurdles
MICHEL
Cornwell: Michel proud of team after waving farewell
Sunday, August 5


In her Olympic debut, T'erea Brown ran a personal best (54.72) to finish second in heat one and qualify for the semifinals of the 400m hurdles. Sixteen athletes will run in Monday's semifinals, with eight moving to the finals on Wednesday. In volleyball, Team GB fell to Japan, 3-0, to wrap up action in the Olympics. Ciara Michel had seven spikes, while Savanah Lead recorded 14 spikes and eight digs. The host nation went 1-4 in pool play in its first-ever appearance in the sport at the Olympic Games.
BROWN
Arizona Republic: 400m Hurdles Update
SB Nation: T'erea Brown Qualifies For 400m Hurdles Semifinal
Washington Times: Checking in on the D.C., Maryland and Virginia athletes
LEAF/MICHEL
NBC Olympics: Japan finishes prelims with sweep of British
Reuters: Crowd favorite GB women slide out of Games
Orange UK News: GB women end with defeat
The Guardian: Team GB exit women's volleyball with defeat by Japan
Washington Post: Volleyball Roundup
RAILEY
Bettor: Zach Railey Satisfied With Performance In 2012 London Olympic Games
Saturday, August 4


Murielle Ahouré qualified for the finals of the 100m dash with a time of 11.01 in the semifinals. Running out of lane three, the sprinter started strong, but finished seventh in the event (11.00). She will next run in the 200m dash preliminaries on Monday.
24 Hours Vancouver: Olympic athletes on fast track to 100M success
Star Africa: Okagbare, Ahoure sprint into 100m finals
Toronto Star: Olympic athletes on fast track to 100M success
Washington Post: Field set for women's 100-meter final
GENERAL
Miami Herald: A lot of drama, success after first week of London Olympics
Sun Sentinel: Olympic updates for Miami alumni in London
Friday, August 3


In her Olympic debut, Murielle Ahouré set a personal and Ivory Coast national record with a time of 10.99 in the 100m dash to win heat seven. She will run in heat three of the semifinals on Saturday, hoping to advance to the finals later on in the night. In volleyball action, Team GB suffered a 3-0 defeat to the Dominican Republic to drop to 1-3 with one pool play match remaining. Zach Railey wrapped up his second appearance at the Olympics with a 12th-place finish in the standings in the sailing Finn class.
AHOURÉ
Associated Press: Jeter leads quick women's 100 heats at Olympics
Associated Press: Women say 'fast track' awaits men's sprinters
Associated Press: Sub-11 no big deal on fast day at Olympics
McClatchy Newspapers: A cauldron of competition: Here comes track and field
Star Africa: Okagbare,Ahoure power into semis
Virgin Islands Daily News: Training Duo Advances to Semis
LEAF/MICHEL
SportsBeat: Women's Games hangs in balance
NBC Olympics: Dominicans' win has them thinking quarterfinals
RAILEY
Associated Press: Ainslie wins 10th race to set up medals showdown
New York Times: A Valued Adjunct to the U.S. Sailing Team
Tampa Bay Times: Clearwater's Zach Railey done in Olympic sailing
WILLIAMS
Associated Press: U.S. Showdown With Jamaica Begins With Women's 100-Meter Heats
Thursday, August 2


Zach Railey recorded 12th and eighth-place finishes in day four of sailing action in the Finn class. He is currently in 12th place overall, needing to be in the top-10 to advance to the Medal Race with two qualifying competitions to go.
Tampa Bay Times: Clearwater's Zach Railey in tough spot with two races left
U.S. Sailing: Daily Report
BROWN
Daily Press: T'Erea Brown: New name, same speed
DEEM
Denver Post: U.S. medal hopes lean heavily on track and field team
USA Today: Sprinters could find fast track, records, if weather allows
Washington Post: U.S. Track Runners Prepare for Busy Schedule
LEAF
Santa Cruz Sentinel: Former Marin Academy volleyball standout Savanah Leaf having a ball on Team GB
MICHEL
Sports Beat: Home Court Advantage the Difference
ROSS
The Star Phoenix: Ross savours his Olympic swan song
VIOLA
Queens Chronicle: Queens Olympians shine in London
Wednesday, August 1


Reuben Ross finished in sixth place in the 3m synchronized springboard diving event with partner Alexandre Despatie. It was the second appearance for Ross at the Olympic Games. In volleyball action, Team GB suffered a tough 27-25 loss in the opening set against Italy and did not recover, falling to 1-2 in pool play with two matches remaining.
DEEM
The Star: Strong US athletics squad targets 30 medals at the Games
LEAF/MICHEL
London Standard: Back on home ground: US-based athletes make the most of competing in London
NBC Olympics: Italians sweep Britain to stay atop Group A
Somerset: Ciara Michel: Claiming Team GB's first ever volleyball win at London 2012 an amazing feeling
The Independent: Team GB women brushed aside as Italy ease to volleyball victory
RAILEY
BYM: U.S. London Olympic Sailing Team update
ROSS
Boxscore News: Sixth place for Canadians Despatie and Ross in men's three-metre Olympic synchro
Canadian Press: Despatie, Ross 6th in three-metre synchronized diving at London Olympics
CBC: Canada's Despatie, Ross finish 6th in synchro diving
CJME: Family supports Pilot Butte's Olympic diver Reuben Ross
Global Regina: Pilot Butte's Reuben Ross misses the podium after disappointing dives
Long Beach Press-Telegram: Photos: Men's Synchronized Diving gold medal event at the London
National Post: How the Canadians did on Day 5
The Globe and Mail: Divers Alexandre Despatie and Reuben Ross sixth in three-metre synchro
The Sentinel: Alexandre Despatie bounces back in Olympics after hitting head on board six weeks ago
Toronto Star: What Canada Did: Day 5
Vancouver Sun: Alexandre Despatie, Reuben Ross sixth in synchro springboard
WILLIAMS
Adage: Olympic Athletes Rebel Against Social-Media Rules
Tuesday, July 31


Zach Railey made a move up the standings with second and eight place finishes on Tuesday morning. He is currently in 13th place with four qualifying races to go in the Finn class. Watch a replay of the races here.
Associated Press: Dane keeps lead over Ainslie in Olympic Finn class
Los Angeles Times: Olympic Roundup
Sail World: Strong day 3 for US Sailing Team
BROWN
Baltimore Sun: Olympic ink: 40 more tattoos on the world's best athletes
DEEM
AFP: Jamaica's 2008 success a wake-up call – US coach
Washington Post: Track coaches not tipping hand on relays
LEAF
San Anselmo-Fairfax Patch: Leaf's Olympic Volleyball Team to Face Italy
ROSS
Global Montreal: Olympics preview: Wednesday, August 1
VIOLA
Sun-Sentinel: Olympic diver: 'With exercise comes longevity'
Monday, July 30


Savanah Leaf and Ciara Michel helped Team GB win its first ever indoor volleyball match at the Olympics with a hard-fought 3-2 victory. From the BBC: "…the historic point came at 00:37am as Ciara Michel won a block at the net, some of the Team GB players fell to their knees in tears." Leaf, the youngest member of the team, finished with eight spikes, while Michel had four kills and two aces. Watch a replay of the thrilling match here. The host nation improved to 1-1 in pool play with three more matches left. Sailer Zach Railey finished 13th and 17th, respectively, in two races on the day. He sits in 13th overall with six qualifying races remaining.
LEAF/MICHEL
BBC: Great Britain record maiden win
Brent & Kilburn Times: Team GB volleyball inspired to victory over Algeria
Daily Mail: Volleyball women secure historic first-ever Olympic win
NBC Olympics: British women make history with five-set win
The Star: Sheffield based team claim historic win
RAILEY
Bloomberg: British Olympic Sailors Say Bay Currents Provide Home Advantage
Sail World: Busy day for Team USA
Sports Network: British sailing crew moves up to 1st in Star
Sunday, July 29


Zach Railey, a 2008 silver medalist in Beijing, began competition in the Finn Class in sailing on Sunday morning with a 10th and 15th-place finish. Eight races remain in the preliminaries prior to the medal race. Click here to listen to Railey talk to U.S. Sailing.
Reuters: Sailing Day One
Sail World: London Olympics – Day 1 for the US Sailing Team
SB Nation: Local Athletes Ready To Compete On Day Three
Tampa Bay Times: Clearwater's Zach Railey has tough day on the water
U.S. Sailing: Daily Report: U.S. Olympic Sailing Team
WILLIAMS
USA Today: Athletes tweet demands for change to IOC rule
VIOLA
Yahoo: Athletes from Florida in the 2012 Summer Olympics
Saturday, July 28


Savanah Leaf and Ciara Michel each made history as they took part in Team GB's first-ever indoor Olympic volleyball match, but the hosts fell to No. 9 Russia, 3-0. Click here for the box score and here to watch a replay of the match.
Brent & Kilburn Times: Team GB makes history
Daily Mail: World volleyball champs Russia are too much of a tall order for rookie Brits
Press Association: Volleyball's Michel spots stars in Olympics village
Reuters: Britain swept in first-ever Olympic match
Telegraph: Great Britain women's volleyball team buoyant despite debut loss to Russia
DEEM
Boston.com: Ask an expert: Track coach answers your questions
GENERAL
Sunshine State News: Rick Scott Cheers Florida's Olympians in London
RAILEY
U.S. Sailing: Daily Report: U.S. Olympic Sailing Team
Friday, July 27


The 2012 Olympic Games officially begun with the Opening Ceremonies held inside the Olympic Stadium in London. Following several acts, the athletes and coaches entered in the Parade of Nations. The night ended with the lighting of the Olympic Cauldron and a performance by Paul McCartney. Click here to view photos taken by #OlympicCanes and here for tweets.
Associated Press: With royalty and rock, Britain opens its Olympics
 
Information
Links
Schedule (Times EST)

RANDY ABLEMAN
USA
Diving
Assistant Coach
Fifth Olympics

Miami Bio
Release
UM Hall of Fame
@USADiving
USA Diving
Diving
July 29-Aug. 11
Full Schedule
MURIELLE AHOURÉ
Ivory Coast
Track & Field
100m, 200m
First Olympics
Olympic Bio
Release
IAAF Times
@MurielleAhoure
Ivory Coast Olympics

100m
8/3: First Round (1st)
8/4: Semifinals (3rd)
8/4: Finals (7th)

200m
8/6: Prelims (1st)
8/7: Semifinals (2nd)
8/8: Finals (6th)

T'EREA BROWN
USA
Track & Field
400m Hurdles
First Olympics

8/5: First Round (2nd)
8/6: Semifinals (3rd)
8/8: Finals (6th)

AMY DEEM
USA
Track & Field
Women's Head Coach
First Olympics
Miami Bio
Release
@MiamiTrack
USA Track & Field
Track & Field
Aug. 3-11
Full Schedule
SAVANAH LEAF
Great Britain
Volleyball
First Olympics
Olympic Bio
Release
Blog
GB Volleyball | More

7/28 vs. Russia: L, 3-0
7/30 vs. Algeria: W, 3-2
8/1 vs. Italy: L, 3-0
8/3 vs. Dom. Rep.: L, 3-0
8/5 vs. Japan: L, 3-0

CIARA MICHEL
Great Britain
Volleyball
First Olympics
Olympic Bio
Release
@vb_ci
GB Volleyball | More

7/28 vs. Russia: L, 3-0
7/30 vs. Algeria: W, 3-2
8/1 vs. Italy: L, 3-0
8/3 vs. Dom. Rep.: L, 3-0
8/5 vs. Japan: L, 3-0

ZACH RAILEY
USA
Sailing
Finn Class
Second Olympics
2008 Silver Medalist

NBC Bio
U.S. Sailing Bio
Release
Website
@zachsail
U.S. Sailing

7/29: Race 1 (10th)
7/29: Race 2 (15th)
7/30: Race 3 (13th)
7/30: Race 4 (17th)
7/31: Race 5 (2nd)
7/31: Race 6 (8th)
8/2: Race 7 (12th)
8/2: Race 8 (8th)
8/3: Race 9 (12th)
8/3: Race 10 (19th)

CALVIN ROBINSON
France
Track & Field
Personal Coach
Second Olympics
Miami Bio
Release
Mickael Hanany
France Track & Field
REUBEN ROSS
Canada
Diving
Synchro 3m Springboard
Second Olympics
Olympic Bio
Canada Bio
@ReubenRoss
Canada Diving
8/1: Sixth Place
BRITTANY VIOLA
USA
Diving
10m Platform
First Olympics
8/8: Prelims (14th)
8/9: Semifinals (15th)
LAURYN WILLIAMS
USA
Track & Field
Relay Pool
Third Olympics
2004 Silver Medalist

Olympic Bio
USATF Bio
Website
@LaurynCWilliams
USA Track & Field

8/9: Prelims (1st)*
8/10: Finals (Gold)

* – anchor leg
AHOURÉ
Jamaica Observer: Prepare for fireworks in women's sprints
Star Africa: Murielle Ahoure, a rising sprinter on the international lane
Sun-Sentinel: Miami grad to carry the flag for the Ivory Coast in Olympic Opening Ceremony
Universal Sports: Murielle Ahoure upsets Women's 100m field in Rome
BROWN
Canes All Access: #OlympicCanes: Amy Deem, T'erea Brown, Lauryn Williams
Daily Press: With excitement around her, T'erea Brown remains focused on London
NBC Miami: Former Hurricanes Hurdler Has Lofty Hopes for London
DEEM
Canes All Access: #OlympicCanes: Amy Deem, T'erea Brown, Lauryn Williams
E-Veritas: The Deem Team
FloTrack: Coach Amy Deem talks young and veteran Olympians and coaching the team
Miami Herald: Fast track to Olympics for UM coach Amy Deem
MileSplit: Road To London: Coach Amy Deem
Palm Beach Post: Modest expecations lead to Olympian task for Hurricanes' Amy Deem
Parkersburg News and Sentinel: Deem coaching at London Olympics
Reuters: Strong U.S. squad ready to haul in the Olympic medals
Sun-Sentinel: Deem Team: Miami coach leads U.S. track team
LEAF
Brent & Kilburn Times: GB squad turn to Leaf
BBC: Teenager Savanah Leaf in Team GB volleyball squad
HurricaneSports.com: From Coral Gables to Great Britain
Marin Independent Journal: Former Marin Academy standout trying to make British national volleyball team
Miami Herald: Canes' Michel, Leaf make Britain's Olympic volleyball team
Miami Herald: Two players with UM ties vying to make Britain Olympic volleyball team
San Anselmo-Fairfax Patch: Former San Anselmo Resident Earns a Spot in the 2012 Olympics
MICHEL
GB Women's Volleyball: Q+A with Ciara Michel
HurricaneSports.com: From Coral Gables to Great Britain
Miami Herald: Canes' Michel, Leaf make Britain's Olympic volleyball team
Miami Herald: Two players with UM ties vying to make Britain Olympic volleyball team
OlympicCanes Blog: The Olympic Village
OlympicCanes Blog: Team GB "Kit Out" Day
Press Association: Tall Order for Michel and Team GB
RAILEY
AHN: US Olympic sailing team receives huge send-off
Associated Press: Sailing siblings Zach, Paige Railey off to London
BYM: Finn Class Interview: Zach Railey – living the dream
San Francisco Chronicle: Open-water Olympic team gearing up
Tampa Bay Times: The Tampa Bay area produces three sailors on the U.S. Olympic team
U.S. Sailing: A Day in the Life of Zach Railey
ROSS
Global Regina: Reuben Ross' family is ready to cheer in London
Metro Saskatoon: Pilot Butte's Reuben Ross in search of Olympic podium
Toronto Star: Two Canadian divers round out Olympic lineup
VIOLA
ESPNW: Diver Brittany Viola sets sights high
Fox Sports: Brittany Viola talks Olympics
KSDK: Brittany Viola battles eating disorder to become Olympian
NBC: Brittany Viola Reacts To Reaching Olympics
New York Post: Brittany Viola nears first Olympics, but famous father there in spirit only
Orlando Sentinel: From burned-out gymnast to Olympic diver, Brittany Viola chases dream
Pioneer Press: Brittany Viola hoping to make a splash in London
Pioneer Press: Brittany Viola, Olympic diver, has proud papa in former Minnesota Twin Frank Viola
Reuters: Viola overcomes injuries, bulimia to reach London
WJCL: Daughter of Sand Gnat Coach Headed to Olympics
WSAV News 3: Viola Preps for London Olympics
Yahoo: Diver Brittany Viola Overcomes Eating Disorder, Injuries to Qualify for London Olympics
WILLIAMS
Albany Democrat-Herald: U.S. women's track stars use book club to prep for London Olympics
Beaver County Times: Rochester's Williams plays the Games again
Canes All Access: #OlympicCanes: Amy Deem, T'erea Brown, Lauryn Williams
ESPNW: The rebirth of Lauryn Williams
KBIA: Hometowns Help Cheer Olympians To Victory
MileSplit: Road To London: Lauryn Williams
NBC Miami: Miami Star Sprinter Hopes Third Time Is the Charm
Pittsburgh Post-Gazette: Former Rochester sprinter Lauryn Williams again dreaming of Olympics
Pittsburgh Post-Gazette: Rochester's Lauryn Williams seeks return to form
Sun-Sentinel: Former Miami track star moving past Olympic miscues
Sun-Sentinel: Former Miami track star headed back to Olympics