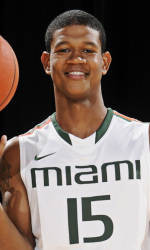 Nov. 3, 2011
CORAL GABLES, Fla. – They are stories of perseverance. Stories about growing up, becoming men and being a part of a family. One-by-one, we hear from them. These are the Miami Hurricanes…
Rion Brown | Guard | Sophomore | Hinesville, Ga.
The U means great tradition and pride, lots of pride.
My family means the world to me. Everything I do is for them.
Playing basketball has given me great opportunities and a chance to see places I never thought I'd ever see like Arkansas and Vegas, I had never been to Vegas. I went my senior year in high school to an AE tournament. So just basketball has allowed me to see amazing places that I never thought I would ever see in my life. It also allowed me to come to college to get a free education, travel the world. It's just a great experience.
I like to swim. That's the first thing that came to my head.My dad taught me how to swim when I was two years old. So I have always loved water. I love going to the pool and swimming, diving, actually, if I wasn't playing basketball that's probably what I'd be doing. I didn't swim in high school, we didn't have a team in high school, but In middle school I did. My best race was just a regular freestyle.
When I was introduced to Coach Larranaga we all met him in the conference room. He came in with a big smile, shook everybody's hand. The look in his eyes was just funny, I could just tell that he was like, 'Okay, this is going to be good'.
I started playing basketball when I was in sixth grade, it was rec basketball, my first time playing organized basketball. The most I remember was, I actually shot one in the wrong goal my very first game. I'll never forget that.
The hardest part of being away from home is not being able to see my son. I have a four-month-old son. So that's probably the hardest part about not being home. I'm always thinking about what he's doing, he might be doing something new today. So that's probably the hardest part.
I've learned from Coach L, that patience is a virtue on the court. Slowing everything down, that's the best thing that I've learned. I was always in a hurry, everything I did. Basically, if I have the ball in a pass or a shot situation, I see it, I look at everybody around me and think 'Okay, is this the right thing to do right now', instead of just rushing into it. It's like "is this the best shot or is this the best pass, is there somebody else open?" So just slowing everything down in my head and just knowing that I don't have to do everything right away. I can take my time and make the right play.
I was raised in Savannah, Ga., for about four or five years then I moved to Hinesville, Ga., and played high school basketball there, and then here at Miami. We had the southern hospitality down there so everything was real respectful with 'Yes ma'am, No ma'am'. You never talked back. Everything that they said that's what happened.
When I was growing up I would actually say that I had a great childhood. My parents were always there. I was their only child, and my parents were always there. My dad was basically like a brother to me, also. We did everything together; football, basketball, everything. We had a real great family and they were always there for me. They did everything for me. They are still there, every step of the way.
When I played basketball as a kid, I pretended to be Tracy McGrady. That was always my favorite player. I just liked his style, just everything about him. He always looked so sleepy, like he wasn't going to do anything and then he has the ball and he's going at you, so it kind of throws you off. And a lot of people say I played like him when I was younger because my face never changed. I had no emotion, so that's probably who I looked up to the most.
I'll never forget when I got chased by a dog and I had to jump on top of a car and my knee went through the windshield. My whole body ended up inside the car. My knee just broke and shattered the windshield. I had to get nine staples in my right knee. That's probably why the reason I have tendinitis in both my knees too. I'm sure that didn't help.
I am a Hurricane because I wanted to play in the ACC. I grew up watching my dad play at Georgia Tech and all the ACC teams. I just felt like this would be a great place to live. They had a great coaching staff before and they have a great coaching staff now, so it felt like this is where I belong.
Some of my personal goals include just being successful in life whether that be playing basketball or doing other things. I want to own my own restaurant, so just doing that and just being successful and able to take care of my family. I want to have an Italian restaurant. I just always had it in my mind because the way my name is spelled everybody would call me 'Rion' (Ree-on). And I just thought it sounded Italian. So I could have a restaurant called Rion. I just always had that in my head. But it might not work out like that. My favorite Italian meal is just regular pasta. I like chicken Alfredo and pasta with the meat marinara sauce, basically spaghetti. Those are my two favorites.
At the U, I've learned so much from Reggie Johnson. He was one of those people that when I first got here he was always in my head. I got tired of him, he got on my nerves, but when I really think about it, he was always trying to help me and guide me through the little things. Even off the court stuff that I was going through, like problems with school or personal stuff from home I was letting get to me. He would always talk to me, and tell me 'Hey, you've got to leave that outside for right now, you've got other work to do. If you do this, everything else will take care of itself." I learned a lot from him.
My favorite thing about the U family is that we are very close knit. We do everything together. We go out to eat, everybody goes. We go hang out and play video games, everybody is there. It is just a great family atmosphere. Everyone is laughing and joking, I love these dudes, it's just funny.
In high school I tried to score 40 on this one kid I didn't like. He was just one of those kids that ever since we were little, playing rec ball together, we just always grew up going at each other. So in high school we met one time, and I really wanted to score 40 on him, and I actually scored 42, it was my career high in high school.
I didn't think I would be playing college basketball at around ninth or 10th grade. It got a little frustrating for me. Things weren't working out. In my mind I wasn't the player that I needed to be to get to college. But, of course my dad stayed on me, we worked hard, I worked hard from the 10th to 11th grade – it basically felt like I was in college already. Waking up at six in the morning, I woke up shooting in the gym at the YMCA before I would even go to school, and after school I had to meet my dad over there. He stayed on me, so that's what I have to say about that.
We have great competition in the ACC. The games we play every day. Everything is in the margin of two to three points, so the plays you make at the end determine whether you lose by two or three or win by two or three. And with Pitt and Syracuse coming into it, it's about to be even better.
I secretly wish that I was about 7'2". I just always had it in my head that I was going to be seven feet tall since I was little. My dad is 6'6 and I'm 6'6, too, so it's just my imagination, but I thought was going to be seven feet.
Georgia is home. That's where my family is. That's my love. That's what I do it for, Georgia.