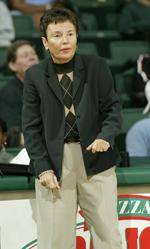 March 9, 2004
CORAL GABLES, Fla.-University of Miami women's basketball head coach Ferne Labati was named 2004 Russell Athletic/WBCA Region 1 Coach of the Year.
Labati is in her 16th season at Miami and owns a record of 290-178. She has guided the Hurricanes to eight post-season appearances (five NCAA, three WNIT).
The winner is selected through a two-level process. The first level is by region, in which coaches from each WBCA geographical region vote for their respective top coach. If a coach has been selected as Regional Coach of the Year, they advance as a finalist to the national level of the selection process along with the other seven Regional Coaches of the Year in their respective division.
The winner of the NCAA Division I Russell Athletic/WBCA Coach of the Year will be honored on Tuesday, April 6 at Noon during the Russell Athletic/WBCA Coach of the Year Banquet at the New Orleans Marriott.
"On behalf of the WBCA, we our honored to recognize this outstanding group of coaches," said Beth Bass, WBCA CEO. "Each individual coach has proven to be a great leader both on and off the court and is truly deserving of this acknowledgment."
"Russell Athletic congratulates each coach in their respective region," said Rod McGeachy, Vice President of Marketing. "We respect the commitment that all coaches make to their team and their sport and we at Russell Athletic are proud to be associated with this special achievement."
Miami wrapped up the regular season with a record of 22-5 overall and 11-5 in the BIG EAST. Miami finished the regular season in fourth place in the conference standings after being picked to finish sixth in the preseason poll. The last time Miami earned a first round bye was during the 1997-98 season.
The Hurricanes have advanced to the BIG EAST tournament every year since joining the league in 1991-92 and have won three conference titles. Labati has posted 12 winning seasons in her 16 years at Miami.
Miami jumped into the top 25 after receiving 97 points the week of Jan. 5, 2004. UM had not been ranked since the 1992-93 season. The Hurricanes ended the 1992-93 season ranked 20th by the AP. Miami also broke into the USA Today/ESPN/ WBCA Coaches' Poll at No. 25 with 53 points on Tuesday, Jan. 6, 2004.
The Hurricanes await a bid into the NCAA tournament, announced Sunday at 5 p.m. on ESPN.
NCAA Division I Russell Athletic/WBCA Regional Coach of the Year winners:
Region 1 Ferne Labati University of Miami
Region 2 Gail Goestenkors Duke University
Region 3 Joe Ciampi Auburn University
Region 4 Doug Bruno DePaul University
Region 5 Jody Conradt University of Texas
Region 6 Rene Portland Penn State University
Region 7 Kurt Budke Louisiana Tech University
Region 8 Julie Wilhoit Loyola Marymount University