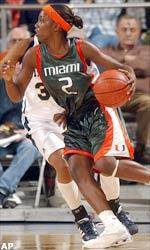 By TOM COYNE
AP Sports Writer
SOUTH BEND, Ind. (AP) – Jacqueline Batteast had 23 points and 10 rebounds,and Notre Dame forced Miami into a season-high 37 turnovers and beat the21st-ranked Hurricanes 93-58 Wednesday night.
Courtney LaVere added 13 points as all 12 Irish players scored. Notre Dame'sreserves outscored Miami's 40-2 as the Irish shot 58 percent en route toscoring their most points since a 107-65 win over Cleveland State in the openerof last season.
It was the worse loss for the Hurricanes since they were beaten 96-50 bytop-ranked Connecticut two years ago.
Notre Dame (18-8, 11-3 Big East), which stretched its home winning streak to17 games, clinched a first-round bye in the conference tournament. TheHurricanes (20-5, 9-5), swept by the Irish this season, had won four straightgames.
Batteast had her ninth double-double of this season. Megan Duffy and MoniqueHernandez added 10 points each for the Irish.
Tamara James led the Hurricanes with 17 points and Yalonda McCormick added16.
Chanivia Broussard, who turned the ball over 13 times, had 14 points.McCormick turned the ball over 10 times.
Batteast, who had 13 points and seven rebounds in the first half, hit a pairof free throws and a 3-pointer to ignite a 13-2 Irish run in the first halfthat broke the game open. She later hit a pair of free throws with 3:33 left inthe first half to give the Irish a 34-24 lead. The Hurricanes never got anycloser than 10 points thereafter.
Miami, which held Seton Hall to 43 points in a victory Saturday, gave up 45in the first half alone against the Irish. The Hurricanes had 19 turnovers inthe half and trailed 45-29 at the break.
The Irish have won five straight against ranked teams to improve to 6-3against them.