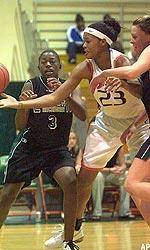 Nov. 28, 2003
MORAGA, Calif.-Shaquana Wilkins (Plymouth, Fla.) scored 22 points to lead the Miami women's basketball team to an 82-60 victory over Weber State in the first round of the Hilton Concord Thanksgiving Classic Friday night in Moraga, Calif.
Miami will face Bradley in the Championship game Saturday at 8 p.m. EST. Bradley knocked off host Saint Mary's in the opening round.
The Hurricanes open the season 4-0 for the first time since the 1989-90 season. Weber State falls to 0-3 on the season.
Wilkins scored 16 of her 22 points in the first half and grabbed a team-high six rebounds in the win.
Chanivia Broussard (Miami, Fla.) scored all 16 of her points in the second half, while Melissa Knight (Philadelphia, Pa.) added 15 points for the third time this season.
Miami shot a blistering 59.6 percent from the field in the game, while Weber State shot 37.0 percent.
Weber State kept it a close game in the first half hitting 7-of-19 from three-point range. The Hurricanes were only up by two points (32-30) with 3:15 remaining in the first half until Wilkins connected on a three-point play and hit a layup to put Miami up by seven (37-30) at halftime.
Miami opened the second half on a 17-4 run taking a 54-34 lead with 14 minutes left to play. Weber State pulled within 13 points (59-46) of Miami with just under nine minutes in the game but that was the closest they would come to catching UM.
The Hurricanes shot 63.6 percent in the second half outscoring the Wildcats 45-30.
Miami hit 17-of-20 (.850) from the free throw line in the second half as Weber State committed 15 fouls.