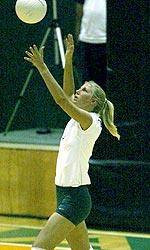 Dec. 13, 2002
LINCOLN, Neb. (www.hurricanesports.com) – – The University of Miami volleyball team has faced a lot of long odds and beaten them in their second season since the program's restoration. Friday night in front of a packed Coliseum crowd in Lincoln, Neb., however, the no 24 Hurricanes' remarkable fortune ran out as they fell to the no. 4 Nebraska Cornhuskers in three games in the regional semifinal round of the NCAA Tournament.
The Cornhuskers won 30-18, 30-17, 30-21 and will advance to the regional final match Saturday night against no. 2 Hawaii.
Coach Nicole Lantagne Welch stressed the learning experience her players had gone through in advancing past Duke and Wisconsin to get to Lincoln and said that she hopes the young team will be able to build for the future.
Miami can count a number of remarkable achievements to its season including winning 27 matches, carrying a 26-match win streak across two seasons, and garnering a top-25 ranking for the first time since the program's restoration.
The Cornhuskers rolled to a 30-18 finish in the first game. The Cornhuskers scored by committee in the first game, with milddle blocker Melissa Elmer leading the pack at five kills on just seven swings. The Hurricanes odds were hampered by the fact that they were never able to establish a block against the Cornhuskers' towering players at the net.
The Hurricanes fared little better in the second game as Big 12 Co-Player of the Year Laura Pilakowski chimed in with six kills. Biz Tyson (Jacksonville, Fla.) led Miami with seven kills at the close of the second game. Nebraska was successful in staying First Team All-BIG EAST Conference players Marcela Gamarra (Medellin, Colombia) and Valeria Tipiana (Lima, Peru) and the Cornhuskers cruised to a 30-17 finish.
The third game was the closest for the Hurricanes, but they were still overpowered by the Nebraska side 30-21.
Biz Tyson finished leading in kills with nine and Valeria Tipiana had nine digs.
Elmer and Pilakowski both had 11 kills apiece for Nebraska.
For more information on University of Miami athletics log on to its websitewww.hurricanesports.com, the official site for all Hurricane news, ticketsand apparel. For Hurricane ticket information call 1-800-GO CANES.