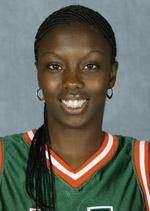 Dec. 9, 2002
Visit Hurricane Headquarters- finish your Holiday Shopping!
Coral Gables, Fla. (www.hurricanesports.com) — – Here's a recent interview with women's basketball frosh Tamara James. You can also read about her in a recent story posted in The Miami Herald
At what age did you start playing basketball and why? Three, my parents bought me a basketball goal so I started to play.
Who in your family do you idolize? My parents, they are hard working and they never give up.
What do you like to watch on television? Martin.
Some people would be surprised to learn this about you? I read a lot of books.
Worst feeling you have ever had in basketball? Tearing my ACL in high school.
What was your impression the first time that you visited Miami? What a beautiful place.
Where are your favorite hot spots in Miami? South Beach.
What two traits would you like to borrow from two of your teammates? Patience from Meghan Saake and Chanivia Broussard's humor.
Your house is on fire. Your family is safe. What items do you go back in and get? My "Tweety birds".
One athlete or entertainer you look at and say, "I wish I had his or her life"? Vivica A. Fox.
You are stuck on an island forever. Pick one CD, one book and a person? A mix CD with slow and fast music, the Coldest Winter Ever and Morris Chestnut.
What is your favorite movie? "Enough"