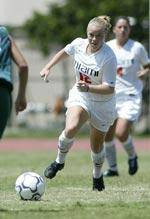 Oct. 10, 2002
CORAL GABLES, Fla.-The Miami soccer team will host BIG EAST cross-divisional opponent Seton Hall Friday at 7 p.m. at Cobb Stadium.
The Hurricanes enter the contest 8-4-1 overall and 4-1-1 in the Northeast Division of the BIG EAST. Seton Hall is 5-7-1 overall and 1-3-1 in the Mid-Atlantic Division.
This will be the second meeting between the two teams, the first meeting during the 2000 season ended in a one-all tie.
Miami is currently in first place in the Northeast Division with 13 points, while the Pirates are in sixth place in the Mid-Atlantic Division with four points.
Sophomore Britney Butcher (Bothell, Wash.) continues to lead the Miami offense with 22 points on the season. She has scored 10 goals and added two assists.
Katie Herr leads the Pirates with 13 points, including six goals and one assist.
Tickets:
Adults – $4 Kids – $2 – UM students admitted free of charge.Tickets can be purchased day of the game at the Hurricane Ticket Office. For more information contact the Hurricane Ticket Office at 305-284-CANES in Dade or 1-800-GO-CANES.