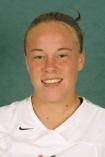 Oct. 10, 2001
Britney Butcher-Freshman-Bothell, Wash.
1. At what age did you start playing Soccer and why?
I started playing soccer when I was four, because my mom wanted to waste my energy.
2. Who in your family do you idolize?
No one.
3. What soccer player did you pretend to be as a kid?
No one.
4. Who do you think is the greatest player at your position?
Kristine Lily.
5. What do you like to watch on television?
Football, baseball, and cartoons.
6. Some people would be surprised to learn this about you?
I was voted class clown in junior high and high school.
7. Worst feeling you have ever had in soccer?
Losing a game.
8. What was your impression the first time that you visited Miami?
I thought it was an awesome school. I loved it.
9. Where are your favorite hot spots in Miami?
The beach.
10. What trait would you like to borrow from one your teammates?
I'd borrow a trait from Deidre Bass, her height.
11. Best sports memory playing for Miami?
My best sports memory is beating the University of Florida.
12. Who has been your favorite roommate at UM and why?
Jenna (Johnson), she's the coolest. She's been my only roommate.
13. Your house is on fire. Your family is safe.
What items do you go back in and get?
I'd go back and get my candy stash, some cokes, my clothes, and my shoes.
14. One athlete or entertainer you look at and say, "I wish I had his or her life"?
I wish I had Jennifer Aniston's life. She's married to Brad Pitt, and she's gorgeous.
15. You are stuck on an island forever. Pick one CD and one book.
I'd take the Dave Matthew's Band's "Crash," and Tara Road by Maeve Bienchy.
16. What is your favorite movie?
My favorites are "Gladiator," "The Goofy Movie", and "Girl, Interrupted."