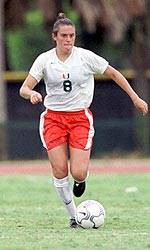 Aug. 20, 2001
CORAL GABLES, FL–The University of Miami women's soccer team defeated Lynn University, 2-1, Monday evening in an exhibition match at Cobb Stadium in Coral Gables.
Sophomore Vonda Matthews (Broken Arrow, OK) scored the first goal of the night at 8:34 on an assist from newcomer Britney Butcher (Bothell, WA).
Butcher also assisted on the second goal for the Hurricanes at 23:54 scored by senior Alexis MacKenzie (Plantation, FL).
"I am extremely pleased with our performance tonight," said head coach Jim Blankenship. "I saw some of very impressive things, I think we have a lot to build on this season."
The Hurricanes maintained the 2-0 lead until Lynn midfielder Laura Stoumann scored an unassisted goal with 11 seconds remaining in the game.
Miami recorded 26 shots, including 11 shots on goal while holding the Knights to only four shots on goal. Similarly, with corner kicks, the Hurricanes out shot Lynn five to one.
Freshman goalkeeper, Jennifer Becker (Marietta, GA) played the entire match for a total of three saves on the night.