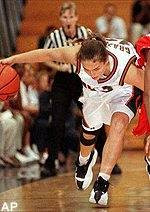 Jan. 22, 2000
CORAL GABLES, Fla. (AP) – No. 5 Notre Dame relied on one of its unsungplayers to hold off Miami.
Danielle Green, making her sixth start of the season, helped key NotreDame's 76-54 victory Saturday with a season-high 22 points.
The Hurricanes (8-8, 2-3 Big East) used a 16-2 run to cut a 19-point deficitto five with 10 minutes to play. But Notre Dame (15-2, 6-0) went on a 20-3spurt of its own to end the game.
Green had eight points in the decisive run to give the Irish their 11thstraight victory.
"We came out well and then we started to make plans for after the game,"Notre Dame coach Muffet McGraw said. "We lost our intensity a little bitthere, but Danielle Green had an outstanding game. She played well at both endsof the floor. She made big plays for us when we really needed to score whenthey cut it (to five) and I thought that was the difference in the game."
Perhaps an even bigger difference was Notre Dame's domination in the post.The Irish scored 48 points on layups, including 14 of the 20 points in thefinal run, and outrebounded the Hurricanes 40-27.
The easy shots translated into 54-percent shooting for the Irish. Postplayers Ruth Riley and Julie Henderson went a combined 10-of-16 with 28 points.
Henderson had a double-double with 13 points and 11 rebounds. Martha Bodleyscored 13 points to pace the Hurricanes, who shot 39 percent from the field andcommitted 23 turnovers.
But Green led the way from the beginning. Her steal and layup to begin thecontest helped Notre Dame go on a 12-0 run to open the game. The Irish nevertrailed even though Miami cut it close in the second half.
"We're a veteran team," Green said. "We're used to stretches like thatwhere we don't score and other teams make some runs. We kept our composure andbecause we are a mature team we are able to overcome adversity like that andput teams away."
Green also had six assists and three steals to one turnover. Her seasonfinally seems to be on track after she served a three-game suspension fordisciplinary reasons in December.
She has started the last five games and took the spotlight on Saturday awayfrom more heralded teammates Riley and Alicia Ratay.
"Danielle Green, she'll sneak up on you," Miami coach Ferne Labati said."She is not in the limelight as much as you look at her stats. You can't shutdown everybody on a team. So you try to do to or three people. She had a greatgame today."