University of Miami Athletics
Rob Likens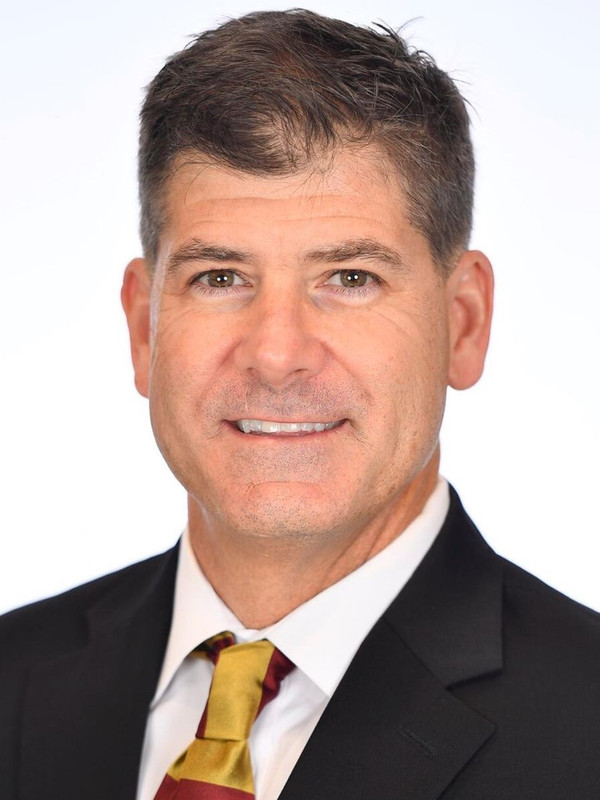 Rob Likens is entering his second season as Miami Hurricanes' wide receivers coach in 2021.
Likens, who spent the 2018-19 seasons as offensive coordinator / quarterbacks coach at Arizona State, joined the Hurricanes staff prior to the 2020 season.
In his first season at The U, the Hurricanes jumped to No. 32 in FBS in total offense (from No. 98), No. 29 in passing offense (from No. 52), No. 26 in scoring offense (from No. 90), No. 17 in red zone offense (from No. 122) and No. 20 in first downs gained offense (from No. 84).
Under his tutelage, WR Michael Harley enjoyed a breakout year en route to third-team All-ACC honors, hauling in a team-high 57 passes for 799 yards and seven touchdowns. In Likens' first year with the Hurricanes, nearly every wide receiver on the roster had the most productive season of his career by both catches and yards.
Over his 28-year coaching career Likens has been an offensive coordinator at four schools, including the two seasons at Arizona State, where he was also the quarterbacks coach.
In 2019, the Sun Devils started a true freshman quarterback, Jayden Daniels, for the first time in school history. Daniels threw for 2,943 yards with 17 touchdowns and just two interceptions, eclipsing the 300-yard passing mark on five occasions. He threw for a season-high 408 yards in ASU's 31-28 upset over sixth-ranked Oregon. Running back Eno Benjamin rushed for 1,083 yards and 10 touchdowns as a junior, finishing his career with 15 100-yard rushing games. Wide receiver Brandon Aiyuk caught 65 passes for 1,192 yards and eight touchdowns, ranking second nationally in yards after catch (10.9). Aiyuk also ranked sixth nationally in all-purpose yards (155.8 per game). Benjamin and Aiyuk both earned first-team All-Pac-12 honors. The Sun Devils also turned the ball over just 14 times, ranking sixth in the country in turnover margin.
In 2018, ASU was the only Power 5 program to boast a 3,000-yard passer (Manny Wilkins), 1,500-yard rusher (Benjamin) and 1,000-yard receiver (N'Keal Harry). Wilkins accounted for 28 total touchdowns, while Benjamin set a school single-season record with 1,642 rushing yards. He broke ASU's single-game rushing mark with 312 yards in a win over Oregon State. Harry caught 73 passes for 1,088 yards and nine touchdowns and was later selected by the New England Patriots in the first round of the 2019 NFL Draft. Both Benjamin and Harry earned first-team all-conference honors.
Likens spent the 2017 season as the Sun Devils' co-offensive coordinator and wide receivers coach. ASU had the 10th highest-graded passing attack in the nation according to Pro Football Focus after being graded 86th in 2016. The 76-spot swing in the passing game rankings was the third highest in all of FBS. Harry racked up 82 catches for 1,142 yards and eight touchdowns to earn first-team All-Pac-12 honors. The Sun Devils had five different receivers with 100-plus yard games in 2017, a school record.
Likens arrived in Tempe after two seasons as the offensive coordinator at Kansas. He spent the 2013 and 2014 seasons at California as assistant head coach and outside receivers coach, adding the title of passing game coordinator his second season.
In 2014, Likens' passing game, led by future NFL top overall draft pick Jared Goff, ranked sixth in the NCAA in passing yards per game (346) and broke the school's single-season passing yardage record with 4,152 yards. Additionally, three of Cal's top four receivers were Biletnikoff Award candidates in Chris Harper, Kenny Lawler and Bryce Treggs.
Cal's passing game during Likens' first season with the Golden Bears set single-season school records for passing yardage (3,977), pass completions (368) and pass attempts (622), while also establishing new single-game marks for passing yardage (521 vs. Washington State) and pass attempts (65 vs. Northwestern).
Before heading to Cal, Likens served as an assistant head coach and wide receivers coach at Louisiana Tech from 2010-12, including a final campaign in which the Bulldogs posted a 9-3 record and led the nation in scoring offense and total offense by averaging 51.5 points and 577.9 yards per game. Tech scored more than 40 points in 11 of 12 games and more than 50 points on eight occasions. Wide receiver Quinton Patton was a second-team AP All-American and Biletnikoff Award semifinalist in 2012, pacing the Western Athletic Conference in receiving yards per game (116) and receptions per game (8.6), ranking fourth and fifth in the nation in those categories, respectively. He finished the season with 104 receptions, 1,392 receiving yards and 13 touchdowns.
Likens coached a group of receivers in 2011 that registered 3,229 receiving yards with 21 touchdown catches during a campaign that included a stretch of seven consecutive wins and a WAC title. Patton became the first Bulldog receiver to reach 1,000 yards receiving since 2000. In his first year at Tech in 2010, Likens oversaw a receiving corps that helped the Bulldogs improve from 91st in the country in passing offense in 2009 to 62nd in 2010.
Prior to his stint in Ruston, Likens was the offensive coordinator and quarterbacks coach at Central Connecticut State from 2006 to 2009, helping lead the Blue Devils to more wins than in any other four-year period in school history.
CCSU had winning records during each of Likens' four seasons, capped off with a 9-3 mark in 2009 that included a Northeast Conference title. Under Likens' guidance, the Blue Devils led the conference in scoring offense two times, had three undefeated home records and averaged just under 30 points per game in four seasons (29.1). Likens coached a pair of 1,000-yard rushers, Walter Payton Award finalists, All-America running backs and NEC Offensive Players of the Year in Justise Hairston and James Mallory.
The Blue Devils averaged 239.2 yards per game on the ground in 2008 to rank seventh in the FCS. In 2007, CCSU led the NEC in both total offense (387.7 yards per game) and rushing offense (257.6). The Blue Devil offense set numerous school records in 2006, including single-season total yards (4,271), rushing yards (3,150), rushing touchdowns (42) and total touchdowns (51). CCSU led the nation in rushing yards per game (284.9) and finished 10th in total offense. Hairston set the school's single-season record and was the nation's leading FCS rusher with 1,847 yards.
Prior to joining Central Connecticut State, Likens spent two seasons as the offensive coordinator at Southeast Missouri State (2004-05), where he also worked specifically with the team's quarterbacks and wide receivers. He spent six campaigns at both Temple (1998-2003) as the wide receivers coach and North Alabama (1992-97), where he worked with the running backs for the first season of his tenure and the wide receivers for his final five. At North Alabama, he helped the Lions become the first program in NCAA scholarship football to win three consecutive national championships.
Likens played wide receiver at Mississippi State, earning his bachelor's degree and graduating cum laude in 1990 in math education. He earned his master's degree in math education from North Alabama in 1995. Likens and his wife, Soni, have one son, Cutter.