University of Miami Athletics
Petar Danolic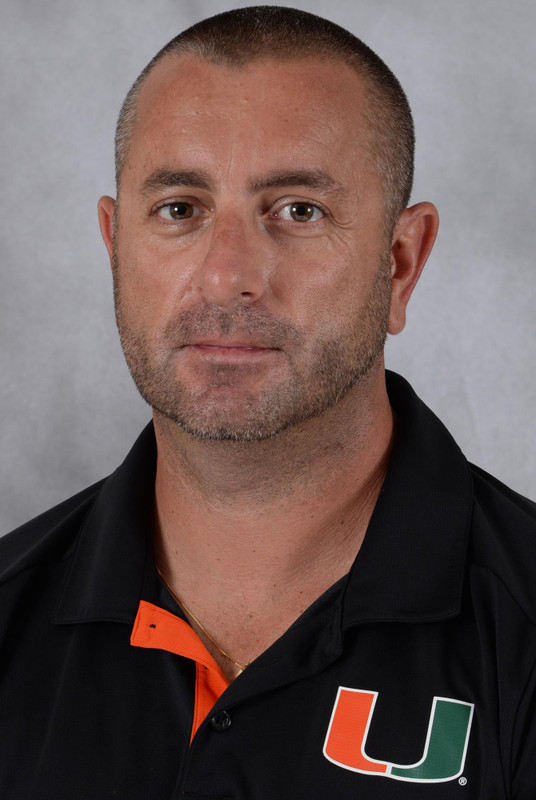 University of Miami men's tennis head coach Aljosa Piric tabbed Petar Danolic as his assistant coach in July 2016.
Danolic coaches the Hurricanes to a 15-13 overall record in his second season – the program's winningest campaign since 2011 –  including four Atlantic Coast Conference victories, the best mark in seven years. The Canes went on to sweep North Florida, 4-0, in their return to the NCAA Team Championship since 2011 and finished the campaign No. 42 in the Oracle/ITA  rankings.
In addition, he worked closely with the doubles duo of Adria Soriano and Christian Langmo, who became the first Miami pair to qualify for the NCAA Doubles Championship in a decade. In Winston-Salem, N.C., Danolic coached Langmo and Soriano to a straight-set victory over Arkansas' Oscar Mesquida and Adam Sanrujo in the opening round. The win was the duo's fifth over ranked opposition in 2018, with three victories coming against top-20 tandems and two against top-15 pairs. Langmo and Soriano peaked at No. 19 on April 10 – Miami's first top-20 doubles rankings since 2009 – and wrapped up the season ranked No. 29 nationally.
Danolic was an assistant coach in the collegiate ranks at his alma mater, Texas Tech, as well as at the University of Arizona. Most recently, he has been working as a private tennis coach in Bradenton, Fla., since 2012.
Prior to moving into the private sector in 2012, Danolic spent time as a juniors coach in his home country of Bosnia and Herzegovina, and was an assistant collegiate coach in the United States.
He has been a certified member of the United States Professional Tennis Association since 2000, and is an International Tennis Federation level II coach. From 2007-12 he served as both the president of the professional board for the Tennis Association of Bosnia and Herzegovina and president of the National Coaches Association of Bosnia and Herzegovina. He has also educated more than 200 coaches as an ITF tutor, conducting more than 1,000 hours of on-court and classroom lecturing in coaches education.
Danolic was the tennis director and junior development coach for Tennis Club Mostar, where he led the club from fifth to first in the nation and won six national championships in the last year with the team. He was also the junior development coach for Tennis Head Academy, where he coached Europe's top junior player and helped the amateur improve from No. 350 to sixth in the ITF rankings.
In one year with the Tennis Federation of Bosnia and Herzegovina, he coached four players who won national championships and was a national coach for the Bosnian boys under-18s. For three summers, Danolic was also an ITF coach for the Tennis Europe under-14s and under-16s.
Danolic began his collegiate coaching career as an assistant for the Arizona women's tennis team for the 2003-04 campaign. He led Maja Mlakar and Dianne Hollands to the top doubles ranking in the country, while also coaching Hollands to a No. 7 ITA ranking. As a team, the Wildcats were ranked in the top 25 in the nation throughout the season. He then moved on to his alma mater of Texas Tech in 2005, helping the team to top-25 rankings for back-to-back seasons.
He also has experience working in academies in the United States. From 2000-03 he was a traveling coach on the professional and junior circuit for IMG Academy, working alongside players such as Jelena Jankovic, Maria Sharapova, Tatiana Golovin and Serena Williams. Then from 2007-09, he worked for the Future Stars Tennis Academy in New York, growing the Sandy Hollow Tennis Club camp from 350 children to more than 800 over just three summers.
Danolic earned his bachelor's degree in exercise and sports science with a minor in psychology from Texas Tech University in 2000. While playing for the Red Raiders, he was ranked as high as No. 40 in singles and was a first team All-Southwest Conference honoree in 1996. When he graduated, he was the winningest player in Texas Tech history.