University of Miami Athletics
Niclas Genovese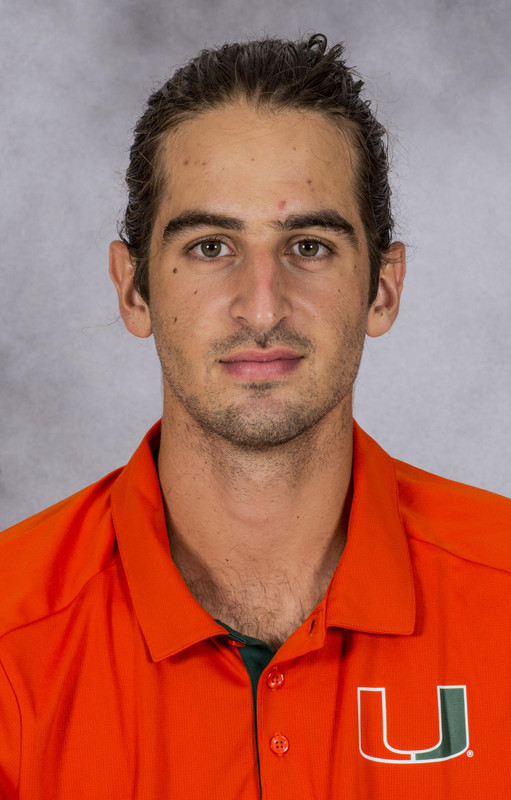 A three-time ACC Academic Honor Roll winner and four-year varsity letter winner at UM, Genovese returns under the direction of head coach Aljosa Piric as a volunteer assistant coach.
Following his playing career, Genovese spent the summer of 2018 as an Assistant to Managing Director at Lothlorien Properties before returning to Miami to earn a bachelor of business administration degree in finance and entrepreneurship.
The Zug, Switzerland, native recently enrolled in a UM master's program and is currently pursuing a finance degree.
ACC Academic Honor Roll, 2015-16, 2016-17, 2017-18
As a Senior (2017-18)
Fall: 5-3 singles, 3-2 doubles … earned at least one singles and one doubles win at both the Rice Invitational (Sept. 29-Oct. 1) and the Bedford Cup (Oct. 5-8) … earned a win in the qualification stage of the ITA Southeast Championships (Oct. 12-16).
Spring: 10-10 singles, 1-1 doubles … went 2-1 at the No. 5 position on opening weekend, becoming one of two Hurricanes to grab a victory in dual at No. 14 Mississippi State (Jan. 21), besting Florian Broska, 6-3, 3-6, 6-3 … holds a 3-0 singles record at home this spring, including straight-set victories over Georgia Southern's Murphy McCullough (Feb. 2) and Bucknell's Ben Gerber (Feb. 11) … overcame a 6-3 first-set setback against Iowa's Jonas Larsen (Feb. 4) for first comeback victory of the spring …Earned second comeback victory of the spring against Charleston's No. 5, Easton Thomas (Feb. 23), 3-6, 6-2, 6-4 … Began ACC play with a comfortable 6-0, 6-3 victory against Marshall Dagostine at No. 50 Clemson (March 4) … Came back from a set down against Gabriel Evtimov in the Canes' sweep of Cleveland State (March 11) … Fought to a 1-6, 6-3, 6-3, victory over Louisville's Clement Filho (April 1) for his first ACC win of the season … Picked up a point for the Hurricanes with a three-set win at Boston College (April 15) … earned first doubles victory of the season alongside fellow senior Christian Langmo, 7-6 (7-4) in the regular-season finale against Dayton (April 22).
As a Junior (2016-17)
Niclas Genovese 2016-17 match-by-match
Fall: 4-8 singles, 0-2 doubles … Reached the round of 16 in the Southern Intercollegiate Championships, defeating Georgia State's Valentin Horvat and Tennessee Tech's Carlos Tajes … Opened at the ITA Southeast Regional Championships with a straight-set victory over FAU's George Nickerson … After falling in the first set 2-6, he earned the three-set victory in the round of 16.
Spring: 0-3 singles … 0-2 singles in ACC play.
Spring 2017: Book Buster Honor Roll (3.0+ GPA), Athletic Director Honor Roll  (3.2+ GPA)
As a Sophomore (2015-16)
Fall: 4-14 singles, 0-1 doubles … Defeated Romain Boudaroua (Florida Atlantic) at Bedford Cup … Tallied another victory at 2015 USTA/ITA Men's Division I Southeast Championship against Sam Chaff (Florida Gulf Coast) … Downed opponent Lucas Vas (Florida Gulf Coast) at Florida Gulf Coast Invite … Victorious over Justyn Levin (Minnesota) at Lakewood Ranch Dick Vitale Intercollegiate Clay Court Classic … Only played in one doubles match at 2015 USTA/ITA Men's Division I Southeast Regional Championship with partner Nile Clark, but fell to duo Zackery Kennedy and Sebastian Acuna (Georgia Southern).
Spring: 1-8 singles, did not play doubles … 1-7 singles in ACC play … Defeated ACC opponent Christian Haushammer (Louisville) in straight sets … Lost five matches in either three sets or tiebreakers.
Fall 2015: Book Buster Honor Roll (3.0+ GPA), Athletic Director Honor Roll  (3.2+ GPA), and Dean's List (3.5+ GPA).
Summer 2015
Posted career high singles rank of 1751 in June 2015 … Won first ATP point in F1 Mozambique.
As a Freshman (2014-15)
Spring: 5-10 singles, 0-1 doubles.
Posted 5-10 singles record with three wins at No. 6 and one apiece at Nos. 4 and 5 … Won three-straight singles matches against Kennesaw State, Valparaiso and Quinnipiac … Played just one doubles match, paired with Nile Clark for a No. 3 loss to Florida Atlantic.
Juniors
Top 5 junior player in Switzerland  … Finalist at the Nike Juniors Masters … Semifinalist at the Interclub Nati-B tournament … Active member of the Swiss Team from 2005-2010 … Played in Futures events in Austria, Israel, France, Netherlands, Germany and Switzerland … Hitting partner with the former WTA World No. 1 Caroline Wozniacki from Denmark, as well as the 16-time Grand Slam winning doubles pair of Bob Bryan and Mike Bryan from the United States, more famously known as the "Bryan Brothers."
Personal
Born Niclas Genovese on Oct. 31, 1994 … From Zug, Switzerland … Son of Lucio and Kathrin Genovese … One sister, Anna … Majoring in entrepreneurship … Until the age of 14, participated in a lot of ski races … Enjoys skiing, surfing, climbing and other adventure sports … Enjoys doing yoga and living a healthy lifestyle by eating organic and Paleo food … Models tennis playing style after Stanislas Wawrinka and Marat Safin … Favorite athlete is Kelly Slater and Roger Federer.