University of Miami Athletics
Laura Vallverdu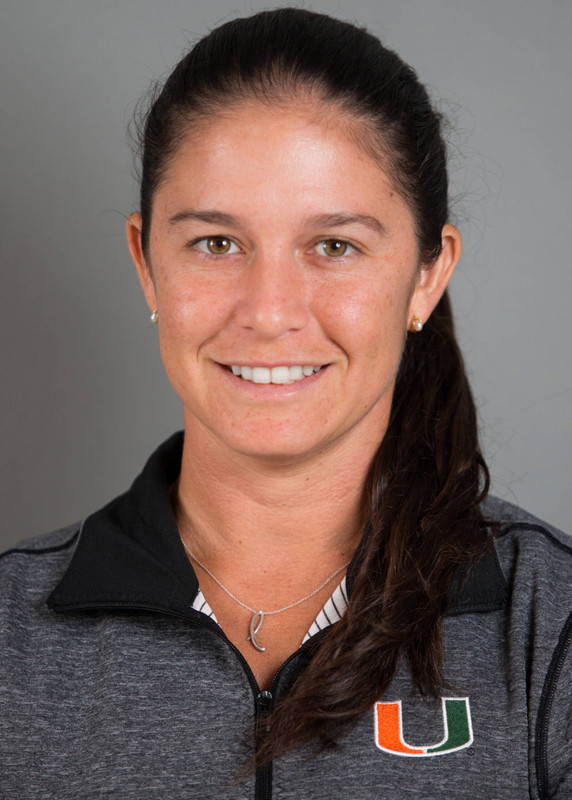 Laura Vallverdu completed her fourth year as the University of Miami women's tennis team's associate head coach in 2017-18, following two years as an assistant coach.
Before earning the title as a full-time assistant in 2013, Vallverdu was the team's volunteer assistant coach for one year and prior to that was a graduate manager for a season. She is now in her ninth year on Paige Yaroshuk-Tews' staff at Miami.
Vallverdu was a standout at Miami from 2006-10 under Yaroshuk-Tews and spent one season as an assistant coach at Barry University after graduating. There, Vallverdu helped guide the Buccaneers to a 27-1 record and their first national championship, and she was named the ITA Division II South Region Assistant Coach of the Year.
A native of Valencia, Venezuela, Vallverdu is third all-time at Miami in singles wins with 131 total, which was the record when she concluded her career in 2010. Vallverdu reached the finals of the NCAA Singles Championship as a junior in 2009 and advanced to the semifinals the next year, making her the first two-time semifinalist in program history.
As a senior in 2010, Vallverdu led the Hurricanes in singles wins with 35, finishing at 35-13, including a 21-12 mark against nationally ranked opponents. She completed the season ranked fourth in singles, her second-consecutive top-10 finish and fourth-straight top-20 finish, as well as seventh in doubles.
Vallverdu was the first player in University of Miami history to win at least 30 singles matches in each of her four years. She was a five-time ITA All-American (four singles, one doubles), the fourth four-year All-American in school history and a four-time All-ACC selection, a first in the program's history.
In 2010, Vallverdu won the Honda Sports Award in tennis, designating her as the nation's top collegiate female athlete in the sport. The honor was based on the results of national balloting among 1,000 NCAA member schools as part of the Collegiate Women Sports Awards program. She was also one of four nominees for the award in 2009, when she helped Miami earn the top seed at the ACC Championship for the first time.
Over Vallverdu's 11 years associated with the Miami women's tennis program as a player or coach, the Hurricanes are 239-82 (.745) overall and 117-32 (.785) in ACC matches. In 10 of those 12 seasons, Miami has reached the NCAA Team Championship Sweet 16, while it finished ranked in the top 20 in the nation 11 times, including nine times in the top 15. On six occasions, the Hurricanes have made the Elite Eight and they have also finished in the top 10 six times.
In 2013, Vallverdu helped lead Miami to its first ACC Championship title. The Hurricanes then won a share of the ACC regular season title the following season, Vallverdu's first after being promoted to assistant coach. She has mentored seven Hurricanes to a total of 11 ITA All-America honors, as well as guided eight players to 15 total All-ACC accolades.
During her eight seasons on staff, Vallverdu has helped the Hurricanes tally a 154-58 (.726) record. Miami has surpassed 20 wins in four of those campaigns and earned a quartet of top-10 finishes. For three straight years, 2015-17, a Miami player reached the semifinals of the NCAA Singles Championship, the first Hurricanes do so since Vallverdu herself in 2010. In 2019, she helped guide Estela Perez-Somarriba to the second singles title in program history.
Vallverdu graduated from Miami in 2010 with a bachelor's degree in psychology with a minor in business, then earned her master's degree in sport administration from Miami in 2012.