University of Miami Athletics
Josh Petersen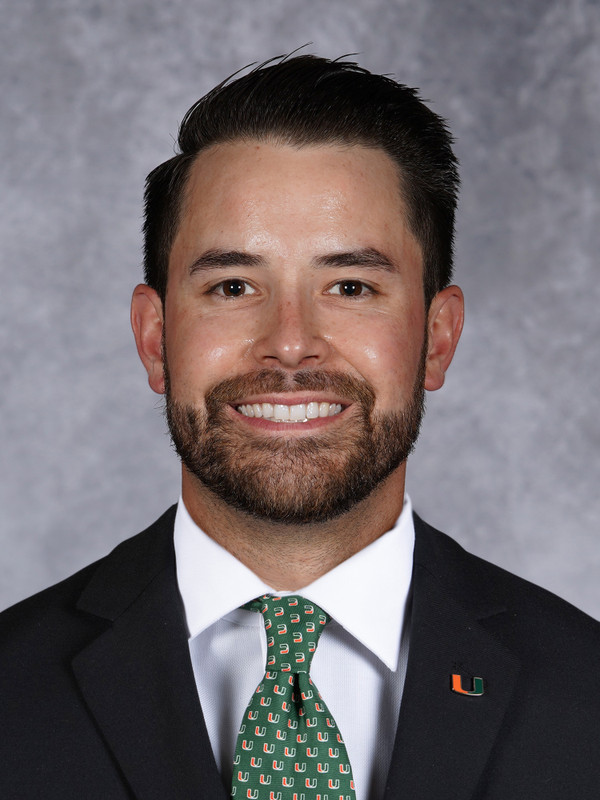 Josh Petersen joined the Miami women's basketball staff on June 24, 2022 as an assistant coach.
Success at Miami
Petersen's first season with the Hurricanes was nothing short of historic as Miami made it to the Elite Eight of the NCAA Tournament for the first time in program history.
As the primary coach for the post players, Petersen coached the Hurricanes to become a top-five rebounding team in the Atlantic Coast Conference.
The Hurricanes went from ranking 11th and 13th in defensive rebounding and offensive rebounding percentages in 2021-22, respectively, to placing fifth in both categories in 2022-23.
With the Panthers
Prior to his time at Miami, Petersen was a familiar face in the ACC women's basketball sphere, spending four seasons as an assistant coach for the Pittsburgh Panthers.
During his Pittsburgh tenure, Petersen coached seven ACC All-Academic Team members, an ACC All-Freshman Team member and an All-ACC Team Honorable Mention designee.
Over four seasons, he coached the Panthers' rebounding effort from 14th in the ACC in offensive rebounds per game and offensive rebounding percentage to first in both categories.
Petersen was instrumental in the recruiting and development of Rita Igbokwe and Amber Brown, who were part of a recruiting class that combined to score 31.0 points per game, the highest-scoring freshman class in program history.
Previous Stops
Petersen served as an assistant coach under Brenda Mock Kirkpatrick at UNC Asheville for four seasons.
During his time in Asheville, N.C., the Bulldogs earned back-to-back Big South Conference Tournament crowns (2016, 2017), two NCAA Tournament berths (2016, 2017), three consecutive postseason berths (2016-2018) and one Big South Conference regular season title (2016).
With Petersen on the sidelines, nine Bulldogs earned All-Big South Conference honors, including 2015-16 league Player of the Year Chatori Major.
Petersen got his start in coaching as an undergraduate student at Florida State, where he worked as the Seminoles' head manager from 2008 to 2012, before moving into a graduate assistant position from 2012 to 2014.
In his six years at Florida State, the Seminoles went to five NCAA Tournaments, including an appearance in the Elite Eight in 2010.
Beyond the Court
A native of Abernathy, Texas, Petersen moved to Tallahassee, Fla., prior to his senior year of high school and graduated from Godby High School.
He earned his bachelor's degree in accounting and finance in 2012 and his master's degree in sports management at FSU in the spring of 2014.