University of Miami Athletics
Darragh Glavin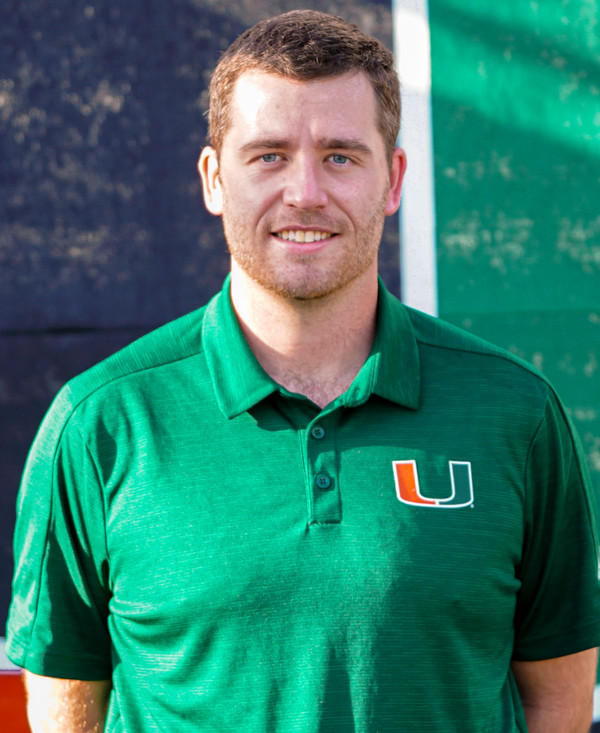 Darragh Glavin was hired as the men's tennis assistant coach on Dec. 7, 2020.
Glavin played for Piric during his time as the head coach at Old Dominion. He then went on to serve as an assistant at Princeton and Delaware.
A leader for the Monarchs for four of Piric's five seasons at Old Dominion, the native of Newbridge, Kildare, Ireland, was recruited by Piric in 2012.
Over his four-year career, he helped Old Dominion reach new heights as a program, first knocking off a ranked opponent in 2014 for the first time in five seasons, before capping the 2015 season at 16-3.
As a senior, he helped lead the Monarchs to a 21-5 mark, a top-50 ranking and a Conference USA championship appearance.
After spending a year following graduation as an academic assistant at Old Dominion, Glavin received his first coaching stint as a volunteer assistant coach at Princeton from 2017-19.
During his two seasons in the Ivy League, the Tigers collected an overall record of 38-20, including a program-record 20 wins in 2018. Glavin helped develop five All-Ivy League honorees, including the 2019 Ivy League Rookie of the Year in Karl Poling.
In July 2019, Glavin arrived in Newark, Del., to join the Delaware Blue Hens as an assistant coach.
Glavin made an immediate impact at Delaware and was amidst a school-record 14-match winning streak when the season was halted due to the ongoing COVID-19 pandemic.
The Blue Hens finished the year with a 14-1 record (.933), the highest winning percentage for the program since 1974-75, and also captured their first Colonial Athletic Association match since 2014. Delaware wrapped the season with three CAA wins, its most since 2011, despite the condensed season.
Glavin graduated from Old Dominion University in 2016 with a bachelor's degree in business administration. He served on the school's Student Athlete Advisory Committee while competing with the tennis team and helping ODU reach a No. 28 ITA ranking as a senior. Glavin was a dean's list honoree as a junior after earning a spot on the Conference USA Commissioner's Honor Roll in 2012-13.
Glavin was an assistant tennis pro at the Wee Burn Country Club in Darien, Conn., in summer 2014 and 2015 before becoming the head tennis pro at the Shore and Country Club each of the last two summers.
He is joined in Miami with his wife Rachel and their son, Ollie.