University of Miami Athletics
Aljosa Piric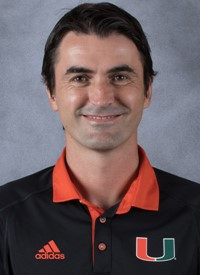 Aljosa Piric was named the head coach of the Miami men's tennis program on June 22, 2016. 
Aljosa Piric (Al-O-sha PEEr-itch) came to Coral Gables after five seasons with Old Dominion University, where he was named the 2016 Wilson/ITA Coach of the Year for the Atlantic Region. In his last two seasons in Norfolk, Va., he led the Monarchs to a 37-8 record, propelling the mid-major team from unranked to a season-high No. 28 ITA mark in 2016.
A native of Bosnia and Herzegovina, Piric is familiar with the Atlantic Coast Conference after serving as an assistant coach at Georgia Tech for three seasons, where he helped the Yellow Jackets to the NCAA Sweet 16 and a No. 13 ranking in 2011. Piric also has been a Bosnia and Herzegovina Davis Cup Team member, directed the Stamford Indoor Tennis Academy in New England and was the top singles and doubles player for the Richmond Spiders while in college.
In his third season at Miami, Piric guided the Hurricanes back to the NCAA Team Championship, earning back-to-back entries for the first time since 2009. During the 2019 spring campaign, the Hurricanes posted a 17-11 mark, finished with their best conference record since 2011 (7-5) and reached the quarterfinals of the ACC Championship for the first time in nine years. Dominant on its home court, Miami opened the season 11-0 at home, the program's best start since the 2000 season, when the Canes closed out the year a perfect 15-0.
A year prior, Piric led the Hurricanes back to the NCAA Team Championship for the first time in seven years, where the Canes blanked in-state foe North Florida to cap their winningest season since 2011. Miami finished the season 15-13 overall, picked up four ACC victories – most since 2014 – and posted a phenomenal 12-2 home record for its highest win percentage at home since 2006. The Hurricanes notched four ranked victories, two against top-25 opponents, and were ranked top-50 nationally eight times over the course of the season before closing out the year at No. 42 in the Oracle/ITA rankings. For the first time in program history, three Hurricanes earned All-ACC honors – freshman Adria Soriano (Second Team), senior Christian Langmo (Third Team) and freshman Bojan Jankulovski (Third Team).
Piric, who was hired by ODU in June 2011, led the 2015-16 Monarchs to the championship match of the 2016 Conference USA Tournament, posting a 21-5 overall record and ending the season ranked No. 48 in the Oracle/ITA Collegiate Tennis Rankings. Old Dominion took down a total of four nationally ranked opponents that season: No. 25 NC State (4-1), No. 34 Dartmouth (4-3), No. 69 UNCW (6-1) and No. 70 William & Mary (4-0).
In 2015-16 Adam Moundir was named Conference USA Player of the Year and Most Outstanding Singles Player of the C-USA Championship, while garnering All-First Team honors for both singles as well as doubles. Teammate Jacob Nicolussi was named the C-USA Newcomer of the Year. Michael Weindl and Aziz Kijametovic represented the Tennis Monarchs on the All-Conference USA Singles Second. Kijametovic also earned All-Conference USA Doubles First Team with Moundir. In the fall, ODU's doubles tandem of Adam Moundir and Aziz Kijametovic claimed the Regional title and advanced to Nationals at the Billie Jean King Center in Flushing, New York.
Piric and the Monarchs were clicking on all cylinders during the 2014-15 season, as he led Old Dominion to a 16-3 overall record, while knocking off three nationally ranked opponents in the process: No. 60 Elon (7-0), No. 66 South Alabama (4-3) and No. 75 Rice (4-2). Piric had his Tennis Monarchs nationally ranked throughout the season.
That season, Piric placed two players on the All Conference USA singles teams (Carlos Lopez Villa and Adam Moundir), placed two squads on the All C-USA doubles teams (Carlos Lopez Villa/Javier Jover Maestre and Adam Moundir/Michael Weindl), as well as possessed the Freshman of the Year (Adam Moundir). Lopez Villa was also named to the Conference USA All-Academic Team, while five student-athletes garnered All C-USA Honor Roll recognition for having a 3.0 or higher cumulative grade point average.
Only adding to the esteemed coach's resume, Piric was tabbed to help out the 2014 Bosnia and Herzegovina Davis Cup team. In an impressive showing on April 10, while serving as team captain, Piric's Bosnian squad defeated Finland in the quarterfinals of group play in thrilling fashion by the score of 3-2.
In the spring of 2014, Piric led the Monarchs to another winning season with a 12-10 overall record, including an impressive 11-6 mark at home. The team took down the No. 64 ranked College of Charleston. Piric's team showed their resiliency by posting a 7-1 record following a loss, and had only lost two in a row once all season. He also helped guide Carlos Lopez Villa to the 2014 All-Conference USA Singles First Team. Piric's leadership proved to be influential off the court as well, as the team was honored for academic accomplishments in numerous ways. Lopez Villa was named to the C-USA All-Academic Team and also received the Arthur Ashe Leadership and Sportsmanship Award. As a whole, the men's tennis team was recognized by the NCAA for a perfect APR performance.
In the fall of 2013, Piric guided junior Carlos Lopez Villa to a USTA/ITA Regional crown, as he became just the second male in school history to accomplish such a feat. Lopez Villa went on to win his first round match at the USTA/ITA National Indoor Intercollegiate Nationals before dropping his second round match to the eventual champion.
During the 2012-13 campaign, Piric's squad won its first match over a ranked opponent since 2009 by defeating No. 27 Harvard 4-3 (2/4). Piric coached Carlos Lopez Villa to First-Team All-Conference USA honors in singles and a ranking of No. 93 by the season's end. He also helped Lopez Villa and Can Cetinel achieve All-Conference USA Second-Team honors in doubles. The duo was ranked as high as No. 23 during the season.
Under his leadership, the men's tennis program has not only achieved success on the courts but also in the classroom, as the team posted a cumulative 3.1 GPA for the 2012-13 season. Additionally, Carlos Lopez Villa was named to the 2013 C-USA Men's Tennis All-Academic Team after posting a 3.75 GPA. Aljosa and 2012-13 Tennis Monarchs also captured Old Dominion's coveted Monarch Cup, which is given to one team at the school each year for their outstanding work in the community and service to those in need.
Before taking over at Old Dominion, Piric spent three years as assistant coach at Georgia Tech.
At Georgia Tech, Piric was an assistant coach for Kenny Thorne, the 2011 ITA Men's Coach of the Year. During his three years in Atlanta, Georgia Tech improved its national ranking from 49th in 2009 to 13th in 2011. He coached three-time All-American in Guillermo Gomez, the ITA National Indoor Championship finalist, ranked fifth nationally in 2010, and 13th in 2011. He also coached Juan Spir and Kevin King who were All-Americans in 2011 and NCAA doubles tournament semifinalists, with a national ranking of ninth.
Piric has coached numerous sectional champions and top level U.S. junior players while working at the Stamford Indoor Tennis Academy.
Piric coached the Bosnian National boys 18-and-under junior team at the team European Championships in Catania, Italy. In 2015 he coached the Bosnian National boys 18-and-under junior team at the European individual championships in Closters, Switzerland.
Piric graduated from the University of Richmond in 2000 with a bachelor's degree in business management. As a member of the Spiders tennis team, Piric played at No. 1 singles and doubles and served as team captain his senior season.
In 1999, Piric was selected to the Bosnian Davis Cup National team that competed against Egypt and Luxembourg in Cairo, Egypt.
He attended Mills Godwin High School in Richmond, Va., where he won the Virginia High School State Championship in both singles and doubles.
He and his wife, Jessica, have two children: daughter, Mila, and son, Luca.