University of Miami Athletics
Dr. Julianne Muñoz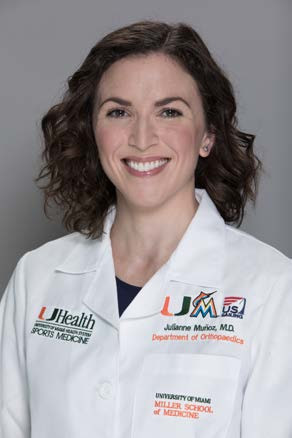 Julianne Munoz, M.D., is an orthopaedic surgeon and sports medicine physician at the University of Miami Sports Medicine Institute. She is also an assistant professor of orthopaedic surgery and sports medicine at the University of Miami Miller School of Medicine.
Dr. Munoz brings her vast experience in treating and caring for collegiate and professional athletes to help provide comprehensive, expert care to her patients. Her expertise is in shoulder and elbow orthopedic surgery.
She earned her medical degree and performed her residency training at the University of Massachusetts and completed a shoulder/elbow reconstruction and sports medicine fellowship at Columbia University. Dr. Munoz is a co-team physician for the University of Miami Department of Intercollegiate Athletics and the Miami Marlins.