University of Miami Athletics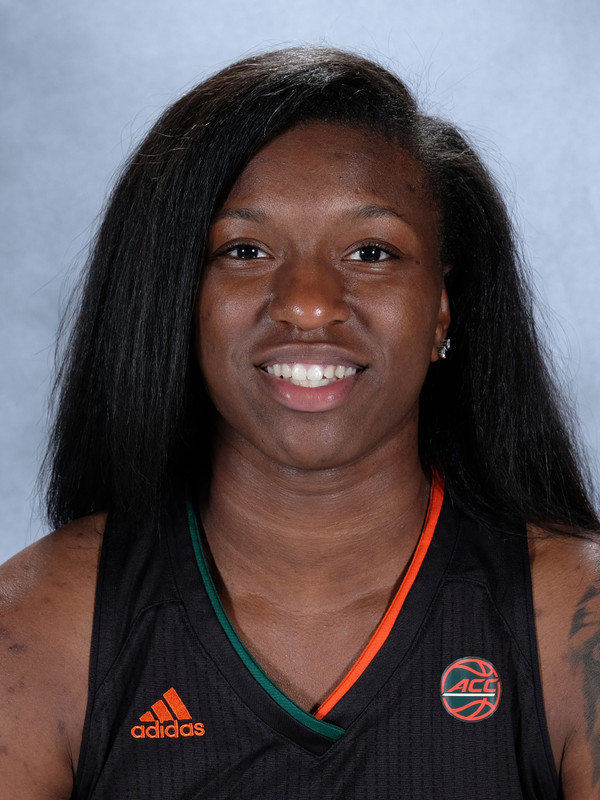 As a Sophomore (2019-20): Started 10 of 30 games played this season, including seven straight starts from 12/17 to 1/9…Earned her first career start in the season opener against Jackson State (11/10)…Averaged 2.7 points and 4.0 rebounds in 15.3 minutes per game…Paced the Canes in total offensive rebounds (57)…Led all Miami reserves in rebounding (4.0), while ranking third on the team overall…Tallied a pair of double-digit rebounding games…Hauled in a career-high 13 rebounds against Miami (OH) (11/30)…Set a new career high for steals with four at Virginia Tech (2/2)…Played a career-high 35 minutes against Georgia Tech (1/30), recording three assists and four made field goals…Knocked down the first three of her career against Binghamton (12/17).
As a Freshman (2018-19): Played in 24 games, including each of the first 14 … Averaged 1.8 points and 1.9 rebounds in 7.3 minutes per contest … Logged multiple steals four times and grabbed five-plus rebounds in three outings … Pulled down a season-high nine rebounds in 17 minutes at FIU (11/6) in her first collegiate appearance … Led Miami with two steals in 15 minutes in the Preseason WNIT final at Iowa State (11/18) … Posted seven points and six rebounds in a co-season-best 19 minutes versus New Orleans (12/9) … Recorded a season-high three blocks, co-leading all players, to go along with five boards, two assists and two steals against Maryland Eastern Shore (12/16) … Scored six points on 3-of-4 shooting versus Vanderbilt (12/20) … Tallied eight points in a season-high-tying 19 minutes against Alabama (12/21), while setting new top marks in both assists (four) and made field goals (four) … Registered a season-high 10 points, shooting 3-of-4 from the floor and 4-of-6 from the line, versus Florida A&M (12/28), adding four rebounds, a season-best three steals and two blocked shots … Grabbed four boards at Wake Forest (1/6) in her first ACC road action … Connected on both her free throws at Pittsburgh (2/10).
High School: Graduated from John Hay High School … Tabbed as a three-star recruit and the No. 14 wing prospect in the nation by espnW HoopGurlz … One of just 11 McDonald's All-American Game nominees from Ohio … Averaged 20.4 points, 11.5 rebounds, 2.2 assists and 4.1 steals as a senior … Won league MVP, as well as earned Cleveland.com First Team All-Star, OPSWA DI First Team All-District and OPSWA Second Team All-Ohio accolades … Aided her team to an 18-3 record and a conference championship, district semifinal berth and its first city title … Attended Shaker Heights High School her first three years at the prep level … Averaged 13.8 points and 12.7 rebounds as a junior, serving as team captain and garnering team MVP distinction … Tallied 14.9 points per game as a sophomore, receiving OPSWA DI Third Team All-District honors … Amassed 10.0 points and 9.0 rebounds per game as a freshman … Helped lead her AAU team, Sports City U, to the championship game of the U.S. Junior Nationals U17 National Championship in National Harbor, Md., in July 2018 … Served as the NAACP treasurer at Shaker Heights, where she was also a MAC Sister Scholar and mentored local youth through the Student Group on Race Relations … Four-year honor roll student … Charles Oakley and Ruben Patterson also attended John Hay, as did multiple ex-NFL players, including Wesley Carroll, a two-time national champion at Miami, and College Football Hall of Famer, John Hicks.
Personal: Full name is Jamir Carolyn Huston … First name is pronounced Juh-MEER and last name is pronounced HUE-Stin, like the city … Born Feb. 16, 2000 … Parents are Monté Driscal and Jacquelyn Huston … Father is a correctional officer and mother is self-employed … Has two older brothers, Jacqueri and Jalen, as well as a younger brother, Mason … Intends to major in business … Cousin, Denzel Ward, plays for the Cleveland Browns and was the fourth pick in the 2018 NFL Draft … Has two cousins who are current college athletes; Mike Davis plays basketball at Alderson Broaddus and Asim Rose plays football at Kentucky … Favorite athlete and role model is LeBron James … Best sports memory is making a game-winning shot in the district playoffs as a senior … Committed to Miami over Florida State, Michigan, Michigan State and Purdue.