University of Miami Athletics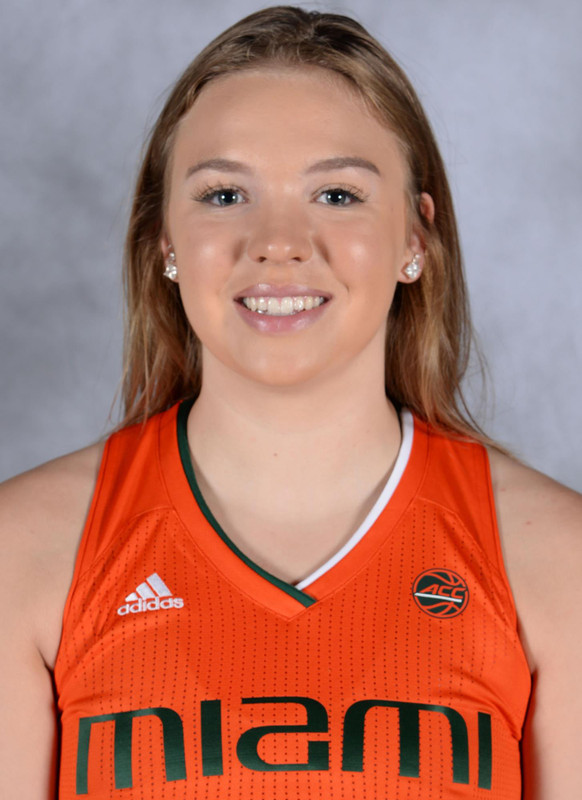 As a Redshirt Freshman (2018-19): Appeared in 15 contests … Averaged 1.0 point in 3.3 minutes per game … Notched three points and an assist in 10 minutes of play at FIU (11/6) in her first action as a Hurricane … Made both her free throws against Nebraska (11/23) … Made her lone shot, a 3-pointer, at Purdue (11/2) … Connected on a 3-pointer, her lone attempt, versus Alabama (12/21) … Again made a 3-pointer on her lone shot in the win over Florida A&M (12/28), adding two boards and her first collegiate steal … Pulled down two boards against Clemson (1/10).
As a Freshman (2017-18): Redshirted due to lower extremity injury.
High School: Graduated from New Hampton School … Ranked by ProspectsNation.com as a four-star recruit and the No. 125 player in the nation, including No. 21 among wings … Four-year high school starter competed in the 2017 Rose Classic and was a McDonald's All-American Game nominee … Averaged 20.0 points, 10.0 rebounds and 2.0 assists per game as a senior … Garnered MVP honors and All-NEPSAC distinction for the second year in a row … Aided her team to a 20-7 record and a berth in the NEPSAC AA championship game … Named the New Hampshire Gatorade Player of the Year as a junior … Posted 15.2 points, 10.5 points, 1.9 assists and 1.3 blocks per game … Helped her team to a 21-7 mark and a NEPSAC AA semifinals appearance … Averaged 15.0 points and 9.0 rebounds per game as a sophomore … Logged 13.0 points and 8.0 rebounds an outing during her freshman season … Member of the high honor roll her final three years of high school … For her AAU basketball, played with the New York Gauchos on the Nike EYBL circuit … Current NBA players Tyler Lydon and Noah Vonleh also attended New Hampton, as did former NBA players Rashad McCants and Darius Songaila, two-time MLB All-Star Roberto Hernandez, former U.S. Supreme Court justice Nathan Clifford and three ex-governors.
Personal: Full name is Rebecca Rae Ripley … Goes by Becca … Born Nov. 11, 1998 … Parents are Jen and Bill Ripley … Mother, a teacher, played Division III basketball at UMass Dartmouth … Has an older brother, Neil … Intends to major in marketing … Career goal is to own a business or work at a large corporation … Enjoys surfing, swimming and doing community service … Favorite athlete is LeBron James because of his relentlessness, effort and ability … Best sports memory is defeating the top team her league, Worcester Academy, to reach the championship game as a senior … Chose Miami because of its location, the quality of the ACC and the coaching staff, with whom she formed a great bond … Committed to Miami over Ohio State, St. John's and Syracuse.