University of Miami Athletics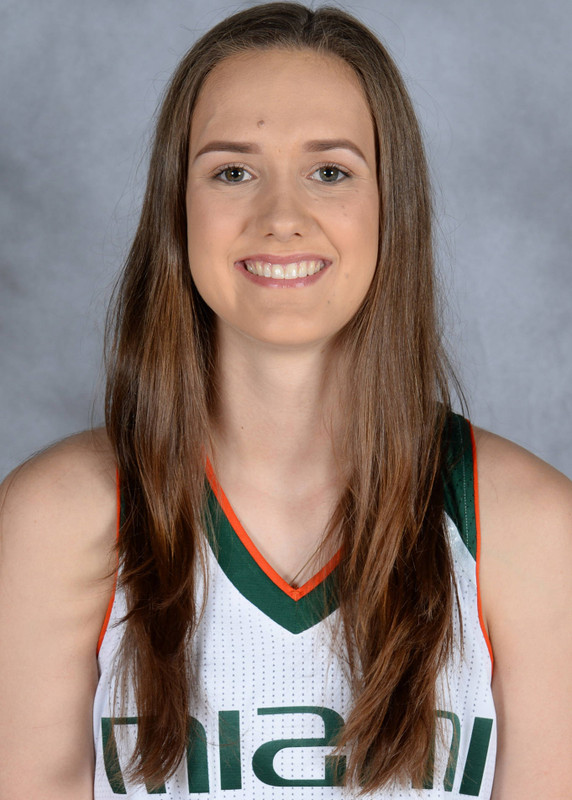 As a Freshman (2016-17): Played in 30 of 33 games … Averaged 2.4 points and 1.7 rebounds per outing … Twice scored in double figures … Shot 40.0 percent from 3-point range, the best mark on the team (no min.) … Ranked fifth on Miami in 3-pointers made (16) … Led the Hurricanes in rebounding on one occasion and tied for the lead in assists once … Made her collegiate debut with one assist in five minutes of play at No. 19/19 Kentucky (11/11) … Pulled down the first four rebounds of her career versus Albany (11/13) … Got in the scoring column for the first time by posting two points in the home opener against Charlotte (11/16) … Recorded six points, four rebounds and the first steal of her career in a season-high 20 minutes versus Grambling State (11/25) … Posted six points, six rebounds and a co-season-best three assists against Loyola Chicago (12/6) … Scored a season-high 12 points in 12 minutes at FIU (12/16), shooting 4-of-5 from the field, including 3-of-3 from beyond the arc … Notched six points and a season-best seven rebounds, good for a game high, versus Coppin State (12/19) … Tied her season high with a co-team-leading three assists against seventh-ranked Florida State (12/29) … Registered 10 points in 15 minutes against No. 15/16 Virginia Tech (1/11), tying a season high with four made field goals and recording her first blocked shot … Grabbed four rebounds at RV/No. 24 Syracuse (1/22) … Totaled six points at fifth-ranked Florida State (2/6), making both of her shots from 3-point range … Scored six points, connecting on both of her long range attempts, at No. 13/14 Duke (2/19) … Logged seven points in the ACC Tournament opener against Georgia Tech (3/2), hitting all three of her shots from the floor.
High School: Attended Long Island Lutheran (N.Y.) High School as a senior … Went to Falkonergården in Denmark prior to coming to the United States … Ranked by ProspectsNation.com as a four-star recruit and the No. 15 international player in her class, including third among wings … Led Long Island Lutheran to the AA state title game as a senior in 2015-16, as the team finished 19-5 and ranked third in the MSG Varsity tri-state (CT/NJ/NY) rankings … Named by MSG Varsity as the Long Island Player of the Year and an All-Metro First Team pick as a senior … Also selected as the team MVP after averaging 22.5 points, 9.5 rebounds and 3.0 assists, while shooting 57.0 percent from the field … Averaged 14.0 points, 8.4 rebounds and 2.6 assists at the U18 European Championship Division B in July 2015 … Recorded two double-doubles in the tournament, including posting 26 points and 13 rebounds against the host nation of Romania … Led all players in the tournament in free throw percentage (85.7), while ranking fourth in free throws made per game (3.6), eighth in scoring and ninth in rebounding … Tallied 14.3 points and 8.9 rebounds per game at the U16 European Championship Division B in July 2013 … Averaged 13.7 points and 11.1 rebounds at the U16 European Championship Division B in July 2012 … Led Denmark to the U-18 Nordic Championship title in May 2015 and was selected as the tournament MVP … Played club basketball with BMS at both the senior and U-19 level in 2014-15 … Named tournament MVP after the U-19 team won the Nordic Championship … In the senior age group, averaged 18.1 points, 9.3 rebounds, 2.3 assists and shot 45.8 percent from the field, en route to earning the Talent of the Year award, given to the top young player … Played in the Eastern European Basketball League with BMS at the U-18 level in 2013-14 and the U-17 level in 2012-13 … Selected as an all-star both years after leading the league in scoring … Named to the honor roll her senior year … Three-time NBA champion Bill Wennington also attended Long Island Lutheran.
Personal: Full name is Sarah Sofie Mortensen … Nickname is Sosa … Born May 5, 1997 … Parents are René and Pia Mortensen … Father is an appraiser and mother is a secretary … Both parents played basketball growing up … Has an older brother, Daniel, and a younger sister, Josefine … Brother plays basketball at Barry … Intends to major within the arts and sciences department … Enjoys cooking and baking … Favorite athlete is Maya Moore because of how she plays the game and how humble and likeable she is … Best sports memories are winning Nordic Championships with both her club team and national team … Chose Miami because of the coaching staff, family atmosphere and the hard competition in the ACC … Committed to Miami over Boston College, George Washington and Virginia Tech.
 STATS
YEAR
GP
GS
MIN
AVG
FG
FGA
PCT
3FG
3FGA
3PCT
FT
FTA
PCT
REB
AVG
AST
TO
BLK
STL
PTS
AVG
2016-17
30
0
217
7.2
26
69
.377
16
40
.400
4
9
.444
50
1.7
13
13
2
4
72
2.4
CAREER
30
0
217
7.2
26
69
.377
16
40
.400
4
9
.444
50
1.7
13
13
2
4
72
2.4