University of Miami Athletics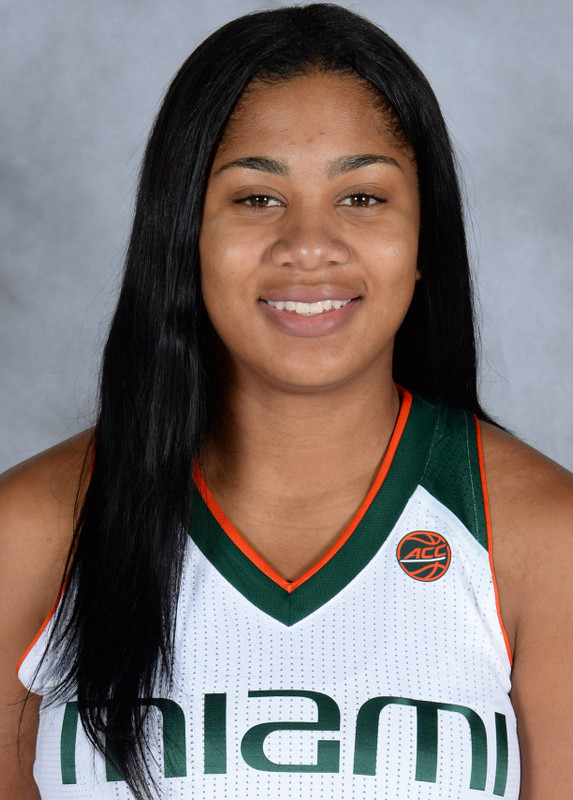 As a Junior (2015-16): Transferred from Florida Atlantic University … Sat out season due to NCAA transfer rules.
As a Sophomore at Florida Atlantic (2014-15): First Team All-C-USA … C-USA Co-Player of the Week (12/1/14)
Played in 29 of 30 games with 28 starts … Scored in double figures 25 times, including 16 games in a row … Posted 15-plus points on 16 occasions and had a stretch of three straight games with 27-plus points … Led the team in points per game (16.2), steals (34), field goal percentage (51.3), field goals made (175), free throws made (107) and free throws attempted (138) … Ranked second on Florida Atlantic in rebounds per game (5.3), 3-point field goal percentage (min. 1 3PA per game, 35.3) and free throw percentage (77.5), as well as third in offensive rebounds (42) … Finished fifth in Conference USA in field goal percentage, seventh in scoring and seventh in free throw percentage, one of just two players in the top seven of all three categories … Set a career high with 37 minutes played in the season opener at UCF (11/14) and scored 10 points … Tallied 16 points and seven rebounds in a victory at Bethune-Cookman (11/16) … Posted a double-double with 26 points on 11-of-21 shooting and a career-high 17 rebounds, the most by an Owl all season, against NJIT (11/28), while setting a career high with three assists … Scored 21 points and tied her career high with three assists in a win over Northeastern (11/29) … Logged 17 points on 7-of-11 shooting in only 15 minutes in a victory over Webber International (12/6) … Netted 16 points on 7-of-9 shooting against Long Beach State (12/19) and set a career high with five steals … Recorded a double-double against New Mexico State (12/20) with 12 points and 12 rebounds … Poured in a career-high 29 points on a career-best 12 made field goals (12-of-18) in a victory at FIU (1/4) … Matched her career highs in minutes (37) and points (29) on 11-of-21 shooting in a win against UAB (1/8) and also had 11 rebounds for a double-double … Tallied 27 points and seven rebounds against Middle Tennessee State (1/10) … Logged 14 points and nine rebounds at Western Kentucky (1/15) … Scored 16 points and shot 10-of-13 at the free throw line at Marshall (1/17) … Had 25 points on 11-of-16 shooting to go along with four steals in only 18 minutes in a win over FIU (1/24) … Netted 15 points on 7-of-11 shooting and had seven rebounds in just 18 minutes against Old Dominion (1/31) … Recorded 24 points on 9-of-17 shooting against Louisiana Tech (2/12) … Posted 17 points and shot 7-of-10 at the free throw line at North Texas (2/19) … Tallied 19 points, seven rebounds and a career-high-tying three assists against Western Kentucky (2/26), while shooting 7-of-9 at the free throw line … Had 19 points and seven rebounds in 34 minutes in a victory over Marshall (2/28) … Scored 19 points in the C-USA Tournament opener against Louisiana Tech (3/11).
As a Freshman at Florida Atlantic (2013-14): C-USA Freshman of the Week (3/3/14)
Played in all 30 games with five starts and scored double digits seven times, including in three of the final five games of the season … Finished second on the team in field goal percentage (48.6), third in offensive rebounds (50), fourth in rebounds per game (3.6), fourth in free throws attempted (64) and fifth in free throws made (41) … Made her college debut at Akron (11/8), scoring two points in five minutes … Poured in 15 points on 6-of-9 shooting in just 15 minutes in a win over Florida Memorial (11/16), also recording her first career blocked shot … Logged nine points, nine rebounds and a season-high four steals in a double overtime victory against UCF (12/13) … Scored eight points in her first career start, a win over Bethune-Cookman (1/2) … Started and posted 11 points in a win against Rice (1/11) … Tallied 11 points in only 13 minutes in a victory over North Texas (1/25) … Recorded her first career double-double with 14 points on 7-of-13 shooting and 10 rebounds at FIU (2/1) … Scored a season-high 18 points on 6-of-9 shooting in just 20 minutes against Southern Miss (2/22), while also tying her season high with four steals and making the first 3-pointer of her career … Played a season-high 24 minutes and logged a double-double with 13 points and a season-best 15 rebounds, the highest total by an Owl all season, in a win at Marshall (2/26), while also shooting 7-of-10 at the free throw line, both season highs … Netted 11 points and pulled down seven rebounds in the first round of the C-USA Tournament against Marshall (3/11).
High School: Graduated from University Christian School … Ranked among the top 250 prospects in her class by Collegiate Girls Basketball Report … Listed as a three-star recruit by espnW HoopGurlz … Scored over 1,000 points in her career … Selected to the FABC/Source Hoops 3A All-State Team as a senior … Named to the Florida Times-Union All-First Coast First Team as a senior, the second team as a junior and the third team as a sophomore and freshman … Helped team to a 44-8 record over her final two seasons and won the district title both years … Attended West Nassau High School as a freshman and led the 3A state classification in scoring … Lettered in track and field all four years of high school and finished fourth in the 2A state high jump finals as a sophomore … Earned a letter in volleyball as a freshman … Member of the National Honor Society.
Personal: Full name is Shaneese Renae Bailey … Born Sept. 15, 1994 … Parents are Ken and Alma Bailey … Mother is a physical education teacher … Has an older sister, Shayla, and an older brother, Shannon … Cousin of former NFL players Champ Bailey, a 12-time Pro Bowl selection, and Boss Bailey … Majoring in communication studies … Favorite athlete is Kobe Bryant because he will do whatever it takes to win … Best sports memory is signing with Miami … Chose Miami because of its atmosphere of both family and competition on the court and in the classroom … Committed to Miami over Auburn, St. John's, USF and Temple.
 STATS
YEAR
GP
GS
MIN
AVG
FG
FGA
PCT
3FG
3FGA
3PCT
FT
FTA
PCT
REB
AVG
AST
TO
BLK
STL
PTS
AVG
2013-14 (FAU)
30
5
 421
14.0
70
144
.486
1
12
.083
41
64
.641
109
3.6
15
27
2
37
182
6.1
2014-15 (FAU)
29
28
730
25.2
175
341
.513
12
34
.353
107
138
.775
154
5.3
29
59
1
34
469
16.2
2015-16
0
0
0
0.0
0
0
.000
0
0
.000
0
0
.000
0
0.0
0
0
0
0
0
0.0
2016-17
33
2
333
10.1
36
86
.419
0
10
.000
36
43
.837
57
1.7
14
36
1
15
108
3.3
CAREER
92
35
1484
16.1
281
571
.492
13
56
.232
184
245
.751
320
3.5
58
122
4
86
759
8.3