University of Miami Athletics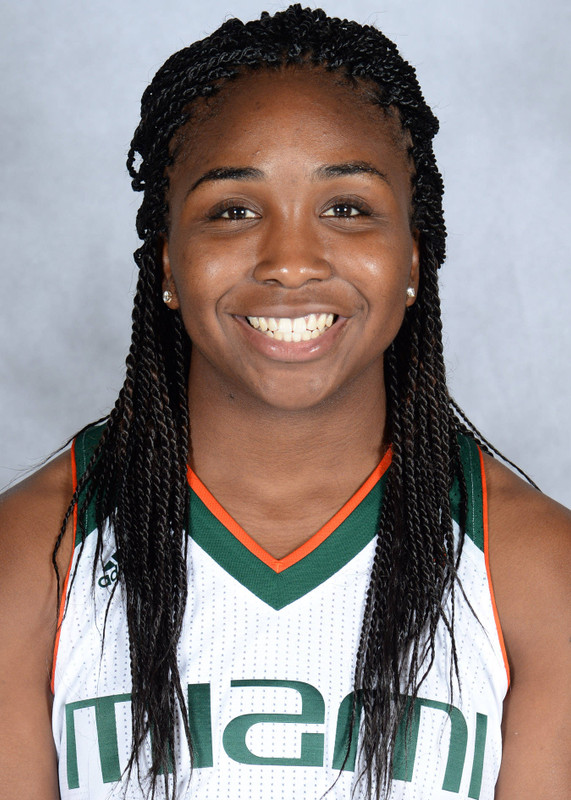 As a Sophomore (2014-15): Started 32 of 33 games and led Miami in total assists (74) and made 3-pointers (45) … Finished second on the team in points (9.3), steals (1.2) and minutes (26.3) per game … Posted double figures 13 times, ending the season with the three highest points totals of her career in the final three games … Pulled down five-plus rebounds four times in the final seven games of the year after doing so just twice in the first 57 games of her career … Recorded a game-high four assists in the season opener against Oakland (11/14) … Led the team with a then-career-high 17 points and three made 3-pointers at Middle Tennessee (11/17) … Scored 11 points and had a game-high five assists in the win over North Florida (11/21) … Had 14 points and a game-high five assists against Illinois State (11/28) … Posted 10 points and tied for a game-high three assists in the Miami Thanksgiving Tournament championship win over Tulsa (11/29) … Scored 13 points, hit three shots from 3-point range and tied for a game-high five rebounds against Jacksonville (12/6) … Tied game highs with five assists, matching her season best, and three steals, equaling her then-career high, in the win over Coppin State (12/13) … Scored 11 points in the victory against Florida A&M (12/28) and set a new career high in steals with five … Finished with 12 points, four rebounds and three assists against Boston College (1/4) … Netted a then-career-high 18 points and matched her then-career best with six made field goals in the victory over Virginia (1/21), while also committing just one turnover in 25 minutes and making all four of her free throw attempts … Had zero turnovers in a then-career-high 35 minutes at fourth-ranked Louisville (1/25), while tying for the team lead in assists and steals with three each … Posted 14 points at No. 9/8 Florida State (2/8) to tie for the team lead … Had  a career-high seven assists and just two turnovers in a then-career-high-tying 35 minutes of play in the win at No. 23/22 Syracuse (2/12) … Dished out a game-high-tying five assists at NC State (2/19), her fifth game of the season with five-plus assists … Scored 12 points and tied for the team lead with a career-high nine rebounds against No. 17/14 North Carolina (2/22) … Scored a career-high 24 points on 9-of-14 shooting to lead all players in scoring against second-ranked Notre Dame (3/6) in the ACC Tournament quarterfinals, while also setting career bests in field goals made (nine) and minutes played (36) … Posted 19 points and six rebounds in Miami's win over No. 6 seed Washington (3/20) in the first round of the NCAA Tournament and also set season highs in free throws made (six) and attempted (10), with the six makes tied for ninth in an NCAA Tournament game in program history and the 10 attempts tied for fifth … Scored a team-high 20 points to become the 16th Hurricane to reach 20 in an NCAA Tournament game, tied for the team lead with three assists and played a career-high 37 minutes in the second round against third-seeded Iowa (3/22), with her 11 3-point attempts the most in an NCAA Tournament contest in program history, her 22 field goal attempts tied for fourth and her three made 3-pointers tied for third.
As a Freshman (2013-14): Played in all 31 games, starting two … Averaged 5.1 points, 1.9 rebounds and 1.6 assists in 17.2 minutes per game …Totaled 158 points, 58 rebounds and 50 assists in 533 minutes … Hit 34.2 percent (52-of-152) of shots from field, 26.1 percent (24-of-92) from 3-point range and 73.2 percent (30-of-41) at free throw line … Appeared in every ACC game where she averaged 3.8 points and 1.5 rebounds in 14.7 minutes … Totaled 60 points, 22 assists and 24 rebounds… Hit 29.9 percent (20-67) shots from field, 17.5 percent (7-of-40) from three and 92.9 percent (13-of-14) at free throw line … Scored in double figures in first five games of career … Finished the year with eight double-digit scoring games … Season highs: 15 points at Oakland, 11/19/13; 5 rebounds at Oakland, 11/19/13; 6 assists at Oakland, 11/19/13; 3 steals vs. Yale, 11/25/13; 29 minutes played vs. North Florida, 11/8/13.
High School: Graduated from Buchholz High School … Named 2013 Florida Miss Basketball … Named all-state, first team all-area, 7A MVP and Father Lopez Christmas Tournament MVP … Named team captain and Queen of the Court … Averaged 32.0 points, 6.0 assists and 3.0 steals in senior season … Team won class 7A State Championship … Also member of the golf team … Member of National Honor Society and was named Scholar-Athlete of the Year.
Personal: Full name is Jessica Lauren Thomas … Goes by "JT" … Born Oct. 27, 1994, in Gainesville, Fla. … Majoring in sport administration … Daughter of Tara and Larone Thomas … Has three older brothers, Eric, Daren and Lamar, who played football at Miami and in the NFL.
 STATS
YEAR
GP
GS
MIN
AVG
FG
FGA
PCT
3FG
3FGA
3PCT
FT
FTA
PCT
REB
AVG
AST
TO
BLK
STL
PTS
AVG
2013-14
31
2
533
17.2
52
152
.342
24
92
.261
30
41
.732
58
1.9
50
57
3
27
158
5.1
2014-15
33
32
868
26.3
106
309
.343
45
155
.290
50
68
.735
88
2.7
74
67
2
41
307
9.3
2015-16
33
33
1044
31.6
139
363
.383
64
181
.354
45
73
.616
122
3.7
120
62
6
50
387
11.7
2016-17
33
33
1063
32.2
138
374
.369
46
158
.291
107
137
.781
79
2.4
130
84
2
52
429
13.0
CAREER
130
100
3508
27.0
435
1198
.363
179
586
.305
232
319
.727
347
2.7
374
270
13
170
1281
9.9