University of Miami Athletics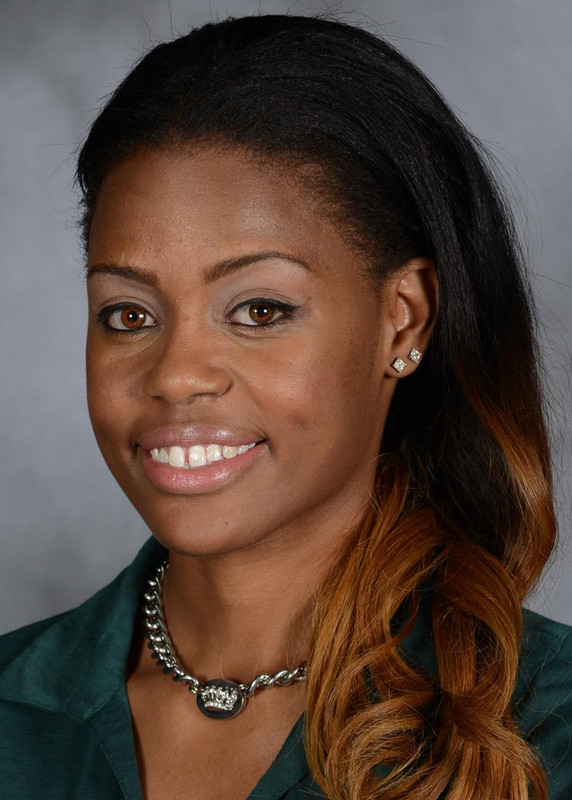 2013-14 (Senior)
Only player to start all 31 games … Averaged 9.0 points, 2.9 rebounds, 1.6 assists in 31.5 minutes per game … Totaled 976 points, 91 rebounds, 50 assists and 976 minutes … Hit 32.5 (89-274) percent of shots from field, 32.1 percent (70-218) from three and 77.5 percent (31-40) from free throw line … Started all 16 ACC games … In ACC play averaged 9.5 points and 2.6 rebounds in 32.6 minutes … Totaled 152 points, 22 assists and 42 rebounds … Hit 35.5 percent (49-138) of shots from field, 30.3 percent (33-109) from three and 77.8 percent (21-27) at free throw line … Made three-pointer in 26 of 31 games including streak of 11 games to close out her career … Made 4+ three-pointers in nine games … Finished season in 5th place in single-season three-pointers made with 70 3-pointers … Finished career in 9th place in career 3-pointers made (132) … Led team in scoring five times … Reached postseason for fourth-straight year … Career highs: 22 points vs. NC State, 1/19/14; 8 rebounds vs. FAU, 11/26/10; 5 assists vs. St. Francis Brooklyn, 11/29/14; 4 steals vs. Wisconsin, 12/29/12; 6 3-pointers made vs. NC State, 1/19/14; 39 minutes played vs. Georgia Tech, 1/27/13. 
2012-13 (Junior)
Grabbed a season-high seven rebounds at Virginia Tech (3/3)… Matched a season-high with 15 points vs. Duke (2/28)… Scored 11 points and grabbed four rebounds vs. Boston College (2/17)… Had nine points to go with four rebounds vs. Florida State (2/10)… Scored nine points and grabbed three rebounds at Wake Forest (1/24)… Tied a season-best with six rebounds to go with seven points vs. Georgia Tech (1/17)… Scored 10 points to go with six rebounds vs. Wisconsin (12/29)… Reached season-highs in points (13), rebounds (6) and assists (4) vs. Davidson (12/8)… Scored eight points in Miami's win over No. 6 Penn State (11/29)… Knocked down a pair of threes on way to score 13 points vs. Radford (11/24)… Hit three-pointer with 17 second left to seal win at Richmond (11/12)… Scored five points and pulled down five rebounds vs. UNF (11/9).
2011-12 (Sophomore)
Grabbed seven rebounds, six on the offensive glass and scored nine points at Duke (2/24)… Made her first career start versus Virginia Tech (1/23)… Scored a career-high 16 points versus ULM (12/16), connecting on 2 of 3 three-pointers… Hit her first three-pointer of the season at Michigan State (12/1)… Dished out five assists to go with two steals and four points versus Longwood (11/27)… Had seven points and was 3-3 from the FT line at Alaska Anchorage (11/23)… Scored six points and grabbed six rebounds to go with five assists and a pair of steals versus Prairie View A&M (11/17).
2010-11 (Freshman)
Appeared in 24 games of the 2010-11 season… Led all freshman with 18.8 minutes per game despite missing 11 games with a hand injury… Scored career-best 14 points against George Washington (12/28)… Grabbed career-high eight rebounds versus FAU (11/26)… Led team once on the season in rebounds, assists and steals.
PRIOR TO MIAMI: Was namedFlorida's MissBasketball after leading her South BrowardTeam to a 23-2 record and an appearance in the Class 6A Final Four… Led her team with 22.7 points, 7.0 rebounds and 5.1 assists per game this season… Was named the Sun-Sentinel Player of the Year.
 STATS
YEAR
GP
GS
MIN
AVG
FG
FGA
PCT
3FG
3FGA
3PCT
FT
FTA
PCT
REB
AVG
AST
TO
BLK
STL
PTS
AVG
2010-11
24
0
450
18.8
35
121
.289
20
78
.256
16
21
.762
43
1.8
28
24
1
23
106
4.4
2011-12
32
6
508
15.9
39
132
.295
10
55
.182
16
21
.762
67
2.1
36
31
0
25
104
3.3
2012-13
32
28
888
27.5
68
227
.300
32
139
.230
29
45
.644
102
3.2
54
61
2
24
197
6.2
2013-14

31

31
976
31.5
89
274
.325
70
218
.317
31
40
.789
91
2.9
50
38
0
30
279
8.8
CAREER
119
65
2,812
23.6
231
754
.306
132
490
.269
92
127
.724
303
2.5
168
154
3
102
686
5.8