University of Miami Athletics
Jeremy Cody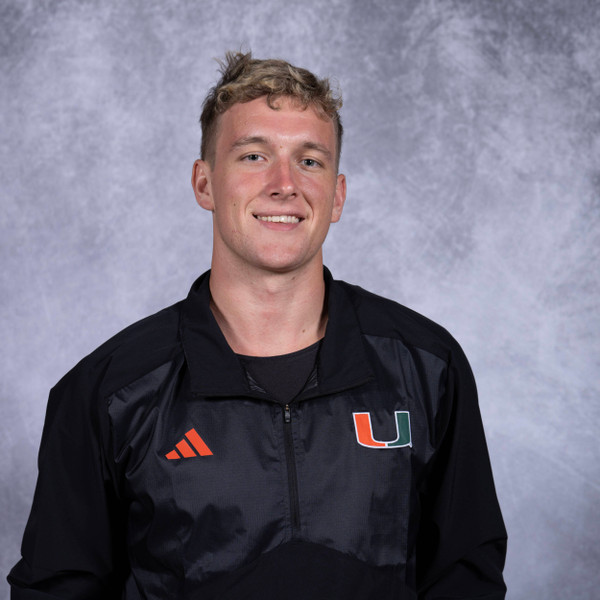 NIL Opportunities
Powered By

Engage with Jeremy today!
Bio provided by Arizona State University and Colorado University Athletics:
2021-22
Outdoor season: 
Earned a High Jump PR of 2.18m to finish 6th at the NCAA West Preliminary Round. Tying him 9th all-time for outdoor High Jumpers in school history.
Earned a Long Jump PR of 6.21m to finish 12th at the 2022 ASU Invitational.
Placed 4th in the High Jump at the Pac-12 Track & Field Championships, with a height of 2.08m.
Made his collegiate long jump debut in the second meet of the year, the ASU Invitational, and lept to a 6.21m/20-4.5 PR.

Indoor season:
Opened the indoor season with an all-time collegiate high jump PR of 2.15m/7-0.65 at New Mexico's MLK Jr, Collegiate Invitational. The Pac-12 doesn't sponsor an indoor championship, but Cody ended the season jumping 2.08m/6-9.75 at the Pac-12 Invitational, finishing third overall.
Prior to ASU:
At Colorado
2020:
Indoor: Set a high jump PR of 2.14m/7-0.25 at the Air Force Invitaitonal. It was the lone time out of seven meets that season he went over seven feet.

Outdoor: Season canceled due to COVID-19 pandemic.

2019: Indoor: Set a personal best 2.09 meters in the high jump at the Air Force Open … Won three meets during the season and finished ninth at the MPSF Championships … His 2.09 meters is good for ninth in school history indoors.
Outdoor: Opened the season winning the Jerry Quiller Classic … Set a new personal best at 2.11 meters at the CU Invitational … Placed eighth at the Pac-12 Championships to score … Placed 17th at the NCAA West Preliminaries tying his personal best … Continued his season with a third-place finish at the USA U20 Championships … His 2.11 meters was good for eighth in school history.

HIGH SCHOOL: Cody was a successful multi-sport athlete for Pueblo South. He was the 4A State Champion in the high jump, finishing as a State Champion in the 4×100-meter relay. He jumped a personal best and school and meet record at the John Tate Meet in 2017 with a jump of 6 feet, 10.5 inches. He was also a tight end for the 2017 4A State Championship team and was a center for the basketball team that made final four appearances his junior and senior seasons. Cody was named First Team All-Conference in football with an All-State Honorable Mention. He also was named All-State Second Team in basketball and a First Team All-Conference selection. Cody also finished his high school career as a 4.0 student.
 
HIGH SCHOOL BESTS: High jump: 6-10.5
  
PERSONAL: Cody was born March 10, 2000 in Pueblo, Colorado. He is the son of Timothy and Jennifer Cody and has twin brothers Jarod and Jacob. His mother played basketball for Adams State University.