University of Miami Athletics
Lucy Miller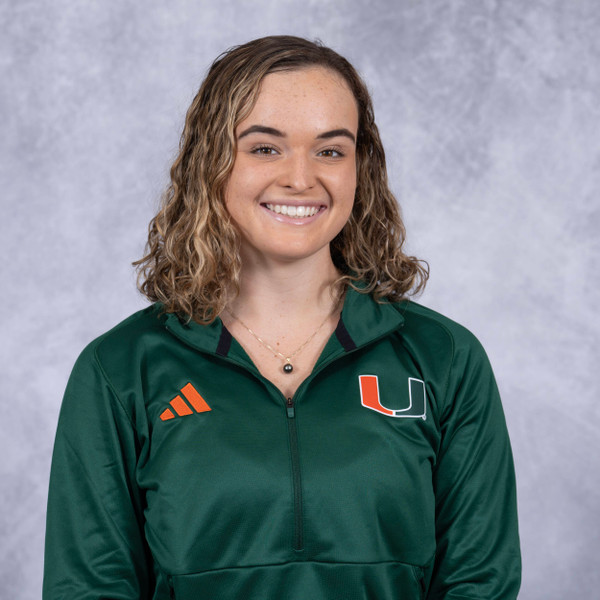 NIL Opportunities
Powered By

Engage with Lucia today!
True Freshman (2021-22): Won 'B' final of 100-yard breaststroke (1:03.53) at Miami Invite (Nov. 18-20)…Added second-place finish in 'B' final of 100-yard freestyle (51.70) and took sixth in 'B' final of 50-yard freestyle (24.12) over three-day event…Competed on 200-yard freestyle relay team as well as 50-yard breaststroke (31.10) and 75-yard breaststroke (49.18) in tri-meet with Georgia Tech and Northwestern (Dec. 18)…Captured third place in 100-yard breaststroke (1:06.89) in dual meet win over FGCU (Jan. 12)…Competed in 50-yard freestyle (24.08), 200-yard breaststroke (2:28.50) and on multiple relays in dual meet with Florida State (Jan. 21)…Represented Miami at ACC Championships in Atlanta (Feb. 15-19), competing in 50-yard freestyle (23.97), 100-yard breaststroke (1:03.83) and 100-yard freestyle (52.51).
High School / Club: Competed for Saint Andrew's Swimming…Swam seven individual events and three relays at 29th Annual Speedo Winter Championships in Plantation, Fla….Took part in 200-medley relay and 200-free relay, which both placed second…Qualified for finals in six out of her seven events…Went 2:25.77 in 200 breast to earn fourth place… Earned gold medal in 50 free (23.92) and 50 breast (29.77)…During final session of meet, earned gold medals in both the 100 breast (1:05.40) and the 100 IM (58.58)…Qualified for FHSAA Swimming and Diving 1A State Championships, leading Saint Andrew's to second place finish.