University of Miami Athletics
Tyrees Moulton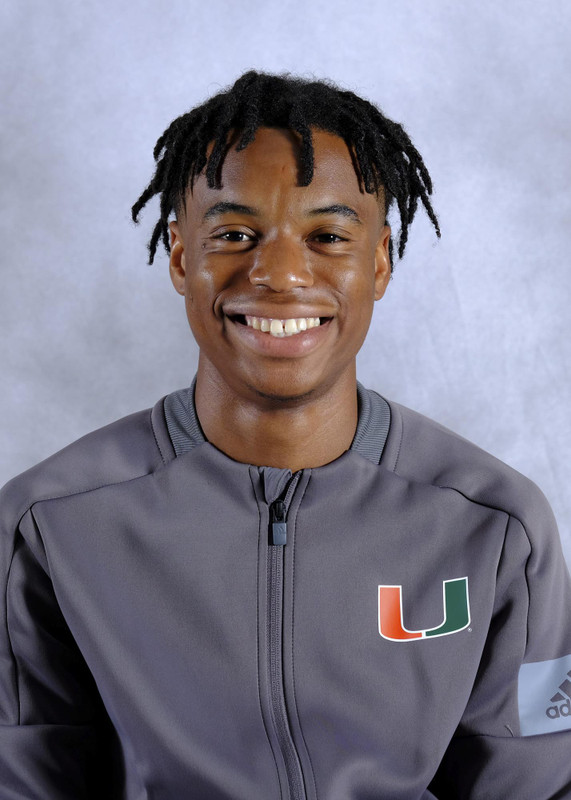 2021 Indoor: 
2020 Indoor: Helped Miami win the men's 4×400 relay at the Vanderbilt Invitational with a time of 3:12.39… Finished with a time of 48.25 in the 400m and helped lead Miami to the second fastest time in program history in the 4×400 with a time of 3:09.34 at the Texas Tech Invitational.
2019 Outdoor: Finished fifth overall in his first outdoor 200m dash with a time of 21.40 seconds at the Hurricane Invitational and helped the Canes win the 4×400 relay with a time of 3:09.69…Helped the Canes come in fourth in the men's 4x100m relay with a time of 40.14 and helped the Canes to a second-place finish in the men's 4x400m relay with a time of 3:06.75 at the Alumni Invitational… Combined to run a time of 40.46 in the 4x100relay at Tom Jones Memorial… Competed in the 400m dash, running a time of 47.55 at the ACC Outdoor Championships, combined to run the 4×100 in 40.00 seconds to finish third overall and combined to run a time of 3:13.18 in the men's 4x400to finish third for the bronze medal.
2019 Indoor: Debuted for the Canes with a sixth place finish in the men's 300m at the UAB Blazer Invite with a time of 34.23 seconds… Combined to run the program's second best time in the 4x400m in 3:10.83 at the Texas Tech Classic… Finished third in the 400m dash at the Virginia Tech "Doc Hale" Elite Meet, recording a time of 48.48… Ran a 47.93 in the men's 400m dash at the Tiger Paw Invite… Ran a 48.02 in the 400m at the ACC Indoor Championships and was part of the silver medal men's 4x400m relay team that ran a time of 3:12.04.
Moulton is one of the top sprinters in the country and the best in his home state of Arizona. The Glendale, Ariz., native was the 2017 state champion in both the 200m and 400m. Moulton was the runner-up in the 400m at the Arcadia Invitational and he also placed third in the Great Southwest Classic in the 400m. Moulton's personal-best 400m time of 46.51 seconds is fourth-fastest among returning athletes in the United States, while he also has personal-bests of 21.36 seconds in the 200m and 10.82 seconds in the 100m.