University of Miami Athletics
Thea Vock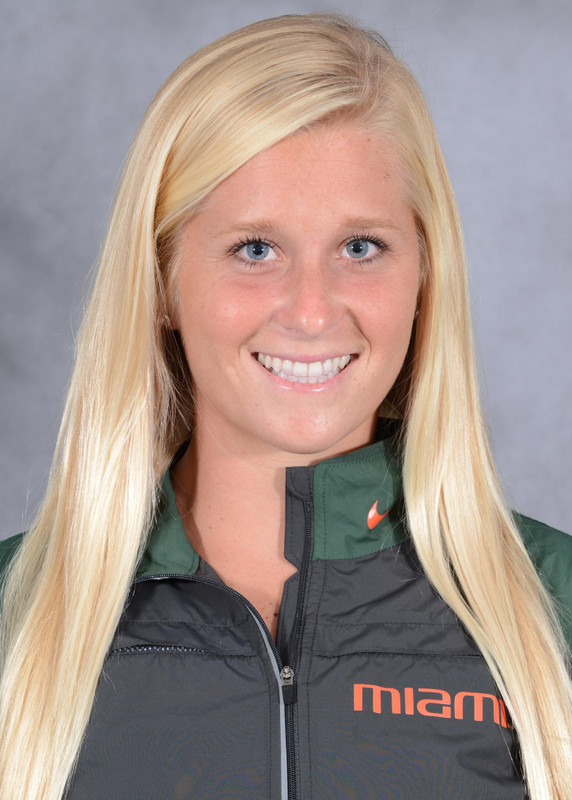 2015 NCAA ALL-AMERICA (3-meter)
2015 NCAA HONORABLE MENTION ALL-AMERICA (1-meter)
2015 ACC SILVER MEDALIST (3-meter)
2015 ACADEMIC ALL-ACC
2015 SCHOLAR ALL-AMERICAN (CSCAA)
2014 NCAA ALL-AMERICA (1-meter)
2014 ACC SILVER MEDALIST (1-meter)
2014 ACC ALL-ACADEMIC
2012 NCAA HONORABLE MENTION ALL-AMERICA (3-meter)
2012 ACC BRONZE MEDALIST (1-meter)
Senior (2014-15)…
Ended dominant career at Miami with sparkling final season, earning second career All-America recognition at 2015 NCAA Swimming & Diving Championships in Greensboro, N.C…Finished with 371.20 points to finish fifth and earn All-America honors…Recognized with Honorable Mention All-America finals with 11th place finish in 1-meter event in Greensboro…Captured two silver medals at the 2015 ACC Swimming & Diving Championships in Atlanta…Finished second in 3-meter (354.45) and 1-meter (335.85) to highlight Miami's trip ACC's…Earned Academic All-ACC recognition…Paced Miami in quad-meet against UNC-Wilmington, Georgia Tech and host Virginia Tech (Jan. 24), finishing first in 3-meter (342.75) and second in 1-meter (316.75)…Placed first in 1-meter at Ohio State Invitational (Nov. 22) and in dual meet victory over Illinois State (Nov. 8) with score of 340.05…Earned "Diving High Point Award" at SMU Classic (Oct. 16-17) by taking first in 1-meter (303.50) and in 3-meter (336.65).

Redshirt Junior (2013-14)… 
Rebounded from surgery to deliver dominant season, capturing career-first All-America honors in 1-meter at 2014 NCAA Division I Swimming & Diving Championships…Named to 2014 All-ACC Academic Team…Earned silver medal at 2014 ACC Championships in 1-meter…Took bronze medal in 1-meter at USA Diving Winter National Championships…Qualified for NCAA Championships with top finish in 1-meter at Zone B Regional Qualifying (627.60)…Opened season with third-place finish in both 3-meter (292.65) and 1-meter at All-Florida Invite (Sept. 27-29).
2012-13 (Junior)…
Redshirted season while recovering from labrum surgery.
2011-12 (Sophomore)…
Earned Honorable Mention All-America recognition for a ninth-place finish in three-meter event at 2012 NCAA Division I Women's Swimming & Diving Championships (Auburn, Ala.)…Qualified for NCAA Women's Championships with fourth-place finish in Zone B qualifying (Auburn, Ala.)…Captured bronze medal at 2012 Atlantic Coast Conference Championships (Blacksburg, Va.) in the 1-meter event…
2010-11 (Freshman)…
Participant in the 1- and 3-meter springboard at the NCAA Women's Championships (Mar. 16-19)… Finished eighth at the Zone "B" Championships (Mar. 10-12) in the 1-meter event with a score of 291.70… Claimed a win on the 1-meter board at Houston (Nov. 6) with a score of 287.32… Highest score of the year on the 1-meter board came against FIU (Oct. 15) with a total of 310.65 points… Eight-place finish at the Atlantic Coast Conference (ACC) Championships (Feb. 16-19) with a score of 275.75 turned in during the finals… Finished second-place on the 3-meter board with a score of 337.45 at the Texas Invitational (Dec. 2-4)… Also finished second at the Georgia Tech Invitational (Nov. 19-21) with a finals score of 327.10… Claimed two wins on the 3-meter board at Houston and against FIU… Finished fifth overall in the Zone Championships with a finals score of 314.55… Tied for third on the 10-meter platform at the Texas Invite with a finals score of 268.70… Registered a score of 284.05 in the prelims… Fourth overall at the Georgia Tech Invite with a score of 265.50 turned in during the finals.