University of Miami Athletics
Patrick O'Donnell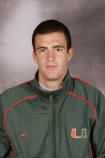 2008: Ran a personal-best 1:51.54 for a second-place finish in the 800-meters at the Miami Elite… Won the 800-meters at the Hurricane Challenge with a time of 1:55.54… Member of the 4×400 relay team that finished seventh at the confernce championships (3:14.35)… During the indoor season ran a personal-best 1:53.34 at the Tom Jones Memorial in Gainesville.
2007: Had a season-best time in the 800-meters of 1:53.29 at Auburn University… Ran on the second place 4X800 relay team at Florida Relays (7:38.02), third fastest in school history… Ran a leg on the 4X400 at the ACC Championship which placed sixth.
2006: Season-best indoor time of 1:55.72 in the 800-meters and 1:54.52 outdoors.
HIGH SCHOOL: 800-meter state champion senior year… Was conference top performer in 400m, 800m and mile… Holds school record in both the 400 and 800-meters.