University of Miami Athletics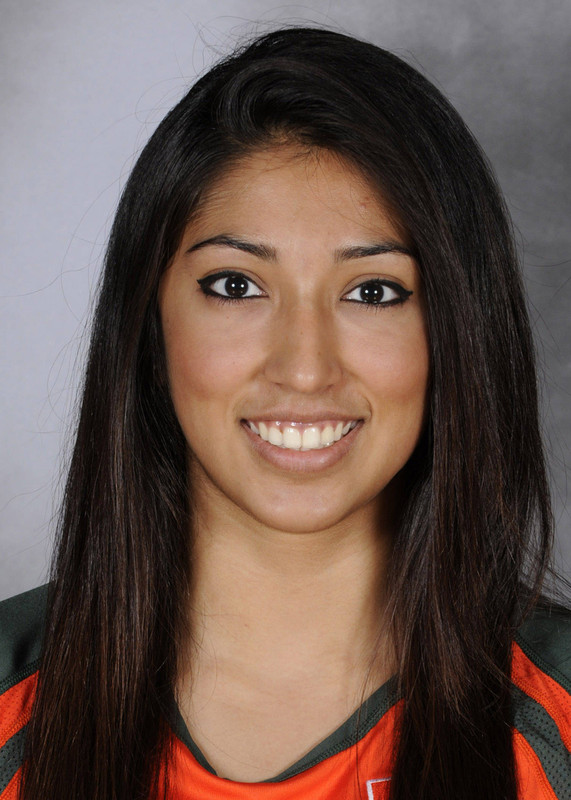 2012 Capital One Academic All-America (3.90 GPA)                                                              2012 Capital One Academic All-District2012 AVCA All-America Honorable Mention2012 AVCA All-Region (East)
2012 All-ACC
2012 ACC Player of the Week (Nov. 19)
SENIOR (2012): First Academic All-American in program history … third in program history with 2,358 career assists … led the ACC with 10.72 assists/set … third on the team with 96 total blocks (0.86 b/s) … recorded a season-high 55 assists and eight total blocks against Clemson (Oct. 19) … notched season-high five kills and nine digs against Boston College (Nov. 16) … averaged 11.50 assists per set versus Boston College (Nov. 16) and Maryland (Nov. 18) … recorded 47 assists in four sets at Florida State (Nov. 23) … registered 54 assists against College of Charleston in the NCAA tournament (Nov. 30).
JUNIOR (2011): Appeared in 11 matches, starting two for the Hurricanes … earned a season-high 42 assists, five digs, three kills and two block assists while delivering a perfect eight-for-eight serves in the sweep against Virginia (Oct. 28) … ended the season third on the team in sets with 65. 118 assists in Hurricane Invitational (Aug 24-25)… 50 assists against Oregon St (Aug. 31st) … 50 assists against Florida State (Sept. 7) … 48 assists and two kills against Louisville (Sept. 15) … 50 assists and one kill against Duke (Nov. 10).
SOPHOMORE (2010): Switched to more of a hitter role for the Canes as a sophomore, rather than a primary setter … appeared in 21 matches for the Hurricanes, making starts against UT-Arlington (Aug. 27) and at NC State (Oct. 3) … recognized on Athletic Director's Honor Roll … shared team Academic Award, earning the highest GPA of any student-athlete during the course of two semesters … totaled 158 assists on the season (3.51 per set) … tallied 26 digs, 13 kills and 10 blocks from her setter position … registered a team individual season-high of 63 assists vs. UT-Arlington (Aug. 27) to go with three service aces… the 63 assists and three aces against UTA were also a career-high … picked up 15 assists off the bench in the loss to Florida State (Sept. 18) … tallied 12 assists against Duke (Oct. 22) … season-high numbers with four kills and seven digs versus NC State (Nov. 12) … played in one set in the NCAA tournament at Indiana (Dec. 3).
FRESHMAN (2009): Played in all 31 matches while starting 23 times through 116 sets on the season … primarily used as a setter throughout her freshman season, stepping in for the injured Katie Gallagher … finished ranked ninth in the league while leading the team in assists with 934 … positioned herself fourth all-time at UM for career assists after a breakout freshman season … completed the season with an 8.05 assists per set average … recorded 147 digs (1.27 digs per set) … collected 94 kills on 258 attempts from her setter position for a hitting percentage of .225 on the year … ended the year third on the team with 60 blocks (55 assisted), while serving nine aces … picked up her best hitting percentage for a match with seven kills on nine swings with zero errors in a victory over Middle Tennessee State (9/11) as part of the Miami/FIU Tournament … had eight kills twice on the year in back-to-back fashion against Eastern Michigan (9/4) and North Dakota State (9/5) en route to UM claiming the Hampton Inn & Suites Tournament Championship in Colorado … closed the year with 12 matches setting up 40-or more assists, as well as four matches in which she tallied 50-plus assists … tallied 92 assists to open the year in three matches during the Hurricane Invitational … collected her second double-double of the year with 49 assists and 14 digs in a home win against Virginia (9/25) … ended the season with five double-double performances overall … set up a season-best 58 assists at home versus Clemson (10/2) … followed that with two more matches of 50-plus assists against Georgia Tech (10/4) – 54 assists, as well as Wake Forest (10/8) – 53 assists… Also registered a season-high six blocks at Wake Forest … collected 57 assists in a home win against Wake Forest (11/6), adding three kills, seven digs and three blocks … picked up 47 assists, three kills, seven digs and three assisted blocks in the opening round of the NCAA Tournament [Gainesville Regional] against FIU (12/3) … hauled in a season-high 16 digs to go along with 47 assists in a home victory over Georgia Tech (11/13).
PRIOR TO MIAMI: Played her high school volleyball under head coach Jennifer Urban … assisted the Huskies to a 34-3 overall record while posting a 13-1 record in league play – finishing as regular season as co-champs of the DuPage Valley Conference … tabbed DuPage Valley Conference First Team … First Team Naperville Sun … First Team Daily Herald … Received honorable mention honors by the Chicago Tribune … helped to lead her Huskies to a Regional title before falling in the Sectionals during the Illinois State playoffs … two-time All-Academic performer … On the club level, played for the Illinois' Sports Performance Club … helped them finish the 2008 campaign with an 18-2 overall record, while going a perfect 6-0 in The First Power League.
PERSONAL: The daughter of Sundar and Veidegi Sundararaman … has one younger brother, Brihu … major is neurobiology.