University of Miami Athletics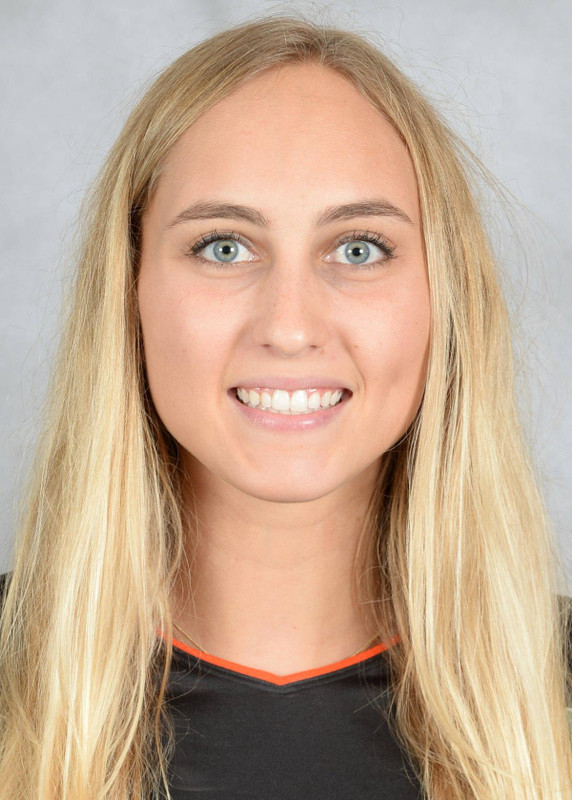 2015 LSU Tournament All-Tournament Team
2015 (Senior): Led Canes with 13 digs in three-set win over Illinois State (Aug. 28) … Had team-high 11 digs in three-set victory over Florida A&M (Aug. 29) … Led Miami with 15 digs in five-set win over Kansas State (Aug. 29) … Was second on the team with 12 digs in macth against Missouri State (Sept. 4) … Led the Canes with 20 digs and added an ace against Marquette (Sept. 5) … Had 10 digs against Oral Roberts (Sept. 5) … Recorded 19 digs as Miami's libero and added two service aces in win over No. 20 Purdue (Sept. 12) … Led the Hurricanes with 18 digs in win over LSU (Sept. 13) … Named to the LSU Tournament All-Tournament team … Led the Canes with eight digs and tied for the team-high with two services aces in win over Seattle (Sept. 17) … Recorded a team-high 15 digs and two service aces in win over UCF (Sept. 18) … Had 11 digs and three assists at Florida State (Sept. 23) … Led the Hurricanes with 11 digs at Louisville (Sept. 27) …  Led all Hurricanes with a career-high 27 digs in win over Georgia Tech (Oct. 2) … Recorded 11 digs and eight assists in victory over Clemson (Oct. 4) … Had nine digs and an assist in win at Wake Forest (Oct. 9) … Tied her career-high with 27 digs and added four assists in victory at Duke (Oct. 11) … Had a team-high 17 digs at NC State (Oct. 16) … Led the Canes with 12 digs and added six assists at North Carolina (Oct. 18) … Led the Canes with 17 digs and a pair of service aces in win over Boston College (Oct. 23) … Led Miami with 17 digs in win over Syracuse (Oct. 25) … Led all Canes with 21 digs and added four assists and an ace in win at Virginia Tech (Oct. 30) … Led Miami with eight digs and added four assists at Pitt (Nov. 1) … Tied for the team lead with 10 digs and added three assists in the victory over No. 17 Florida State (Nov. 4) … Led all Canes with 16 digs added two assists in win over Virginia (Nov. 6) … Recorded 11 digs and five assists against No. 22 Louisville (Nov. 13) … Led the Hurricanes with 24 digs in win over Notre Dame (Nov. 15) … Led Miami with 19 digs against Duke (Nov. 20) … Had seven digs and three assists in win over Wake Forest (Nov. 22) … Led the Canes with 13 digs and a team-high two service aces in win at Clemson (Nov. 25) … Had a team-high 13 digs, adding four assists and a service ace in win at Georgia Tech (Nov. 27) … Recorded 11 digs and added eight assists against Iowa State in the NCAA Tournament (Dec. 3)
2014 (Junior): Played in 25 matches, appearing in 81 sets … Ranked fourth on the team with 241 digs … Made her Hurricane debut against Seton Hall, recording 21 digs and three assists … Had 11 digs and two assists in victory over Florida A&M … Registered 14 digs in win over Arkansas Little Rock … Recorded 17 digs against TCU … Distrubuted four asists, four aces,  and 10 digs in victory over Prairie View A&M … Notched nine against Wisconsin … Tallied 16 digs in victory over Ball State …Recorded five digs against Missouri State … Collected six digs against North Carolina Greensboro … Totaled nine digs vs Missouri … Registered 13 digs in victory over Notre Dame … Tallied six digs and two assists against Duke … Tallied 20 digs and 4 assists in victory over Clemson … Notched 10 digs against FSU … Registered 15 digs in victory at Syracuse … Recorded 10 digs in victory at Boston College … Totaled six digs and two assists in victory over Virginia Tech … Tallied 14 digs in win over Georgia Tech … Had six digs in victory over Wake Forest … Compiled five digs against 9th ranked North Carolina … Had 13 digs off the bench in NCAA Tournament first round victory over UCF … recorded five digs in second round match against No. 8 Florida
2013 (Sophomore) (Minnesota): Saw action in 13 sets … Had one ace, 13 digs and an assist 2013 … Played in two matches and four sets during the UAB/Samford Challenge … Had a career-high five digs in the Western Illinois match (9/7)
2012 (Freshman) (Minnesota): Made her collegiate debut against against Appalachian State (8/25) … Also saw action in the Albany win (9/1)… Saw action in both matches against Texas (9/6-9/7) … Established her first career service ace against Texas (9/7) … Earned an ace in the win vs NDSU (9/10) along with one dig … Appeared in all three sets in the win over Dayton (9/14) … Contributed a service ace and three digs in the sweep against Tulsa (9/15) … Appeared in two sets and had one ace against Illinois (9/21) … Earned a career high two aces in a Northwestern win (9/23) … Saw action in all three sets in the Ohio State sweep (9/28) … Produced an ace in the one set played against Michigan (10/3) … Saw action in one set in the Michigan State win (10/6) … Played one set in the sweep against Iowa (11/17).
High School: Played high school volleyball from 2008-2010 under coach Lance Stewart … Named Laguna Beach's defensive player of the year in both 2009 and 2008 … Received the Captain Award in 2008 … Part of the Orange Coast Conference championship team three straight years.
Personal: Full name is Kalysta Breanna White … Daughter of Kenny and Halina Sullivan … Has three siblings, Samantha, Kenny and Blake … Intends to major in sport administration … Hobbies include snowboarding, beach volleyball, surfing and traveling.