University of Miami Athletics
Julia Schippert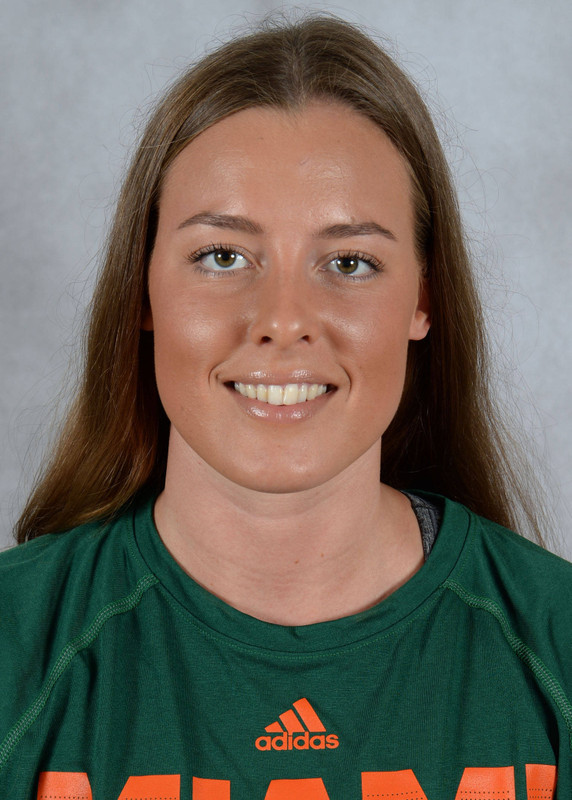 Junior (2015-16)…
Served as one of Miami's top point-getters in signature breaststroke events…Finished with NCAA "B" cut time of 2:14.78 in 200-yard breaststroke at 2016 ACC Swimming & Diving Championships in Greensboro, N.C….Earned first "B" cut time at ACCs with finish of 1:02.25 in 100 breast…Member of 200 medley relay team that posted first-place time of 1:43.86 in dual meet with FIU (Jan. 30)…Picked up wins in 100 breast (1:05.25) and 200 breast (2:18.95) against Panthers…Took fourth in 100 breast (1:06.63) and fifth in 200 breast (2:25.80) in dual meet with FGCU (Jan. 16)…Posted third-place time of 1:06.26 in 100 breast in tri-meet with Kanas and Rutgers (Jan. 9)…Won 100 breast with time of 1:06.25 in dual meet with Princeton (Nov. 6)…Finished second with time of 2:21.84 in 200 breast against Tigers…Touched wall in time of 1:07.42 in 100 breast in tri-meet with Texas A&M and Incarnate Word (Oct. 30)…Posted fourth-place time of 31.12 in 50 breast and fifth-place time of 2:23.19 at Dual-A-Palooza hosted by FIU (Oct. 17)…Finished third in "B" final of both 100 breast (1:07.36) and 200 breast (2:23.91) at All-Florida Invite (Sept. 18-20).
Sophomore (2014-15)…Delivered solid sophomore season, serving as one of team's top point-getters for second straight year… Earned CSCAA Academic Honorable Mention All-America honors …Competed on 400 yard medley relay team that recorded fourth-best time in UM history (3:42.02) at 2015 ACC Swimming & Diving Championships in Atlanta …Qualified for "B" final of 100 breaststroke (1:02.21) in Atlanta and finished seventh in finals (1:02.41)… Posted time of 1:06.18 in 100 yard breaststroke in tri-meet with Rutgers and Tulane (Jan. 10)…Impressed at Georgia Tech Invitational (Nov. 20-22), finishing 100 breast in 1:02.78 and 200 breast in 2:17.73…Finished eighth in 100 breast and 11th in 200 breast in Atlanta…Touched wall in 2:21.32 in 200 breast at 2015 ACC Championships…Finished 100 backstroke in 1:04.27 at SMU Classic (Nov. 17-18)…Recorded time of 1:05.65 to capture first place in "B" final of 100 breast in season debut at All-Florida Invitational (Oct. 3-5).
High School/Prep…Six-time national finalist for Sweden at Filbornaskolan…Captured third place in 100-yard Breaststroke at Swedish Junior National Championships…Won two relay gold medals in final season…Won three bronze medals at Swedish Junior Championships…Swedish junior record holder in 400 Medley Relay.
Personal…Full name is Anna Julia Schippert…Parents are Patrik and Anna-Karin…Has a brother, Otto (17)…Majoring in entrepreneurship.