University of Miami Athletics
Jessica Hurley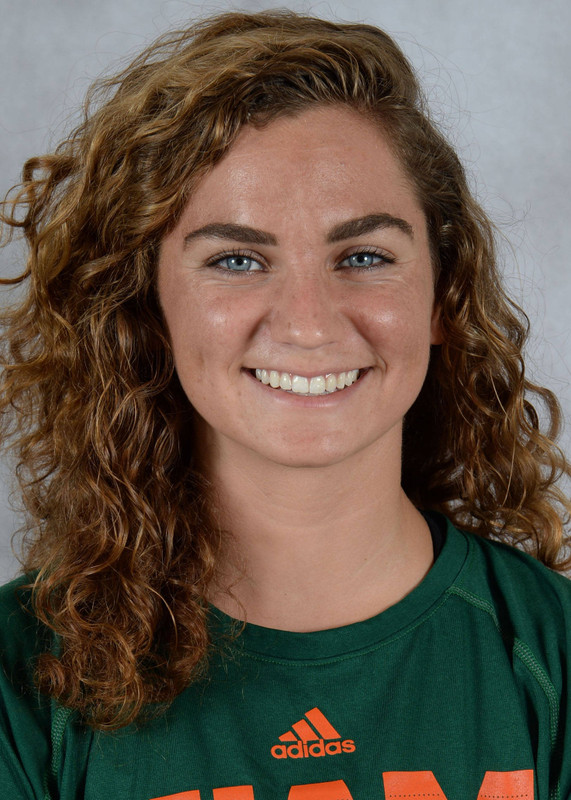 Sophomore (2015-16)…
Competed in 50-yard freestyle (26.31), 100-yard butterfly (57.95) and 200-yard butterfly (2:04.06) in Greensboro, N.C. at 2016 ACC Swimming & Diving Championships…Captured second place in 200 fly with time of 2:03.28 in dual meet with FIU (Jan. 30)…Finished fifth in 200 fly (2:08.24) in dual meet with FGCU (Jan. 16)…Posted 200 fly time of 2:07.78 in tri-meet with Kansas and Rutgers (Jan. 9)…Touched wall in time of 2:06.35 in 200 fly in dual meet with Princeton (Nov. 6)…Posted sixth-place finish in 200 fly (2:07.33) in tri-meet with Texas A&M and Incarnate Word (Oct 30)…Competed in 200 fly (2:07.85), 100 fly (59.82), 200 IM (2:16.62) and 50 breast (34.41) in Dual-A-Palooza hosted by FIU (Oct. 17)…Competed in 200 IM (2:18.77), 50 free (27.48) and 100 fly (1:00.65) at All-Florida Invite (Sept. 18-20).
True Freshman (2014-15)…
Made career debut in tri-meet with Rutgers and Tulane (Jan. 10), finishing 200 yard fly in 2:13.68…Touched wall in 1:01.19 in 100 fly in same meet…Recorded time of 2:13.64 in 200 fly in dual meet vs. FIU (Jan. 31)…Also competed in 200 backstroke and 100 fly vs. Panthers…Registered career-best times in 100 fly (58.66) and 200 fly (2:08.93) at 2015 ACC Swimming & Diving Championships in Atlanta.
High School…
Served as team captain for final two seasons at Fort Myers Senior HS…Four-year letterwinner in high school…Won Lee County Area Conference championship (2011-12) and district championship (2011-12)…Team finished seventh at states in 2013, sixth in 2012 and seventh in 2011…Named to Fort Myers News-Press All-Area Team for final three seasons and team MVP in 2011.