University of Miami Athletics
Heather Arseth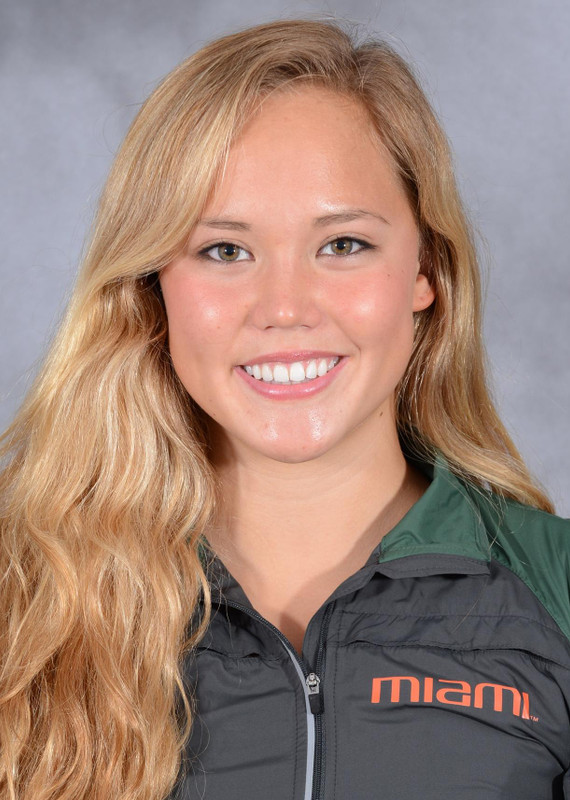 Junior (2013-14): Made season debut in dual meet with FGCU (Oct. 12), finishing with multiple top times…Captured first place in 200 freestyle (1:52.41) and 100 freestyle (51.67) against Eagles… One of eight team representatives selected for SMU Classic (Oct. 18-19), competing in 400 medley relay entry (3:48.63) and 50 free (23.53)…Missed time midseason due to injury…Returned for tri-meet with Virginia and Virginia Tech (Jan. 18), taking eighth in 100 freestyle (52.18), fourth in 100 backstroke (57.24) and fifth in 50 freestyle (23.98)…Captured first in 100 backstroke (56.54) in dual meet with Florida State (Jan. 31)…Helped lead 400 free relay team to eighth-place finish at 2014 ACC Championships (Feb. 19-22).
2012-13 (Sophomore, Iowa): Posted an NCAA "B" qualifying time in the 100 back (54.55) … swam collegiate bests in the 50 free (23.25), 100 free (50.54), 200 free (1:51.93) and 100 back (54.55)… led the team in the 100 back and had the second-fastest time in the 50 and 100 free… member of the team-leading 200-freestyle relay (1:31.73), school-record-setting 200-medley relay (1:40.97) and 400-medley relay (3:42.52)… won a pair of events (100 back, 100 free) in the dual at Michigan State and posted five individual event wins and 12 top-five finishes on the year… Academic All-Big Ten… Big Ten Distinguished Scholar… named a Scholar All-America honorable mention honoree… named to UI Dean's List… letterwinner.
2011-12 (Freshman, Iowa): Swam collegiate best times in the 50 (23.49) and 100 (51.32) free at the Big Ten Championships… also swam a collegiate best time in the 100 back (56.43) at the Hawkeye Invitational… member of the 200 free relay (1:31.68) that set a school record at the Big Ten Championships… recorded 20 top-four finishes… swam on nine winning relays… letterwinner.
High School/Prep: Four-time All-American… four-time all-state selection… received the high point award her sophomore, junior and senior seasons… scholastic All-American her sophomore and junior seasons…placed third in the 50 (23.44) and 100 free (51.26) at the 2010 Minnesota state meet… member of the 200 and 400 free relays that won state… holds her high school records in the 50 and 100 free… varsity letter winner in track and field.
Personal: Parents are Paul and Caroline…Majoring in biology.