University of Miami Athletics
Grace McGinnis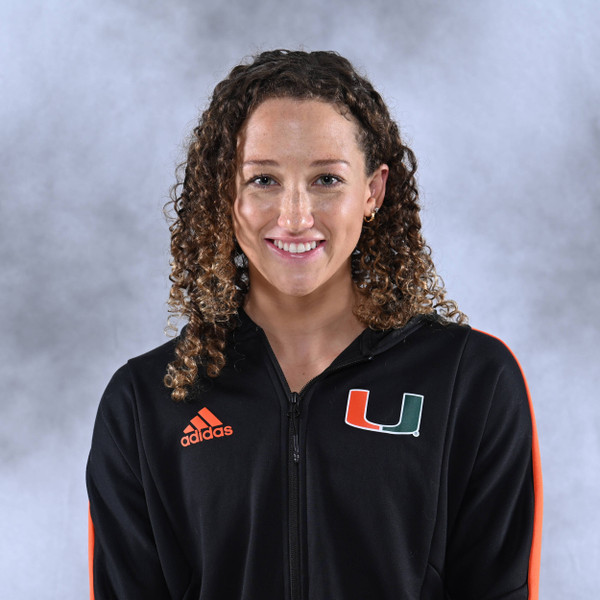 Junior (2020-21): Made season debut in dual meet against Florida (Nov. 5)…Took eighth in 'B' final of 200-yard freestyle (1:55.47) at Miami Invite (Nov. 18-20)…Added fifth-place finish in 'B' final 100-yard freestyle (53.30) at Miami Invite…Went 5:27.93 in 500-yard freestyle in dual meet against FGCU (Jan. 13)…Posted time of 24.04 in 50-yard freestyle in First Chance Meet (Feb. 13)…Finished 100-yard freestyle in 52.82 at ACC Swimming & Diving Championships in Greensboro, N.C. (Feb. 17-20).
Sophomore (2019-20): Finished in fourth place in 200-yard freestyle (2:02.36) in dual meet win over FGCU (Jan. 18)…Posted time of 5:10.16 in 500-yard frestyle at ACC Swimming & Diving Championships (Feb. 19-22) in Greensboro, N.C….Competed in 100-yard freestyle (52.89) and 200-yard freestyle (1:55.44) at ACC Championships.
True Freshman (2018-19): Finished with second fastest-time in 500-yard freestyle (5:09.33) in tri-meet with Boston College and FAU (Nov. 2-3)…Recorded time of 1:51.69 in 200-yard freestyle at First Chance Invitational (Feb. 16)…Finished with time of 5:03.50 in 500-yard freestyle at 2019 ACC Swimming & Diving Championships (Feb. 20-23)…Posted time of 1:52.51 in 200-yard freestyle in Greensboro, N.C.
High School/Prep: Two-year varsity letterwinner…Team went undefeated for four straight years and won four league championships…Was part of two school relay records…Earned all-state and all-league recognition two years…Placed fourth in 200 freestyle and sixth in 500 freestyle at 2017 Division II high school state championships…Competed for OLY Swimming for nine years (2009-2018) under coaches Jeff Cooper and Andy Cebull…Member of OLY NCSA junior national team.
Personal: Parents are Ross and Terri…Sister, Claire, is also member of Miami swimming team…Intends to major in health sciences.