University of Miami Athletics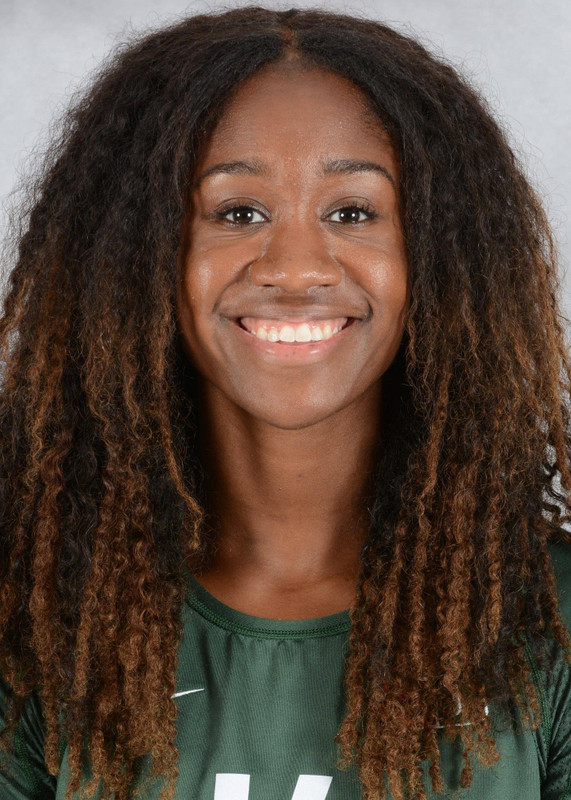 2014 AVCA All-America – Honorable Mention
2014 All-ACC First Team
2014 AVCA East Coast All-Region
2014 HotelRED Invitational All-Tournament
2014 TCU NIKE Invitational All-Tournament
2014 Preseason All-ACC
2013 All-ACC First Team
2013 All-ACC Academic
2013 Preseason All-ACC
2012 AVCA All-America Third Team
2012 AVCA All-Region (East)
2012 All-ACC selection
2012 CVU.com National Player of the Week
2012 ACC Player of the Week (Oct.1)
2012 ACC Player of the Week (Oct. 22)
2012 Louisville All-Tournament (Sept. 15)
2011 ACC Freshman of the Week (Oct. 31)
2011 ACC Freshman of the Week (Nov.6)
2014 (Senior): Started all 31 matches, appearing in 109 sets … Led Miami with a .372 attack percentage that ranked fourth in the ACC … Team leader in blocks with 136 (17 solo) … Ranked fourth on the team with 226 kills … 16 services aces were third-most on 2014 squad … Her 318 points (2.92/set) were second-best on the Canes … Finished career as all-time leader in attack percentage (.339) and block assists (491), while ranking second in UM history in total blocks (554) … Recorded season-high 16 kills and assisted on five blocks in victory over Ball State … Tallied season-best 12 blocks, eight kills, five digs, and one assist in the victory against Boston College … Hit a season-high .733 while amassing 11 kills and four blocks (one solo) in win over Georgia Tech … Had three kills and team-high three blocks in first round NCAA Tournamnet win over UCF … Recorded five kills and three blocks in second round match vs. No. 8 Florida
2013 (Junior): Started all 31 matches this season … Finished season ranked 12th on Miami's career kills list (759) … Ranks fifth in Miami history in solo blocks (46) … Second in school history with 372 block assists, 418 total blocks and 1.24 blocks/set …Sits 10th in Miami history with 991.0 points … Led Miami with 153 total blocks, ranking third in the ACC … 1.32 blocks/set ranked fourth in the ACC, fourth in school history and 31st nationally … Had third-most block assists (138) and total blocks (153) in a season in Miami history … Her .345 hitting percentage led the Canes, ranking fifth in the ACC and 75th nationally … Tallied double-digit kills in seven matches, including a season-best 17 in win over Long Beach State (Sept. 7) … Recorded season-high nine blocks twice (Sept. 29 at Syracuse, Oct. 18 at Notre Dame)
2012 (Sophomore): Second AVCA All-American in school history … had 160 blocks, second-most in a season in program history … 1.39 blocks per set ranked second in the ACC, 21st in the nation … had at least 5 total blocks in 16 matches … finished the season seventh in program history with 265 total blocks … led team with a .328 hitting percentage, ninth in the ACC … third on team with 285 kills (2.48 k/s) … recorded 17 kills and two blocks against UNLV (Sept. 14) … recorded 18 kills and two blocks versus Middle Tennessee (Sept. 15) … registered 18 kills against Duke (Sept. 28) … registered 32 kills on a .500 hitting percentage versus Duke (Sept. 28) and Wake Forest (Sept. 30) … recorded 16 kills and and a school-record 16 total blocks against Clemson (Oct. 19) … recorded 12 kills and nine blocks at Florida State (Nov. 23) … recorded 10 kills on a .320 hitting percentage and eight total blocks against College of Charleston in the NCAA tournament (Nov. 30).
2011 (Redshirt Freshman): Started all 31 matches… finished the season with 215 kills and 105 blocks … had 10 or more kills on seven occasions … blocked five or more attacks six times throughout the season … had a season-high nine blocks in the Tiger Classic against LSU (Aug. 27) and in the Florida State (Nov. 26) victory while amassing a season-high 14 kills … tallied 13 kills and four blocks to beat Boston College … registered 12 kills, three block assists and a season-high three digs against North Carolina (Nov. 4) … racked up 11 kills and two block assists to sweep NC State (Nov. 6) … helped the Hurricanes beat Wake Forest (Nov. 12) on the road with 10 kills and five digs … picked up seven digs and 13 kills at Georgia Tech (Nov. 18) … had 12 kills and five digs in five match loss to Clemson.
2010 (Freshman): Granted a redshirt during the 2010 season.
High School: A three-sport student-athlete for Glenbrook South High School … participated in basketball, track & field, as well as volleyball … did not play volleyball at Glenbrook until her sophomore year … played club level for Edge Volleyball of Des Plaines, Ill. … a powerful middle blocker that helped lead her high school team to a third place finish in the Division 4-A State Tournament during the 2009 season … led players from all 16 state tournament teams represented by all divisions (1-A through 4-A) in hitting percentage, carrying a .513 clip throughout the tournament … ranked second in her division during the season in hitting percentage, while ranking 15th in kills … named to the Central Suburban League All-Conference Team in 2009 … earned Scholar-Athlete accolades that same season … All-State honorable mention by the Chicago Tribune … turned in 238 kills and 69 blocks as a senior … ranked as a Top 100 Senior Ace as a senior.
Personal: Full name is Emani Brenita-Rae Sims … Daughter of Brendy and Bonnie Sims … Has one sister, Tiffany … Earned her bachelor's degree in advertising in May 2014 … Working towards a master's degree in public relations.