University of Miami Athletics
Elan Daviglus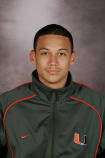 2008: His season-best leap of 2.05 meters (6-08.75) came at the Georgia Tech Invite… Finished in fourth-place at the outdoor conference championship (2.04m – 6-08.25)… Won the high jump at the Hurricane Miami Elite Invitational, 2.00 meters (6-06.75)… Placed second in his one attempt of the season in the long jump reaching a mark of 6.66 meters (21-10.25) at the Hurricane Challenge… During the indoor season, hit a season-best height of 2.06 meters (6-09.00) at the Virginia Tech Elite… Earned All-ACC honors with a runner-up finish at the ACC Indoor High Jump Championship in Chapel Hill, N.C., 2.04 meters (6-08.25)… Hit 6.71 meters (22-00.25) in his lone attempt at the indoor long jump at the Virginia Tech Elite.
2007: Granted a medical redshirt.
2006: Set a school-record in the high jump during the indoor season with a mark of 2.08 meters (6-09.75)… Finished fifth in the high jump at the ACC Indoor Championships… Finished first in the high jump at the Miami Elite Invitational with an NCAA Regional qualifying mark of 2.10 meters (6-10.75)… Placed sixth in the high jump at the ACC Outdoor Championships.
High School: Broke his school's as well as the Belen Jesuit facility record in the high jump as a senior… First team all-Dade County by the Miami Herald… Second at the state championships with a jump of 6'8″… Played basketball as a junior and was part of a state championship three-peat… Coached by Paul Howel.
Personal: Was a member of the Honor Society in high school and is majoring in business… His advice to youngsters: `Do well in school'… Lists Tracy McGrady as his favorite athlete and `Remember the Titans' as his favorite movie.