University of Miami Athletics
David Dinsmore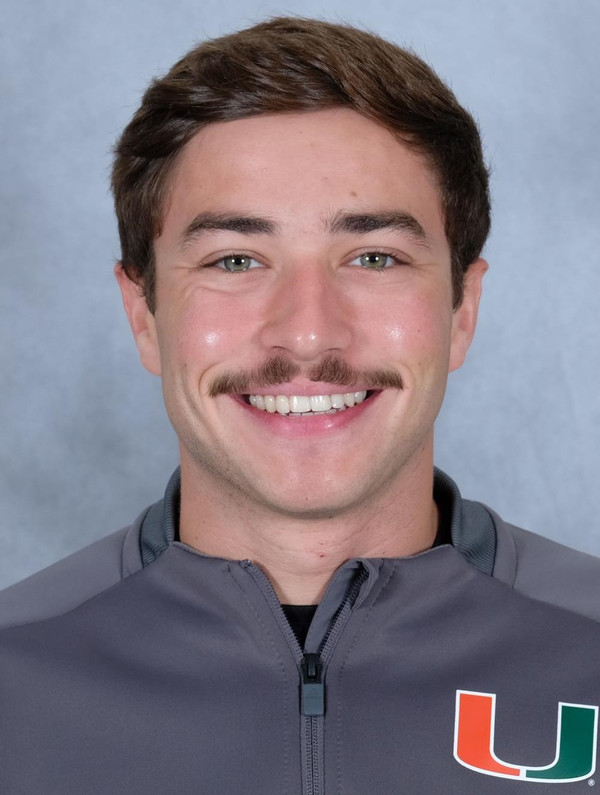 2017 NCAA NATIONAL CHAMPION (platform)
2019 NCAA ALL-AMERICA (platform)
2018 NCAA ALL-AMERICA (platform)
2019 ACC GOLD MEDALIST (platform)
2018 ACC GOLD MEDALIST (platform)
2017 ACC GOLD MEDALIST (platform)
2017 USA DIVING ATHLETE OF THE YEAR
Redshirt Sophomore (2017-18)…
Delivered another dominant season, earning All-America honors with fourth-place finish on signature platform event at 2018 NCAA Swimming & Diving Championships…Finished with score of 434.55 to capture second All-America honors of career…Captured ACC gold medal in platform at 2018 ACC Swimming & Diving Championships…Finished with eye-popping score of 500.10, besting second-place finisher and fellow Hurricane Zach Cooper by more than 70 points…Earned USA Diving Senior National Championship in platform in Dallas, Texas, and named to 2018 USA Diving High Performance Squad…Competed as member of Team USA at 2018 FINA World Cup in Wuhan, China…Earned two medals at FINA World Cup, taking bronze in men's 10-meter and teamed with Krysta Palmer to win bronze in team event…Qualified for 2019 FINA Diving World Series after performance in China…Named USA Diving Athlete of the Year in December 2017…Won 1-meter springboard in quad-meet with Michigan State, James Madison and host Pittsburgh.
Redshirt Freshman (2016-17)…
Delivered standout debut in first collegiate season, capturing NCAA national championship in men's platform in first-ever trip to NCAA Swimming & Diving Championships in Indianapolis, Ind….Outdueled 2016 U.S. Olympian Steele Johnson of Purdue, finishing with 528.20 points to capture NCAA title…Became 13th diver under head coach Randy Ableman to win NCAA championship…Won gold medal in first trip to ACC Swimming & Diving Championships in Atlanta, besting second-place finisher by more than 110 points to cruise to first ACC medal…Bested pool record at Georgia Tech Aquatic Center with 517.65 points at ACC Championships, topping second-place finisher Dylan Grisell of Florida State (391.95)…Clinched spot at NCAA Swimming & Diving Championships with dominant performance at Zone B qualifying in Auburn, Ala….Scored 940.55 points at Marin Aquatics Center, nearly 200 points better than second-place finisher Scott Lazeroff of Auburn (743.40).
True Freshman (2015-16)…
Did not compete in any collegiate meets, redshirted to retain eligibility.
Club /International…
2015 Team USA World Championships team member…2014 World Cup team member…Made senior national debut in 2013, winning synchronized 10-meter and placing second on 10-meter at AT&T National Diving Championships and USA Diving Winter National Championships…Won first individual senior national title with 10-meter win at 2015 AT&T National Diving Championships…Bronze medalist on platform at 2012 Junior World Championships…Two-time junior national champion on platform (2010, 2012)…Won bronze in 10-meter synchro at 2014 FINA Grand Prix in Mexico and at 2013 FINA Grand Prix in Puerto Rico.
Personal…
Son of Allan and Stephanie Dinsmore…Attended New Albany High School in native New Albany, Ohio…Has one younger brother, Matthew…Has been diving since age nine…Enjoys fishing, archery, trapshooting and snowboarding…Plays cello.