University of Miami Athletics
Christina Leander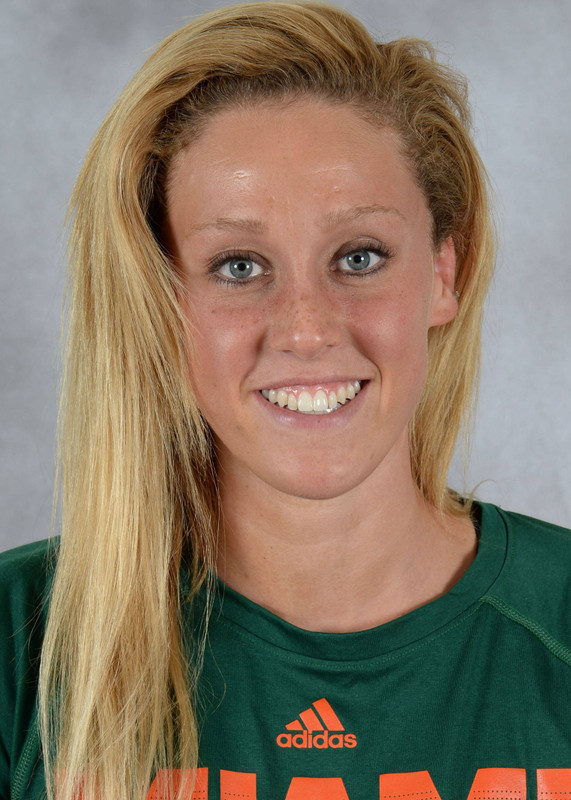 Junior (2015-16)…
Among Miami's top point-getters and top backstroke performer in first season with Hurricanes…Qualified for U.S. Olympic Trials in 100 backstroke with time of 1:02.98 at Texas Senior Circuit No. 2 in College Station, Texas…Bested own school record with NCAA "B" cut time of 53.65 in 100 back at 2016 ACC Swimming & Diving Championships in Greensboro, N.C….Finished second in "C" final of 200 back with NCAA "B" cut time of 1:56.98 at ACC Championships…Top-10 performer in Miami history with time of 2:02.96 in 200 IM at ACCs…Member of 200 medley relay team that took first (1:43.86) in dual meet with FIU (Jan. 30)…Posted three individual wins against Panthers, winning 100 back (55.0), 200 back (2:00.50) and 200 IM (2:05.58)…Earned two wins in tri-meet with Kansas and Rutgers (Jan. 9), taking top finishes in 100 back (55.92) and 200 IM (2:07.15)…Won both 100 back (55.78) and 200 IM (2:06.05) in dual meet with Princeton (Nov. 6)…Had trio of second-place finishes in tri-meet with Texas A&M and Incarnate Word (Oct. 30): 100 back (55.93), 200 back (2:02.27) and 200 IM (2:09.47)…Won 50 back (26.57), 100 back (56.53) and 200 back (2:01.83) in Dual-A-Palooza hosted by FIU (Oct. 17)…Finished eighth in 200 IM (2:07.68), third in 100 back (56.02) and fifth in 200 back (2:00.60) at All-Florida Invite (Sept. 18-20).Sophomore (2014-15, Tennessee)…
Opened the season's first race by swimming the initial leg of the 200 Medley Relay; the 'B' relay team of Leander, Colleen Callahan, Patricia Forrester and Amy Lubawy earned a second place finish at UNCW…Earned her first victory of the 2014-15 season at UNCW, where she swam a 57.65 to claim the 100-yard backstroke…Finished in second place in the 200 IM at North Carolina behind a career-high 51.83…Broke the 2-minute mark in the 200 backstroke for the first time during the season at the NIKE Cup, swimming a career-best 1:58.80 in the prelims. She placed eighth in the event and also scored a four-place finish in the 100 back…Swam two dual meets in the spring, recording a top-three finishes in the 100 backstroke against Georgia and Florida.
Freshman (2013-14, Tennesee)…
Spent first two seasons of career at Tennessee…Qualified for NCAA Swimming & Diving Championships in 2014 with time of 53.06 in 100 backstroke…Swam the 100 back in 53.30 at NCAA's… Competed in all five fall collegiate meets freshman year, primarily participating in the 100 and 200 backstroke events…Earned four top-four finishes in100 backstroke during fall semester…Swam at the AT&T Winter National Championships in Knoxville….Finished 33rd in the 100 backstroke (55.27) and also swam the 100 back to lead off the 400 medley relay team, clocking her first NCAA B-cut time in 54.75.
High School…
Ranked fourth from Pennsylvania and 41st nationally by collegeswimming.com…As  member of the West Chester East High School swimming team, won five individual Pennsylvania state championships (100 backstroke in 2010, 2011, 2012, 2013 and 200 IM in 2012)…Set the PIAA state record in the 100-yard backstroke in a time of 53.70…Earned All-American honors five times…Competed at 2012 USA Swimming Olympic Trials….Competed on the club level with the Suburban SeahawksPersonal…
Daughter of Paul and Susan Leander…Has two brothers, Erik (23) and Philip (14)…Majoring in finance.